Chewy, hearty, and dense—this isn't your average slice of bread! Packed with 9 grams protein and more than 7 grams fiber per slice, this bread will keep you going for hours and is a healthier alternative to store-bought bread. Since it's a staple in our kitchen, I make a double batch every week. Feel free to play around with the herbs and spices as you see fit! Gluten-free, nut-free, oil-free, soy-free, sugar-free option! Recipe and photo from The Oh She Glows Cookbook* by Angela Liddon.
Reprinted by arrangement with Avery, a member of Penguin Group (USA) LLC, A Penguin Random House Company. Copyright © Glo Bakery Corporation, 2014.
Serves: 8
1⁄2 cup gluten-free rolled oats
1⁄4 cup raw buckwheat groats, or more rolled oats
1⁄2 cup chia seeds
1⁄4 cup raw sunflower seeds
1⁄4 cup raw pepita (pumpkin) seeds
1 teaspoon dried oregano
1 teaspoon sugar, optional
1⁄2 teaspoon dried thyme
1⁄2 teaspoon fine-grain sea salt, plus more as needed
1⁄4 teaspoon garlic powder
1⁄4 teaspoon onion powder
Preheat the oven to 325°F. Line a 9-inch square cake pan with two pieces of parchment paper, one going each way.
Place the oats and buckwheat groats in a high-speed blender and blend on the highest speed until a fine flour forms.
In a large bowl, combine the oat and buckwheat flour, chia seeds, sunflower seeds, pepita seeds, oregano, sugar (if using), thyme, salt, garlic powder, and onion powder and stir until well combined.
Stir in 1 cup water until combined. The mixture will be very watery and runny.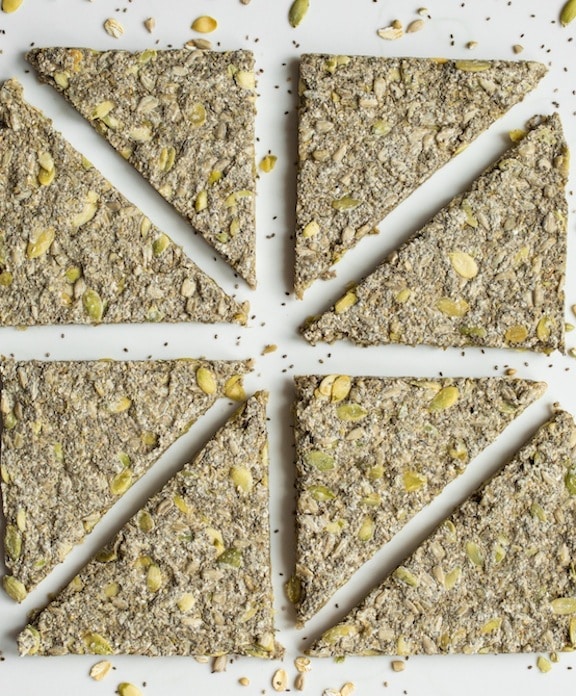 Pour the mixture into the pan and spread it out evenly with a spatula. You can use lightly wet hands to smooth it level, if necessary. Sprinkle the surface with some additional salt.
Bake, uncovered, for about 25 minutes, or until firm to the touch. Let the bread cool in the pan for 5 minutes and then transfer it to a cooling rack to cool for 5 to 10 minutes more. Slice and enjoy!
Tips: This bread keeps in an airtight container in the fridge for 2 to 3 days—any longer and it starts to get a gummy texture. I prefer to freeze leftover bread and simply thaw it in the fridge before I use it.
I love toasting this bread and then spreading it with coconut oil, nut butter, or hummus. Try it for yourself!
Visit Angela at Oh She Glows for great vegan recipes and gorgeous photos.
*This post contains affiliate links. If the product is purchased by linking through this review, VegKitchen receives a modest commission, which helps maintain our site and helps it to continue growing!