Here's a variation of classic sweet-and-sour cabbage soup, given a bit more heft with bread cubes nestled in each serving. Adapted from Vegan Soups and Hearty Stews for All Seasons. Photo by Ricki Heller.

Serves: 6
3 to 4 cups cubed (about 1 inch) Italian or sourdough bread
2 tablespoons olive oil
2 large onions, quartered and thinly sliced
3 to 4 cloves garlic, minced
2 large carrots, peeled and diced
2 large or 3 medium potatoes, scrubbed and diced
4 cups coarsely shredded green cabbage
1 medium green or red bell pepper, diced
One 16-ounce can salt-free diced or stewed tomatoes, undrained
¼  cup dry red or white wine
1 teaspoon sweet or smoked paprika
1 teaspoon cumin
2 tablespoons minced fresh parsley and/or dill
3 tablespoons lemon juice, or to taste
2 to 3 tablespoons natural granulated sugar or agave nectar
Salt and freshly ground pepper to taste
Preheat the oven to 300 degrees F. Spread the bread cubes in a single layer on a baking sheet and bake until golden and crisp, about 12 to 15 minutes. Remove from the oven and set aside.
Heat the oil in a large soup pot. Add the onions and garlic and sauté over medium heat until golden, about 10 minutes.
Add 5 cups water followed by the carrots, potatoes, cabbage, bell peppers, tomatoes, wine, paprika, and cumin. Bring to a rapid simmer, then lower the heat. Cover and simmer gently for 25 to 30 minutes, or until the vegetables are tender. Stir in the parsley and/or dill.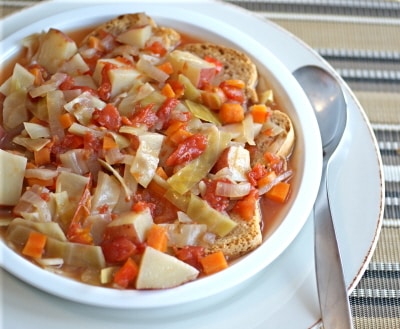 Add the lemon juice and sweetener; stir in and taste. There should be a subtle sweet-sour balance. If you'd like it to be more pronounced, add more lemon juice and/or sugar to your liking.
Season with salt and pepper, then simmer over very low heat for 10 minutes longer. If time allows, let the stew stand off the heat for an hour or two, then heat through before serving.
When ready to serve, divide the bread cubes among the serving bowls and ladle the stew over them. The bread will absorb much of the liquid and add a tasty, textural element to the stew.
Nutrition information
Per serving: Calories: 231;  Total fat: 6g;  Protein: 6g;  Fiber: 6g;  Carbs: 43g  Sodium: 114mg