This rich combination of white and sweet potatoes, subtly sweetened with apple, is perfectly suited your major comfort food cravings of the cool season. This is one of my favorite comfort food recipes (which was titled Les Trois Pommes), updated, from Vegetariana. Photos by Evan Atlas.

Serves: 6
4 medium red-skinned or Yukon Gold potatoes
2 large sweet potatoes
2 tablespoons vegan buttery spread as Earth Balance
1 large red onion, chopped
2 medium sweet apples, peeled, cored, and thinly sliced
¾ cup vegan sour cream
1 cup grated mozzarella-style vegan cheese
¾ cup rice milk
Pinch of nutmeg
Salt and freshly ground pepper to taste
Cook, bake, or microwave the potatoes in their skins until done but still firm. Do the same, separately, with the sweet potatoes. The potatoes should be done enough to be easily pierced through, but not mushy.
When all the potatoes are done, plunge them into a bowl of cold water, then preheat the oven to 350 degrees F.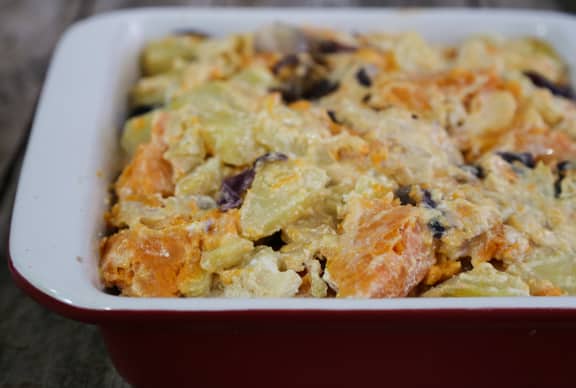 When the potatoes and sweet potatoes are cool enough to handle, peel and slice them about ½ inch thick, then place them in a large mixing bowl.
Heat the vegan buttery spread in a small skillet. Add the onion and sauté over medium heat until lightly browned. Add the onion to the potato mixture along with all the remaining ingredients and stir together gently but thoroughly. Don't worry if the potatoes break apart.
Pour the mixture into an oiled large shallow baking dish. Bake for 35 to 40 minutes, or until the top is golden. Serve at once.