This simple sweet potato salad, developed by Ginny Messina, is a great choice when you want something a little different for a picnic or potluck. It's also a wonderful addition to fall and winter holiday meals. From Never Too Late to Go Vegan: The Over-50 Guide to Adopting and Thriving on a Plant-Based Diet,* copyright © Carol J. Adams, Patti Breitman, Virginia Messina, 2014. Reprinted by permission of the publisher, The Experiment. Photos by Rachael Braun.
Serves: 8
4 medium sweet potatoes, peeled and cut into ¾-inch chunks
4 celery stalks, thinly sliced
1 small red bell pepper, seeded and coarsely chopped
1 cup diced pineapple
2 scallions, white and green parts, thinly sliced
¼ cup vegan mayonnaise
2 tablespoons Dijon mustard
½ cup chopped pecans
Salt and freshly ground black pepper
Bring a large pot of water to a boil, add the sweet potatoes, and cook until just tender, 10 to 15 minutes. (Watch to be sure they don't become too soft.) Allow the sweet potatoes to cool to room temperature.
Toss the sweet potatoes with the celery, red bell pepper, pineapple, and scallions in a large bowl.
Mix the mayonnaise and mustard together in a small bowl. Fold the dressing into the sweet potato mixture. Chill for at least 1 hour before serving.
Before serving, toast the pecans in a skillet, over medium heat, for 2 to 3 minutes, stirring constantly with a wooden spoon or heat-resistant spatula to prevent them from burning. Fold the pecans into the sweet potato salad. Add salt and pepper to taste.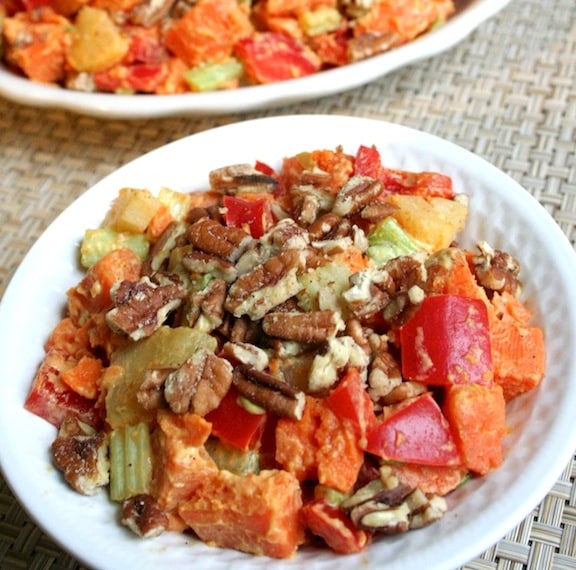 *This post contains affiliate links. If the product is purchased by linking through this review, VegKitchen receives a modest commission, which helps maintain our site and helps it to continue growing!