Here's a sandwich with substance — these tempeh reuben hero sandwiches are delicious, high in protein, and even supply you with your healthy fermented food in the form of sauerkraut. If you're feeding a small group and don't feel like making individual sandwiches, this is a great choice. Double the recipe for a larger crowd. Great served with dill pickles and a colorful salad.
Serves: 4 to 6
1 recipe Thousand Island Dressing

6 to 8-ounce package tempeh bacon (like Fakin' Bacon)

1 tablespoon olive oil

1 very large long Italian bread or 2 smaller ones

12-ounce jar naturally fermented sauerkraut

8-ounce package vegan mozzarella shreds
Preheat the oven to 400º F.
Follow the easy instructions for Thousand Island Dressing and set aside.
Cut the tempeh bacon into bite-sized pieces. Heat the oil in a medium-sized skillet. Cook the bacon, stirring often, until lightly browned.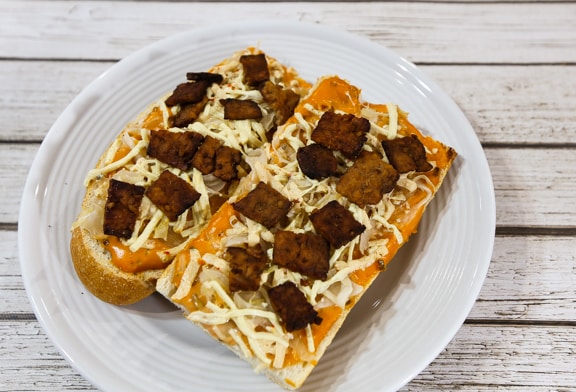 If using a large bread, cut into halves crosswise, then lengthwise. Cut each half in again crosswise to get 8 sections. If using two smaller breads, cut each in half crosswise then lengthwise, from which you'll also get 8 sections. Arrange face up on a parchment-lined baking sheet.
Spread each bread section with some Thousand Island Dressing. Scatter some sauerkraut over that next, following by a sprinkling of cheese. There's no set amount of these, just make sure you distribute evenly and more or less equally among the breads.
Finally, end by scattering the cooked tempeh bacon over the breads.
Bake for 8 to 10 minutes, or until the cheese is nicely melted. Don't overbake! Serve at once.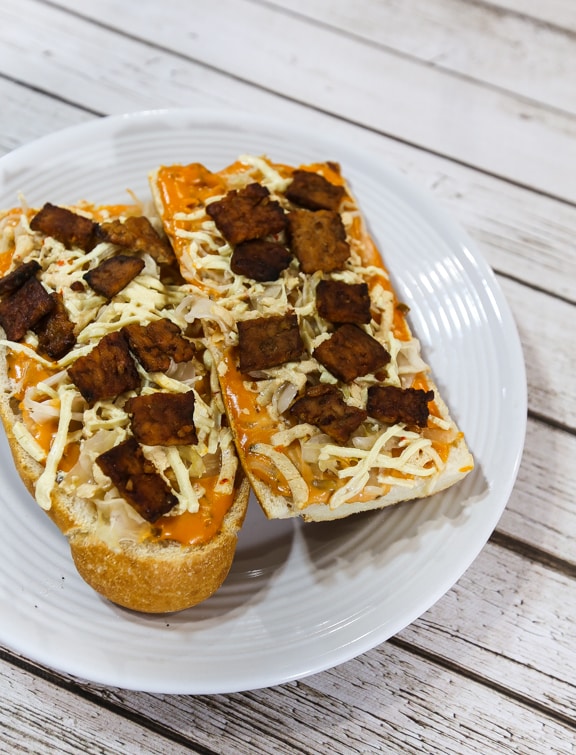 Photos: Evan Atlas