Just about any type of tempeh—soy, quinoa, sesame, wild rice—works well in this stew, which tastes even better the next day. It's a lovely main dish option for a vegan Thanksgiving table, though you can make it any time you crave something hearty and warming.  Cranberry-Orange Sauce is a perfect accompaniment. Contributed by Leslie Cerier, from Going Wild in the Kitchen: The Fresh and Sassy Tastes of Vegetarian Cooking*. Photos by Hannah Kaminsky.
Tempeh Stew with Brussels Sprouts, Sweet Potatoes, and Shiitakes
Recipe type:
Stew / Thanksgiving main dish
Prep time:
Cook time:
Total time:
This delectable stew of tempeh, sweat potatoes and brussels sprouts is a lovely main dish option for the Thanksgiving table, though you can make it any time you crave something hearty and warming.
Ingredients
2 tablespoons extra-virgin olive oil
1 pound tempeh (two 8-ounce packages), cut into ½-inch cubes
2½ cups water
½ cup dry white wine
2 tablespoons prepared mustard
8 fresh shiitake mushrooms, stemmed and sliced
2 cups coarsely chopped yams or sweet potatoes (skin scrubbed and left on if organic)
1½ cups peeled and coarsely chopped carrots
1½ cups trimmed and halved Brussels sprouts
1½ cups coarsely chopped red onion
1½ tablespoons dark miso (such as mugi or hatch)
2 teaspoons dried thyme
1½ teaspoons dried sage
1 teaspoon dried rosemary
Instructions
Heat the oil in a 6-quart stockpot over medium heat. Add the tempeh and cook 5 to 10 minutes, or until golden brown.
Add the water, wine, and mustard to the pot, along with the shiitakes. Bury the shiitakes under the sweet potatoes, carrots, Brussels sprouts, and onion.
Bring to a boil, then reduce the heat to medium-low. Simmer covered about 20 minutes, or until the vegetables are soft.
Dissolve the miso in some of the hot broth, then add to the pot, along with the thyme, sage, and rosemary.
Simmer for 5 minutes longer. Adjust the seasonings, if desired. Ladle the hot stew into bowls and enjoy.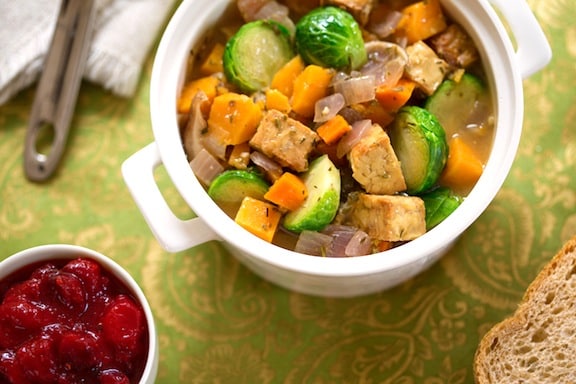 Reprinted by permission of the author and Square One Publishing. Leslie Cerier is also the author of  Gluten-Free Recipes for the Conscious Cook* and other titles. Visit Leslie's website here.
*This post contains affiliate links. If the product is purchased by linking through this review, VegKitchen receives a modest commission, which helps maintain our site and helps it to continue growing!