Tofu and potato hash browns is a simple, comforting skillet dish that's just as good for dinner as it is for brunch. Have potatoes cooked ahead of time, and this easy and tasty dish will have your family or guests eating in short order. Leftovers are wonderful for breakfast. Or, if you make this expressly to serve in the morning, you can either microwave or cook the potatoes the night before for a head start. Great accompaniments include orange wedges and fresh whole grain bread. Adapted from The Vegetarian Family Cookbook.
Serves: 4 to 6
4 to 5 medium potatoes, preferably golden or red-skinned
One 14- to 16-ounce tub extra-firm tofu
2 tablespoons olive oil
½ medium green or red bell pepper, minced, optional
2 to 3 scallions, thinly sliced
Paprika
Salt and freshly ground pepper to taste
Bake or microwave the potatoes in their skins until done but still firm. When cool enough to handle (ideally at room temperature), peel and cut into small dice, not larger than ½ inch.
Cut the tofu into ¼-inch-thick slices. Blot well between paper towels or clean tea towels (or use the nifty Tofu XPress a little ahead of time!), then cut into approximately ¼-inch dice.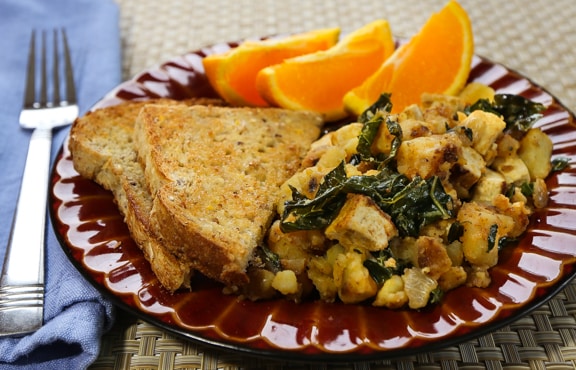 Heat the oil in a large, wide skillet. Add the diced potatoes and tofu, and the optional bell pepper. Sauté over medium heat, stirring frequently, until the mixture is golden brown all over.
Stir in the scallions, and sprinkle in some paprika. Season with salt and pepper, and serve.
Variations:
Add a medium-small zucchini, finely diced, along with the potatoes and tofu.
Stir in 3 or 4 leaves thinly sliced kale or collard greens along with everything else.
Replace a couple of the potatoes with a sweet potato.
When everything is done, throw some baby spinach over the top, cover, and cook until it wilts, then stir it in.
Nutrition Information: 
Per serving: 240.5 calories; 9.3g fat; 30.7g carbs; 5g fiber; 11.1g protein; 37mg sodium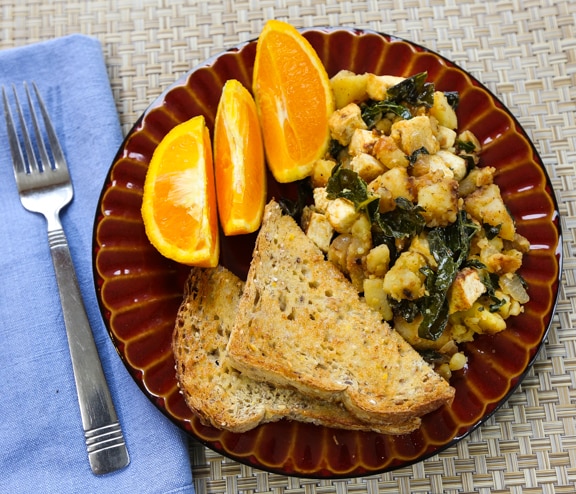 Photos: Evan Atlas
Here are more: