A veganized version of huevos (eggs) rancheros, this dish of tofu prepared with Southwestern flavors and nestled on corn tortillas, makes a nice brunch or light dinner dish. Serve with a simple potato or bean dish (shown here with Beer-Stewed Pinto Beans) and a platter of sliced avocado and oranges for a complete meal. 
Serves: 4
14- to 16-ounce tub firm or extra-firm tofu
3 tablespoons fine cornmeal
2 ½ tablespoons olive oil
Salt
1 medium onion, quartered and thinly sliced
1 medium green bell pepper, cut into short, narrow strips
1 small fresh chili pepper, seeds removed, minced, optional
16-ounce jar prepared salsa, any favorite variety
2 medium tomatoes, diced
1 to 2 small fresh hot chile peppers (such as jalapeño)
or one 4-ounce jar diced mild chiles
2 teaspoons ground cumin
8 good-quality corn tortillas, at room temperature or warmed
1 ½ cups grated vegan cheddar or nacho cheese, optional
1 medium ripe avocado, peeled and sliced
Cut the tofu into 6 slabs crosswise. Blot well on paper towels or clean tea towels, then cut into small dice.
Combine the tofu with the cornmeal in a plastic food storage bag. Shake gently until the tofu is evenly coated.
Heat 1 ½ tablespoons of the oil in a wide skillet. Add the tofu and sauté over medium-high heat, stirring frequently, until golden on most sides, about 8 to 10 minutes. Sprinkle lightly with salt. Remove from the skillet to a container and cover.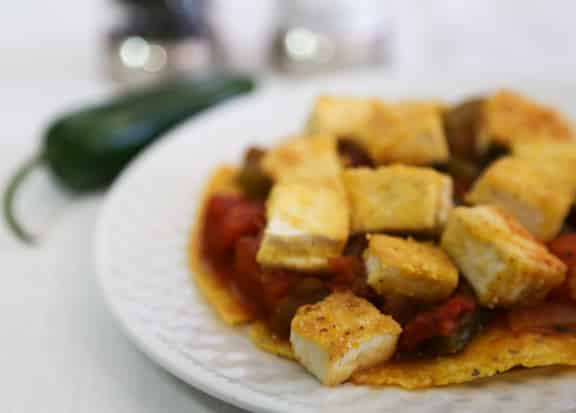 Heat the remaining oil in the skillet. Add the onion and sauté over medium heat until translucent. Add the bell pepper and continue to sauté until both are golden.
Stir the salsa, tomatoes, and chile peppers into the skillet and cook just until heated, just a minute or two longer.
To assemble, place 2 tortillas on each serving plate. Divide the salsa and onion mixture over their surfaces, then sprinkle evenly with the tofu dice. Sprinkle a little vegan grated cheese over the tofu if desired, then serve at once.