This dramatically colorful dish is flavored with a variety of seasonings for a taste of the tropics. A splash of fresh lime juice when ready to serve to brighten the flavors even more. If you prefer extra heat, add a minced hot jalapeño or Serrano chile in addition to or instead of the cayenne. Cooked brown rice may be used instead of the cooked quinoa. Pineapple can be substituted for the mango. From Quick-Fix Vegan* by Robin Robertson © 2011, Andrews McMeel. 
Serves: 4
1 cup quinoa, well rinsed
1 tablespoon neutral vegetable oil or ¼ cup water
½ cup minced red onion
½ red bell pepper, minced
2 teaspoons grated fresh ginger
2 cloves garlic, minced
1 teaspoon natural granulated sugar
½ teaspoon dried thyme
¼ teaspoon each: ground cumin, allspice, coriander
⅛ teaspoon cayenne peper
1 ½ cups cooked or 15-ounce can (drained and rinsed) black beans
Salt and freshly ground pepper to taste
1 ripe mango, peeled, pitted and chopped
1 to 2 tablespoons fresh lime juice
2 tablespoons minced fresh cilantro
Lime wedges, for serving (optional)
Cook the quinoa in a saucepan of boiling salted water until tender, 20 to 30 minutes.  Drain and set aside.
While the quinoa is cooking, heat the oil or water in a large skillet over medium heat. Add the onion and bell pepper and cook until softened, about 5 minutes.  Stir in the ginger, garlic, sugar, thyme, cumin, allspice, coriander, and cayenne and cook, stirring for 1 minute.
Add the beans and reserved quinoa and seasonwith salt and pepper.  Stir in the mango, lime juice, and cilantro and cook for a few minutes to heat through. Serve hot (or just warm) with lime wedges, if desired.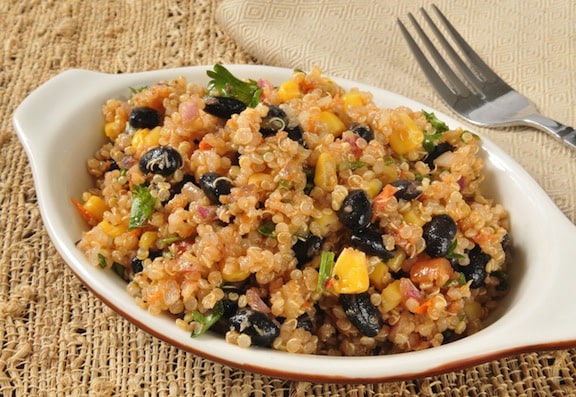 Winner of the 2009 VegNews Veggie Awards, chef and consultant, Robin Robertson has written 20 other vegan and vegetarian cookbooks. In addition to Quick-Fix Vegan* others include: Quick-fix Vegetarian*, 1,000 Vegan Recipes*, Party Vegan*, and Vegan on the Cheap*.
*This post contains affiliate links. If the product is purchased by linking through this review, VegKitchen receives a modest commission, which helps maintain our site and helps it to continue growing!