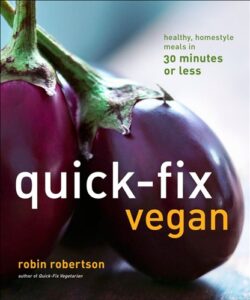 Reviewed by Rachael Braun. After a typical busy day, it's hard to decide what to make for dinner. When time is particularly short, everything seems too complicated, so the fallback is ordering out or eating something lacking in flavor and/or nutrition. Robin Robertson's Quick-Fix Vegan: Healthy, Homestyle Meals in 30 Minutes or Less* will give the most time-pressed cooks the ability to prepare amazing, healthy, and speedy vegan meals in less than 30 minutes. It will not only save you time, but will save you money, too! 
Chapter 1: Getting Started is a great guide to stocking and organizing your kitchen so that you will always have something quick and easy on hand. The basics you should always have in the pantry are: beans, pastas, grains, gnocchi and polenta, flour tortillas & flatbreads, pizza dough, pie crust/dough, vegetable broth, nondairy milk, unsweetened coconut milk, canned tomatoes, and bottled sauce.
Robertson gives tips and explanations on how and why all these basics are used and also a list of things that are not basics, but are beneficial to keep at home. She gives other "time-saving strategies" that will help you in the long run, like washing and drying produce when you bring it home, not to be afraid to substitute or change ingredients, planning ahead to make sure you have what you need, and to always keep a well-stocked pantry. There's also further advice offered on leftovers, cooking from scratch, and basic kitchen equipment. Basic recipes such as vegetable broth and pizza & pie dough are given as well, so that these can be at the ready for a quick meal.
The other nine chapters of the book are dedicated to recipes. As they can all be prepared in less than 30 minutes, Robertson makes a point to say that this doesn't include time for some types of prep or oven time. But even taking this into account, your time in the kitchen is pared to a minimum.
I'm looking forward to taking this book's advice, filling my pantry, and planning ahead so that I can eat healthier without stressing about doing everything at once, or constantly having makeshift meals after my long days at work. With chapters like Speedy Sandwiches, Snappy Salads, Pasta Express and (Almost) Effortless Desserts anyone can feed themselves and their families and friends easily and quickly, even on weeknights. Some of the recipes I can't wait to try are: Two-Tomato Pastry Purses, Zucchini Frittata, Asian Vegetable Pancakes, Vietnamese Tofu Wraps, and Tiramisu Parfaits. Within the recipes, Robertson includes make-ahead bakes, sauces, and condiments, which will help speed and zest up these, and your own, recipes.
I really appreciate all the information Robin Robertson has offered in this book. I can practically add up how much money and time I'll end up saving, and of course, how much healthier and more satisfying my meals will be!
Sample these recipes from Quick-Fix Vegan:
Winner of the 2009 VegNews Veggie Awards, chef and consultant, Robin Robertson has written 20 other vegan and vegetarian cookbooks. In addition to Quick-Fix Vegan* others include: Quick-fix Vegetarian*, 1,000 Vegan Recipes* and Vegan on the Cheap*. Her website, Global Vegan Kitchen, allows you to read about her books and see some sample recipes.
*This post contains affiliate links. If the product is purchased by linking through this review, VegKitchen receives a modest commission, which helps maintain our site and helps it to continue growing!