This vegan cauliflower Alfredo sauce is creamy, dreamy, and won't clog your arteries like the original recipe. Traditional Alfredo sauce is made with lots of butter, heavy cream, and a mountain of Parmesan cheese. Seriously, who needs to take that bullet, when there are so many alternatives to heart-unhealthy foods?
This vegan version is vegetable-based but no one would guess that the secret ingredient is cauliflower. Its best use is on pasta, and this makes enough for 12 to 16 ounces of cooked pasta. You can also use it as a sauce for other vegetables, or to top potatoes or sweet potatoes. See the notes below for tips and variations. Photos by Hannah Kaminsky.
2 tablespoons olive oil or vegan butter

1 medium onion, chopped

2 to 3 cloves garlic, minced

4 heaping cups chopped cauliflower florets (see note)

½ cup vegetable broth or water

1 cup plain unsweetened nondairy milk (see note)

2 tablespoons nutritional yeast flakes (optional but highly recommended)

Salt to taste

Minced fresh parsley for garnish, optional
Heat the oil or vegan butter in a large skillet or stir-fry pan. Add the onion and sauté over medium heat until translucent. Add the garlic and continue to sauté until the onion is soft and golden.
Add the cauliflower and broth or water. Cook over medium heat, covered, until the cauliflower is soft but not overdone, 8 to 10 minutes.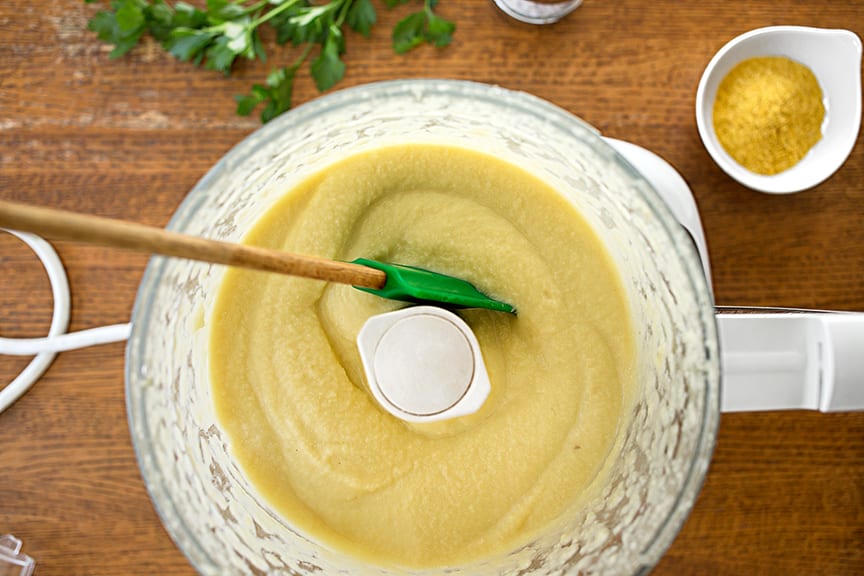 Transfer the cauliflower mixture (and whatever liquid remains in the pan) to a food processor. Add about half of the nondairy milk and process until fairly smooth. Drizzle in the remaining nondairy milk and the optional nutritional yeast. Let the food processor run until the sauce is nice and smooth.
Transfer to a container add salt to taste — the sauce is a bit on the bland side, so be judicious! Cover until needed (or start cooking pasta just before starting this recipe).
Notes
Use precut or frozen cauliflower florets for an even easier version, though they're not quite as flavorful.

Cashew milk is the creamiest nondairy milk, but almond is good, too.

Add about a cup of nondairy mozzarella cheese shreds to your pasta Alfredo for an even yummier dish.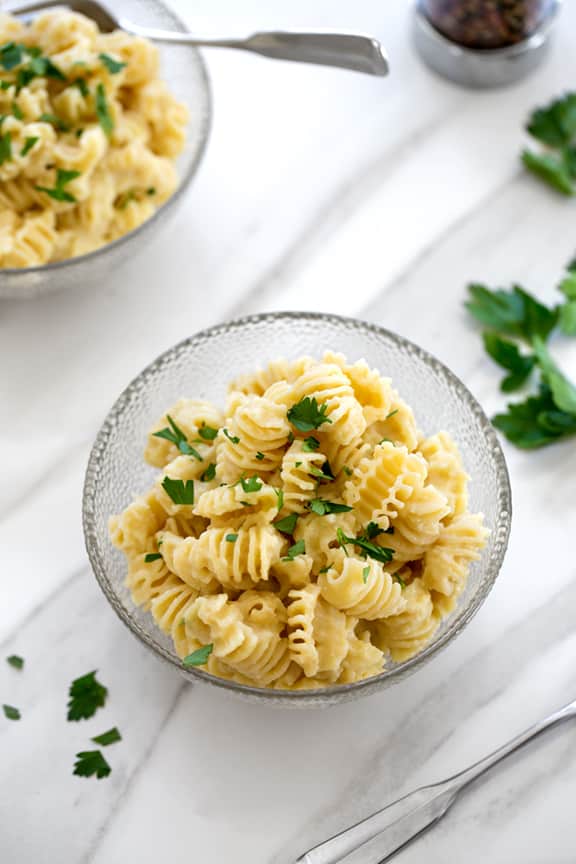 Find lots more Hack This! features on Vegan Food Hacks.