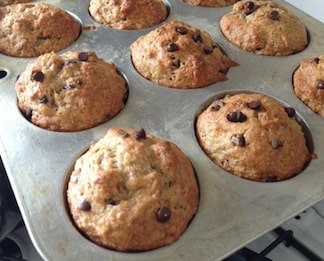 This vegan banana muffin recipe gets a nutritional boost from the all mighty yet tiny chia seed. Replacing eggs in vegan baking can be quite simple. Taking out the cholesterol by taking out the eggs is a piece of cake. Using a combination of baking powder, baking soda, vinegar, and ground chia seeds with some water does the trick. Recipe and photo contributed by Sharon Nazarian from Big City Vegan.
Makes 16 to 18 regular size muffins
1 cup whole wheat pastry Flour
¾ cup unbleached white flour
¾ cup organic granulated sugar
1 teaspoon baking powder
½ teaspoon baking soda
¼ teaspoon sea salt
½ teaspoon cinnamon
¼ teaspoon nutmeg
¼ teaspoon ground ginger
2 tablespoons chia seed meal (ground chia seeds)
½ cup water
½ cup nondairy yogurt (coconut or soy), or applesauce
1 cup mashed ripe bananas (approximately 3 to 4 medium size bananas)
2 teaspoons apple cider vinegar
2 tablespoons organic canola oil
1 cup roasted pecan or walnut pieces, or 1 cup mini chocolate chips
(or you could do a combination of chips and nuts – my favorite!), optional
Preheat the oven to 350º F. and prepare 2 regular size muffin trays by greasing the muffin cups with a little oil or line with muffin cups.
In a medium bowl, mix together (with a whisk or a fork) the ground chia seeds and water. Set aside for 10 to 15 minutes.
In a large bowl, sift all the dry ingredients: flour, sugar, baking powder, baking soda, salt and ground spices. Whisk to make sure they are fully combined. Set aside.
In another bowl, mash the bananas with a potato masher or large fork.
Add the vegan yogurt or applesauce, apple cider vinegar, oil, and chia mixture. Whisk until all the ingredients are fully combined.
Add the wet mixture to the dry and mix together until fully combined. Add the optional chocolate chips and/or nuts and mix in.
Spoon out the batter into the muffin cups. Bake for about 15 to 20 minutes or until a toothpick inserted into a muffin comes out clean.
Variation: As an alternative, you can make a banana loaf cake with a 9 by 4 inch pan. Cooking time for the loaf is 45 to 50 minutes or until a toothpick inserted into the center comes out clean.