Lots of people come to VegKitchen searching for vegan chicken so we thought we'd accommodate with this easy and tasty recipe for nuggets. If there's a growing desire to avoid eating the bird (the chicken industry is beyond cruel, and terrible for the planet), we're all in. And tasty nuggets are as simple as can be to prepare. Kids will love these with ketchup (wouldn't you rather give your kids breaded tofu than "pink slime"?); adults will relish them with salsa, BBQ sauce, or other hot stuff. Truth be told, they're great plain, too.
It seems trivial to open an entire can of beans to use 2 tablespoons of the liquid, but that's the secret to getting the breading to stick to the surface of the nuggets. My favorite for this is none other than chickpea liquid, aka aquafaba, but you can use the liquid from any other beans instead.

Serves: 4 or more
Two 8-ounce packages baked tofu (see Note)

2 tablespoons liquid from a can of chickpeas or other beans
(save beans for another use)

1 tablespoon olive oil
Breading
3 tablespoons flour or meal (almond, garbanzo (chickpea), spelt, or super-fine cornmeal)

3 tablespoons cup wheat germ

1 tablespoon nutritional yeast, optional

1 teaspoon salt-free seasoning blend (such as Frontier or Mrs. Dash)

½ teaspoon salt
To serve
Preheat the oven to 425 degrees F.
Cut each slab of tofu into 4 slices, then cut those down the center to get 8 nuggets.
In a large mixing bowl, combine the bean liquid and oil and stir together. Add the tofu and gently toss to coat.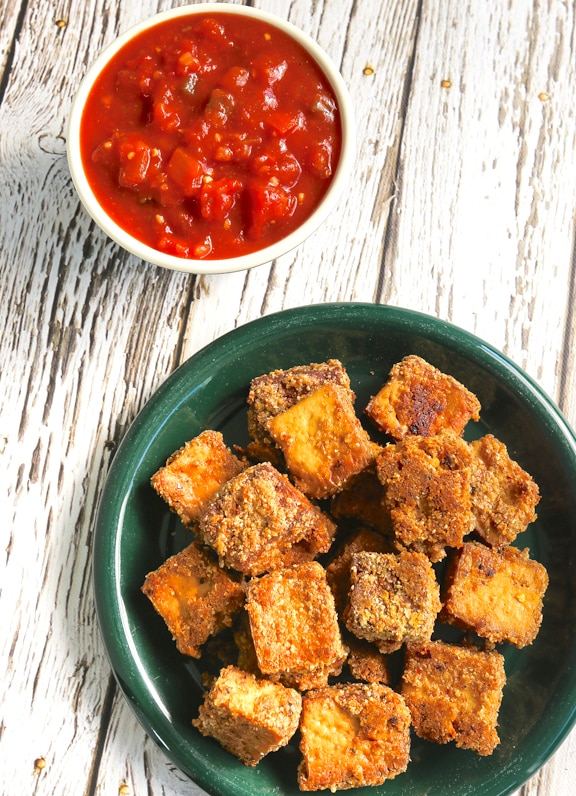 Combine the breading ingredients in a large plastic freezer bag or produce bag and shake to combine. Add the tofu (along with any excess liquid and shake gently until the tofu pieces are evenly coated.
Arrange in a single layer on a parchment-lined baking sheet. Bake for 15 minutes, then turn carefully and bake for another 10 to 15 minutes, or until golden brown on both sides.
Transfer to a serving platter and serve with sauce of your choice. These are good warm or at room temperature.
Note: Soy Boy teriyaki flavor is our favorite for this, but you can use either of the other two varieties from this brand: Caribbean or Smoked. The texture of this kind of firm, baked tofu is just perfect for these nuggets.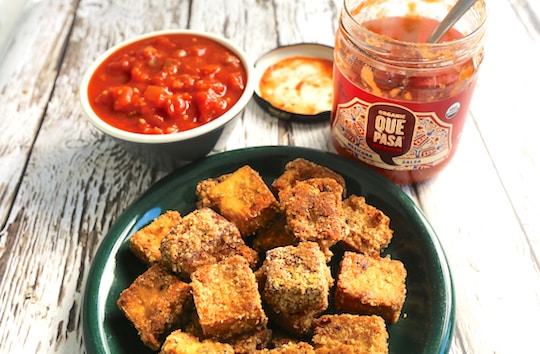 Thanks to Nature's Path for supplying Que Pasa salsa for these photos.
Photos: Evan Atlas