If you're looking for something familiar, hearty, and comforting for the evening meal, our vegan Italian meatball sub dinner might be just the thing. It's made with our healthy (and sneaky) vegan meatball hack — a clever way to make these tasty bites almost instantly and without questionable processed soy.
Since the vegan meatball sub skews toward bread-y comfort food, let's make sure to add plenty of vegetables to the plate. Fresh asparagus and broccoli slaw add very little work to the mix and go so nicely with the sub.
With the ingredients you'll be getting for this dinner, you can easily feed four, but you can cut this in half to feed two, or even make a generous dinner for one. Like all of our vegan dinner hacks, this one is designed in such a way that you need not slavishly follow recipes. In just a few steps, and your dinner is served.
Serves: 2 to 4
Time to table: 20 minutes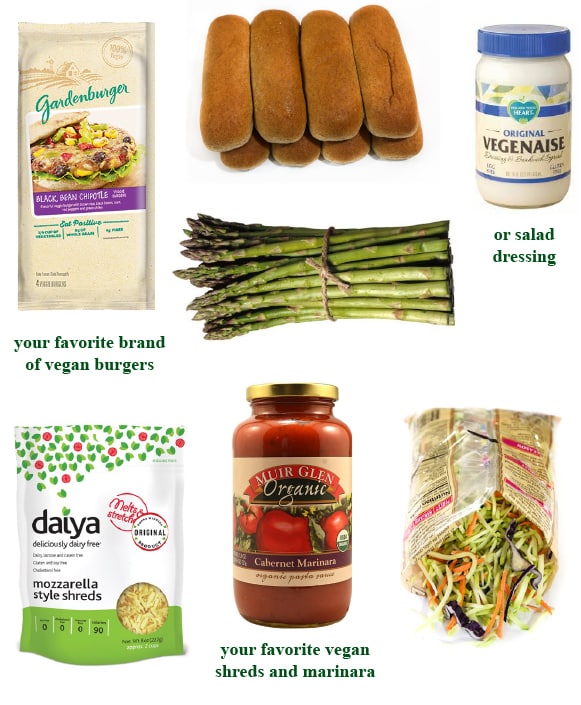 What you'll need
4-pack vegan veggie burgers (your favorite brand)

Bag broccoli slaw (any size)

Dressing for broccoli slaw (your choice; we use vegan mayo)

8 to 10 ounce bundle fresh asparagus

Package of small hero rolls, preferably whole grain

Jar marinara or other vegan pasta sauce (most are about 28-ounce;
but if you're only making dinner for two, a 16-ounce jar will do)

Vegan mozzarella cheese shreds (we like Daiya)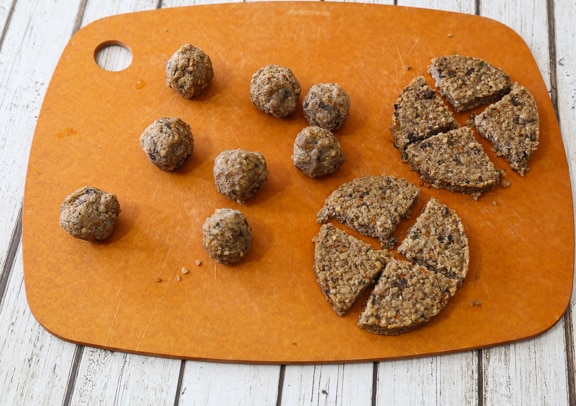 What to do
1  Whip up a batch of our Laughably Easy Vegan Meatballs.
2  While they're on the skillet, mix up as much broccoli slaw as you'd like with your favorite dressing in a bowl.
3  As soon as the vegan meatballs are done, remove them from the skillet to a covered dish. If need be, trim an inch or so off the ends of the asparagus if they look woody. Use the same skillet to steam the asparagus until bright green and tender-crisp. This should only take a couple of minutes.
4  Make as many meatball subs as you'll need for this meal. Slather some marinara sauce on both sides of a split-open hero roll. Arrange 4 or so meatballs inside, then sprinkle in a little of the mozzarella cheese shreds.
5  Microwave the finished heroes until the cheese melts, but don't overdo it — 30 to 40 seconds should do.
6  Plate the heroes with the asparagus and slaw, and enjoy!