Vegan Potato Pancakes are a delicious way to serve up your favorite spud. Load up your taters with onion, flour, flax egg, and salt, then fry them to crispy perfection. Pile on your favorite toppings and you've got yourself a meal!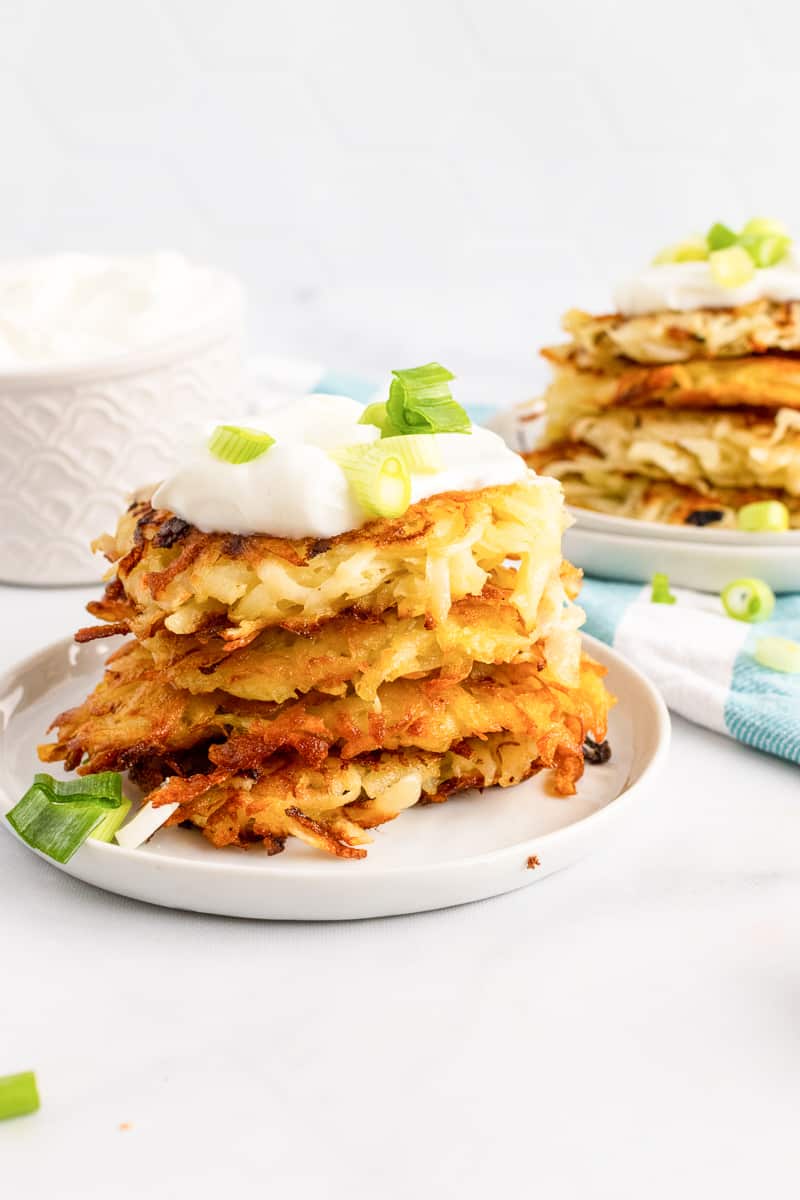 Pancakes are a fun and tasty way to enjoy your potatoes. You can use fresh potatoes for this recipe or last night's leftover mashed potatoes. The texture of the pancakes changes a bit when you use mashed, but they are still tasty.
This Vegan Potato Pancake recipe is...
Vegan
Vegetarian
Gluten-free
Dairy-free
How to Make Vegan Potato Pancakes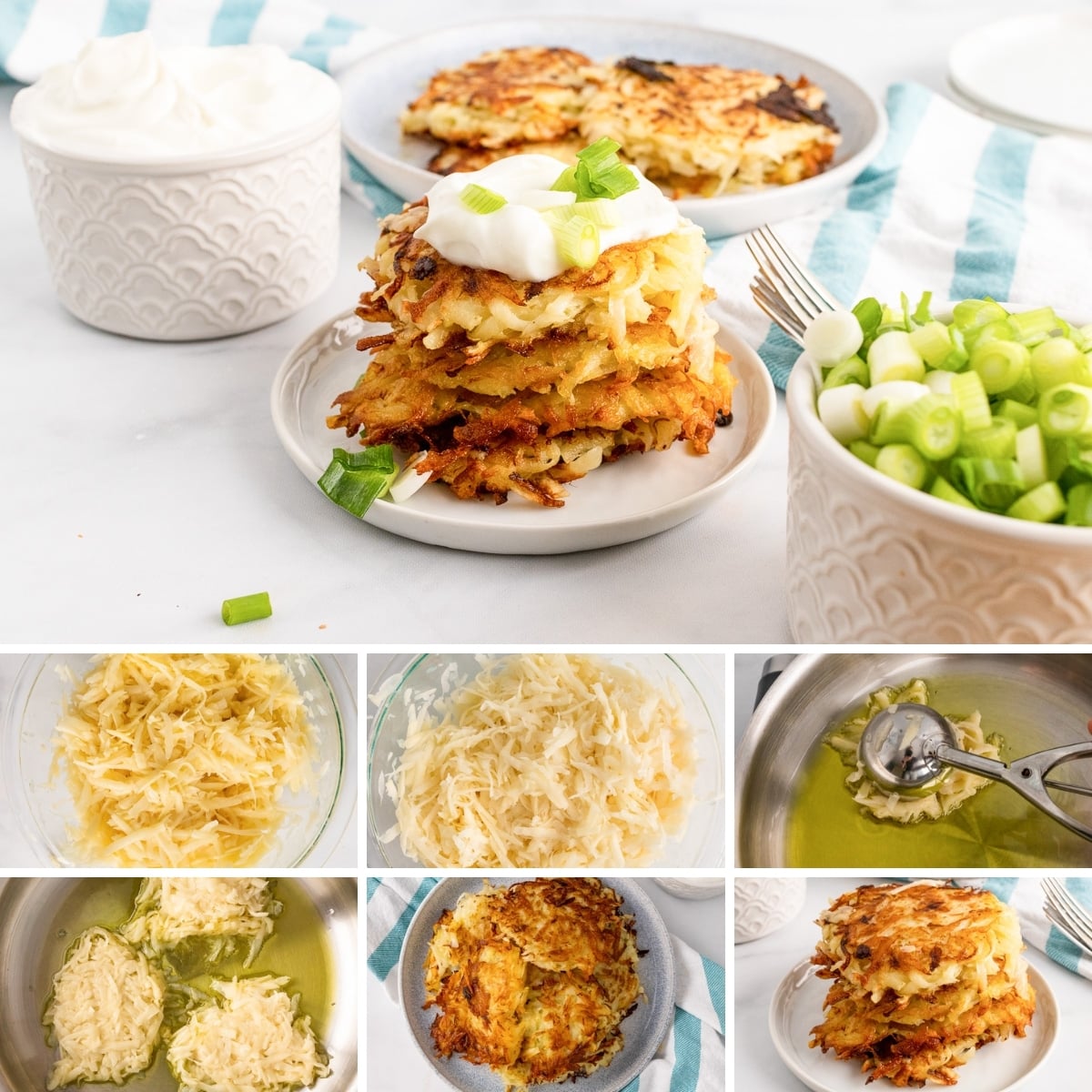 Start by preheating your skillet with frying oil.
Wash, peel, and grate the potatoes and onions.
Squeeze out excess liquid with a paper towel or cheesecloth.
Return potatoes and onions to bowl.
Add in the flax egg, flour, and salt. Mix well.
Scoop mixture into circles and place in skillet with hot oil. Flatten circles with spatula.
Fry on one side, then flip. Cook until both sides are golden and cooked through.
Serve with dairy-free sour cream and onions.
Tips & Tricks for Vegan Potato Pancakes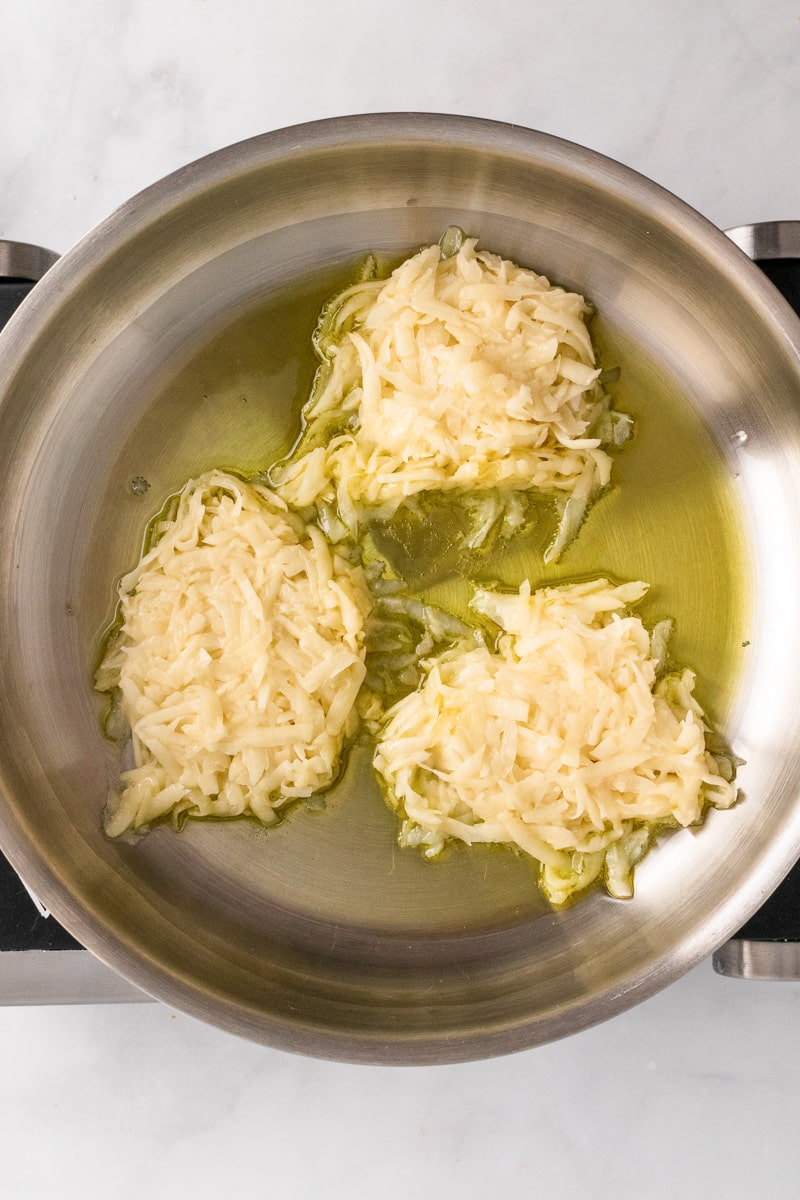 Don't Rinse Potatoes
Once you've shredded your potatoes, resist the urge to rinse them. Only rinse the potatoes once after you peel the skin off—but before shredding. The starch in the potato shreds will help them stick together into potato cakes.
Remove Excess Water
After you shred your potatoes and onion, make sure to squeeze out all the excess moisture into a paper towel or cheesecloth. This step is very important! If you leave the excess liquid in, your potato cakes will fall apart.
Use Hot Oil
Make sure your oil is fully hot and the pan is evenly heated before frying. Otherwise, your potato cakes will not hold up as you cook them.
Variations to Vegan Potato Pancakes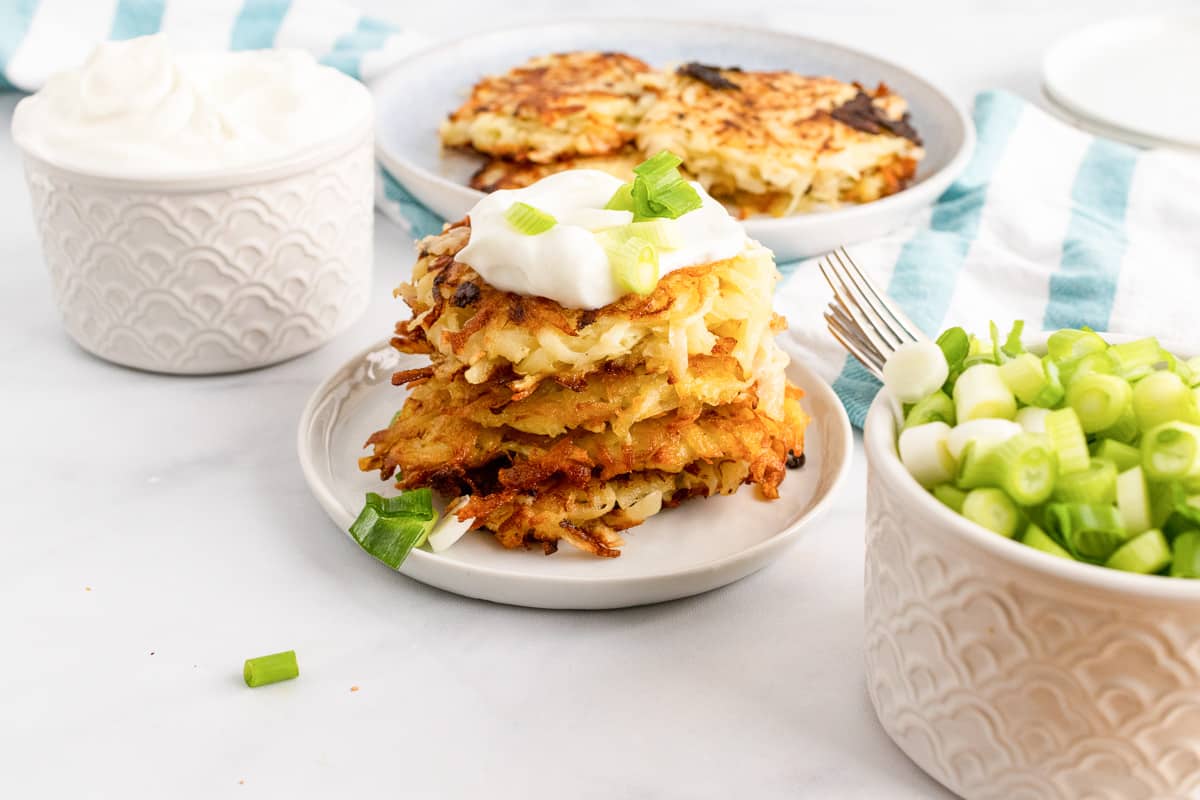 Flavoring
Add different spices to change up the flavor of your potato cakes. Try some lemon pepper, cajun, bbq seasoning mix, or whatever your favorite spice may be!
Garlic
Take a garlic clove and grate it along with the potatoes and onion for a bit more flavor in your potato cakes. I love adding the flavor of garlic to my potato cakes!
Toppings
You can use pickled onions, diced jalapeños, dairy-free ranch drizzle, and more to top your potato pancakes. The options are endless—and all delicious! Feel free to add on whatever you want, or simply eat them plain.
Vegan Potato Pancake FAQs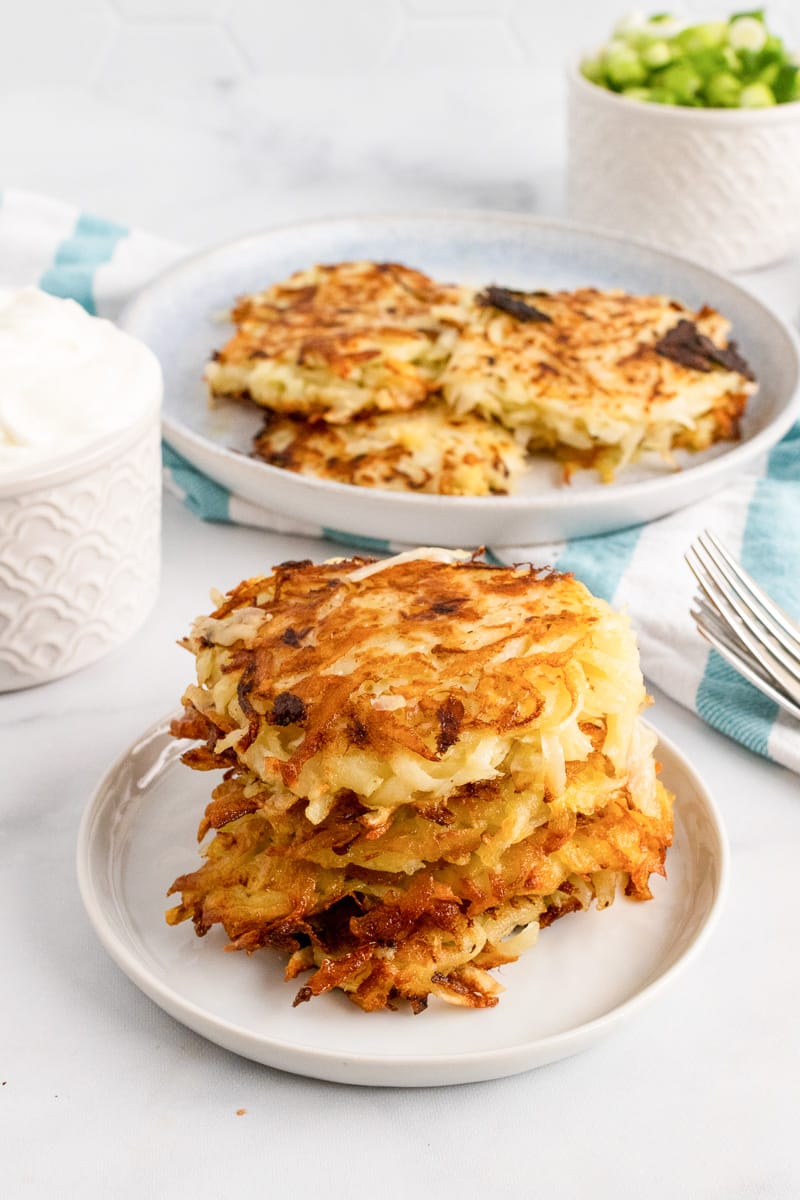 How can I keep potato pancakes warm?
Keep your potato pancakes warm by turning the oven on to 200°F. Then place the finished cakes in a single layer on a baking sheet and store them in the oven until ready to serve.
Do Vegan Potato Pancakes store well?
Potato pancakes are best served fresh, right after cooking. However, you can store the potato cakes in the fridge for 2–3 days. Warm them up in the microwave or in a skillet when you're ready to eat them again. The texture will be softer, but the flavor will be the same.
How do I make flax seed eggs?
Mix together 3 tablespoons water and 1 tablespoon flax seeds, and let it sit for 5 minutes. Then use this mixture in place of one egg.
Recipe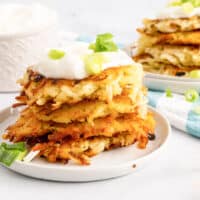 Vegan Potato Pancakes
Vegan Potato Pancakes are a delicious way to serve up your favorite spud. Pile on your favorite toppings and you've got yourself a meal!
Print
Pin
Rate
Email
Ingredients
1.5

lbs

russet potatoes

5 small or 3–4 large

1

medium onion

1

flax egg or 3 tbsp dairy free milk

1

tbsp

flour

½

tsp

salt

½

cup

oil

for frying

dairy-free sour cream or plain dairy-free yogurt

for optional garnish

green onions

sliced, for optional garnish
Instructions
Preheat a skillet over medium heat with enough oil to make a ⅛" layer on the bottom.

While oil preheats, wash and peel the potatoes and onion.

Using a grater, shred the potatoes and onion. Then stir shreds together in a large bowl.

Using a clean kitchen towel or some paper towels, squeeze out as much liquid as you can from the potatoes and onion. Then return shreds to bowl and set aside.

Use a fork to mix the flax egg (or dairy-free milk), flour, and salt together. Then pour this mixture into the vegetable shreds and stir well.

Use a scooper or large spoon to transfer circle-shaped scoops of the potato mixture into the preheated frying pan, then flatten scoops with a spatula.

Allow potato pancakes to cook for 3–4 minutes or until the edges start to brown, then flip and continue cooking them for an additional 3–4 minutes.

Repeat until all the potato shreds have been used up. You may need to add additional oil between batches.

Serve pancakes garnished with dairy-free sour cream or yogurt and green onions, if desired.
Notes
Do not rinse the potato shreds; their starch will help the pancakes stick together.
Both sides of cakes should be golden brown when done cooking.
You can keep finished potato pancakes warm in the oven in a baking dish at 200°F while you finish cooking the rest.
Garnish your potato cakes with dairy-free sour cream, or dairy-free plain yogurt, and green onion.
You can add some of your favorite seasonings to the potato mixture to change it up. Try a cajun spice blend for a new twist!
To make a flax egg, mix 3 tablespoons of water with 1 tablespoon of ground flax seeds. Let sit for 5 minutes. Then use this mixture in place of 1 egg in your recipe.
Nutrition
Calories:
207
kcal
|
Carbohydrates:
18
g
|
Protein:
2
g
|
Fat:
15
g
|
Saturated Fat:
1
g
|
Polyunsaturated Fat:
4
g
|
Monounsaturated Fat:
9
g
|
Trans Fat:
1
g
|
Sodium:
151
mg
|
Potassium:
386
mg
|
Fiber:
2
g
|
Sugar:
1
g
|
Vitamin A:
1
IU
|
Vitamin C:
6
mg
|
Calcium:
18
mg
|
Iron:
1
mg
Vegan-ize any recipe!
Grab our free vegan cheat sheet, packed with my favorite easy substitutions to make any recipe vegan.