Poutine is a Canadian fast-food specialty with roots in Quebec. Basically it's French fries smothered in gravy and covered with cheese, or rather, cheese curds — whatever those are. This vegan poutine recipe swaps out a beefy gravy for a veg version, and nondairy cheddar shreds for the curds.
Admittedly, poutine (vegan or not) is kind of like enjoying movies that are so bad they're good — liking something a bit weird as a guilty pleasure. If we could have gone full-on vegan hack with this recipe, we would have liked to use a readymade vegan gravy. We're not sure one even exists, but no worries, vegan gravy is super-easy to make — and really, the only from-scratch item in this simple rendition.
And because it's such a guilty pleasure, I like to serve something really healthy with poutine — like a colorful kale salad!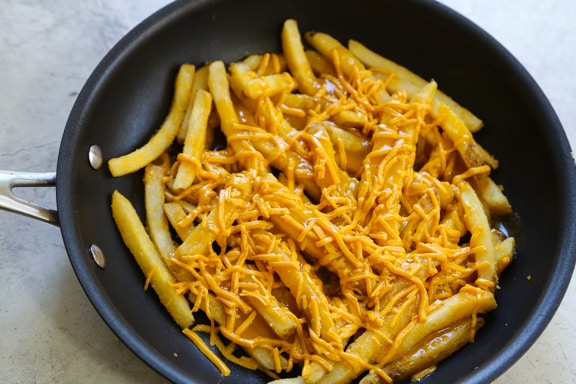 Time to table: 15 to 20 minutes
Serves: 4 or more
What you need

16-ounce bag all-natural frozen French fries
Gravy
2 cups vegetable broth (about half of a carton — we like Imagine or Pacific)

2 tablespoons unbleached white flour or chickpea flour

2 tablespoons nutritional yeast, optional

Splash of soy sauce or Bragg liquid aminos

Freshly ground pepper to taste
Topping
1 to 2 cups cheddar-style nondairy cheese shreds, as desired
1 Prepare the fries according to package directions, either in a roasting pan in the oven or in a large skillet on the stovetop.
2  Meanwhile, heat the broth in a small saucepan. While it's warming up, dissolve the flour in a little more broth or water.
3  When the broth comes to a simmer, turn down the heat and drizzle in the dissolved flour preferably using a whisk. Whisk in the optional nutritional yeast as well and cook just until thickened. If you'd like a thicker gravy, dissolve a little more flour in a little more liquid and repeat.
4  Season the gravy to taste with soy sauce and pepper and remove from the heat.
5  Once the fries are crisp, pour about half of the gravy over them, and transfer the other half to a spouted container.
6  Sprinkle the cheese over the fries evenly. Return to the oven for the cheese to melt, or, if cooking on the stovetop, cover the skillet and cook briefly until melted.
7  Serve at once, passing extra gravy to whoever would like more.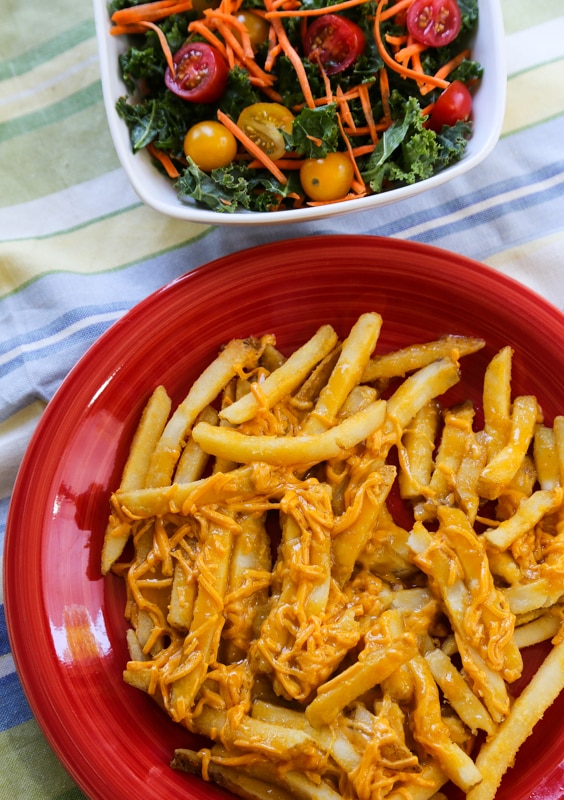 Photos: Evan Atlas