Would you like to impress a new vegan sweetie with a dinner at home, but don't have the time (or the skills) to make it happen? Whether for Valentine's day or another special occasion for two, this nearly instant, fail-proof vegan ravioli dinner is a recipe for romance. It starts with an appetizer of pesto sauce (there are some great vegan varieties in the pasta aisle; if you can't find it, you can easily make your own) with fresh baguette and baby carrots.
Your entrée is vegan ravioli (that you don't make, of course), topped by marinara sauce and a sprinkling of vegan cheese. The green on the plate is courtesy of asparagus — AKA a vegetable that doesn't have to be chopped.
If you don't have the inclination to make dinner, that attitude likely applies to dessert as well, but an artfully arranged platter of good dark chocolate and sliced pears will do very nicely. Top it all off with your favorite wine, and you've got a beautiful, memorable meal whose elegance belies its ease.
As for the ingredients for this dinner for two, you'll have carrots, baguette, marinara sauce, and vegan cheese shreds left over, from which you can easily fashion another meal.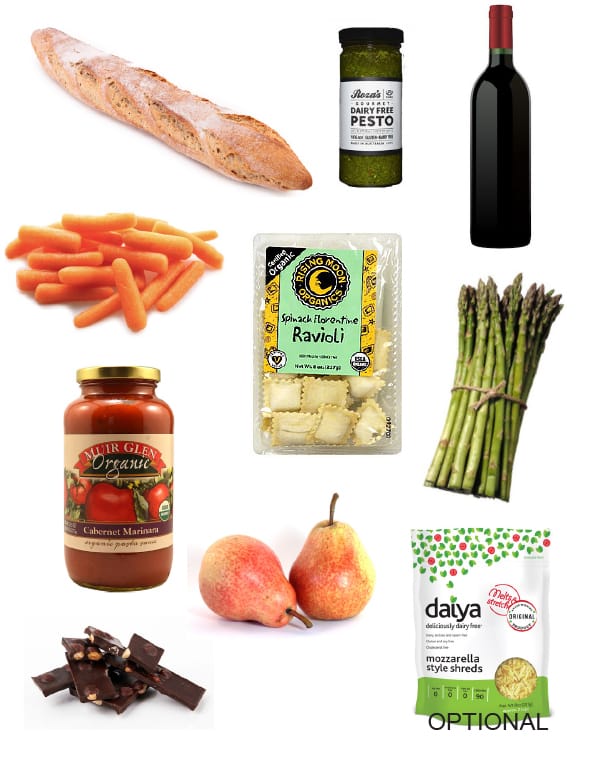 What you'll need
Fresh bread or baguette, preferably whole-grain

Baby carrots (16-ounce bag)

Vegan pesto, any brand (find them near the pastas in your market)

A bottle of your favorite wine

8- to 12-ounce package vegan ravioli (Rising Moon makes some good ones)

Marinara sauce, good-quality and vegan (usually comes in 28-ounce jars;
you can get a smaller one if you prefer)

Asparagus (enough for two people; 16 or so spears, or an 8-ounce bundle)

Vegan Mozzarella-style shreds (Daiya or other), optional

A couple of fresh pears

A good-quality bar of vegan chocolate
What to do
1  Arrange a few slices of baguette and some baby carrots on a platter, surrounding a small bowl of the pesto. Serve before the meal with wine.
2  Cook the ravioli according to package directions. Warm about 2 cups of marinara sauce in a small saucepan.
3  Steam the asparagus with a little water in a skillet until bright green. You can drizzle with a little olive oil, or serve it plain.
4  Serve ravioli topped with marinara sauce on individual plates, with the steamed asparagus alongside; sprinkle the ravioli with vegan mozzarella shreds if using.
5  For dessert, arrange squares of chocolate with sliced pears. Continue serving wine!