Here's a hearty dish of potatoes and vegan sausage, highlighting calcium-rich collard greens. It's so hardy, that all you need is a simple salad or slaw to complete the meal. Photos by Evan Atlas.
Serves: 4 to 6
4 medium-large Yukon gold or red-skinned potatoes
1 large sweet potato
2 tablespons extra-virgin olive oil
3 to 4 cloves garlic, minced
1 good-sized bunch collard greens (8 to 10 ounces)
2 links Tofurky or Field Roast vegan sausage, cut into ½-inch-thick slices
¼ cup white wine, vegetable broth, or water
Leaves from 2 sprigs fresh rosemary,
or 1 to 2 teaspoons dried rosemary leaves, to taste
1 teaspoon sweet paprika
¼ teaspoon dried hot red pepper flakes, or to taste
Salt and fresly ground pepper to taste
Cook, bake, or microwave the potatoes and sweet potatoes until they can be pierced with a fork but still firm. When cool enough to handle, cut in half lengthwise, then cut into ½-inch-thick half circles.
Cut away the thick mid-ribs from the collard greens and cut the leaves in half lengthwise. Rinse well, then, stacking several leaves at a time, cut them into thick strips.
Heat the oil in a large skillet or steep-sided stir-fry pan. Add the garlic and sauté over low heat until golden.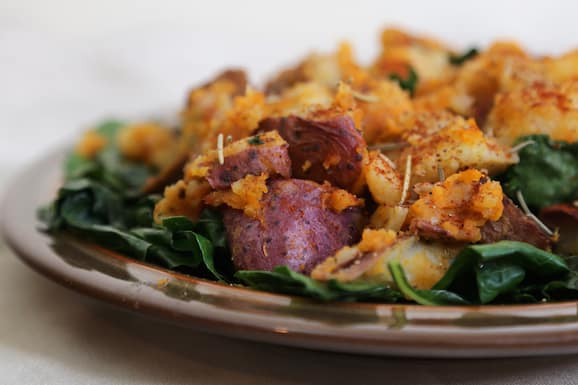 Add the potatoes, collards, sausage, and wine (or broth or water). Turn the heat up to medium high and cook, stirring frequently, until the collards are bright green and tender-crisp and the potatoes and suasage are touched with golden spots here and there.
Sprinkle in the rosemary, paprika, and red pepper flakes and cook for two to three minutes longer, stirring frequently. Season with salt and pepper and serve.
Nutrition Information:
Per Serving (based on 4 servings): 318 calories; 43g carbs; 12g fat; 15g protein; 226mg sodium