Soft, sweet, and delectably chewy, these Vegan Sugar Cookies are a show-stopper dessert! They are made with simple ingredients like unsweetened apple sauce, vanilla extract, and flour.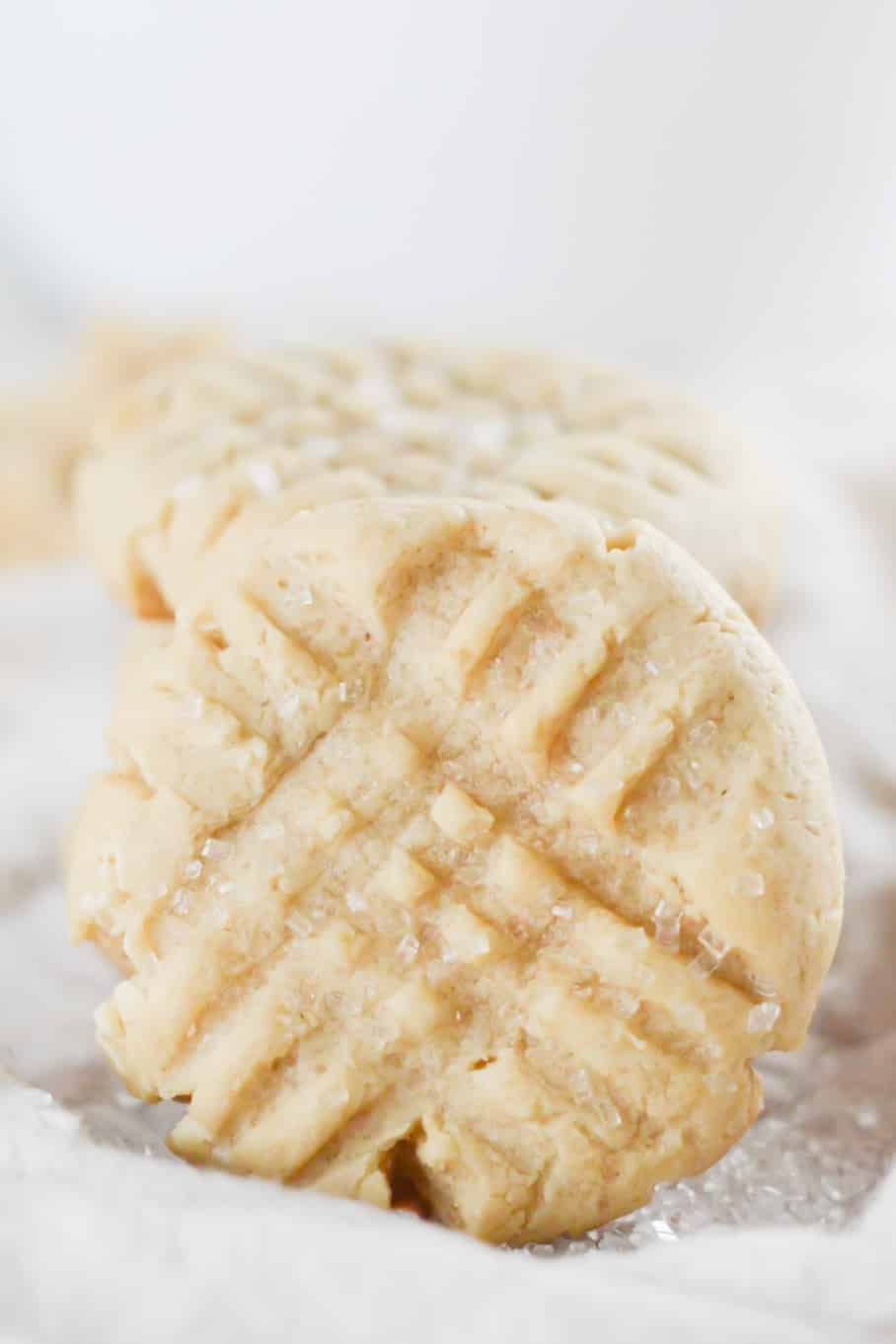 Jump to:
These vegan sugar cookies are sprinkled with coarse sugar giving them a satisfying taste. This recipe is simple to make and is even suitable for cookie cutters!
Sugar cookies are a staple cookie for all your cookie needs! In addition, they can accompany any other cookie type to make a lovely gift basket. Pair these sugar cookies with an assortment of your other favorite cookies:
These vegan sugar cookies don't lack flavor, that's for sure. They are packed with sweetness and have a wonderful soft crumbly texture.
This Vegan Sugar Cookies recipe is...
Egg-less
Easily cut with cookie cutters
Ready in under 30 minutes
Sweet and tasty
A great cookie for any occasion
How to Make Vegan Sugar Cookies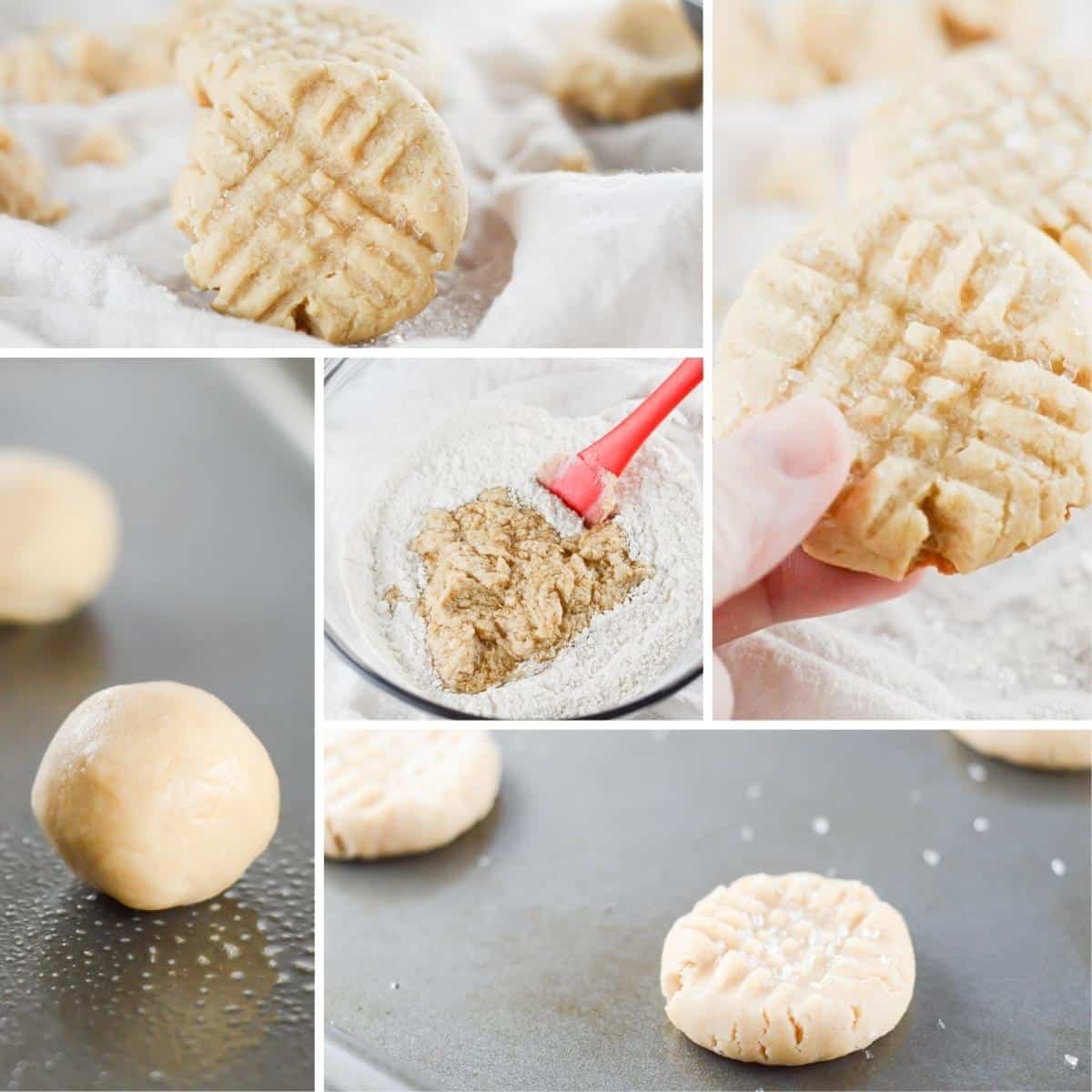 Preheat the oven and spray your cookie sheet with cooking spray.
Combine the dry ingredients (except the coarse sugar) in a bowl and set aside.
In a separate bowl combine the butter and sugars.
Add the vanilla extract and apple sauce to the mixture and stir well.
Combine both the mixtures and stir until it's a thick cookie batter.
Roll the dough into small 1-inch cookie dough balls and place on a baking sheet.
Use a fork to create a criss-cross pattern and sprinkle cookies with coarse sugar.
Bake, let cool, and enjoy!
Full directions for how to make Vegan Sugar Cookies are in the printable recipe card at the bottom of the post.
Tips & Tricks for Vegan Sugar Cookies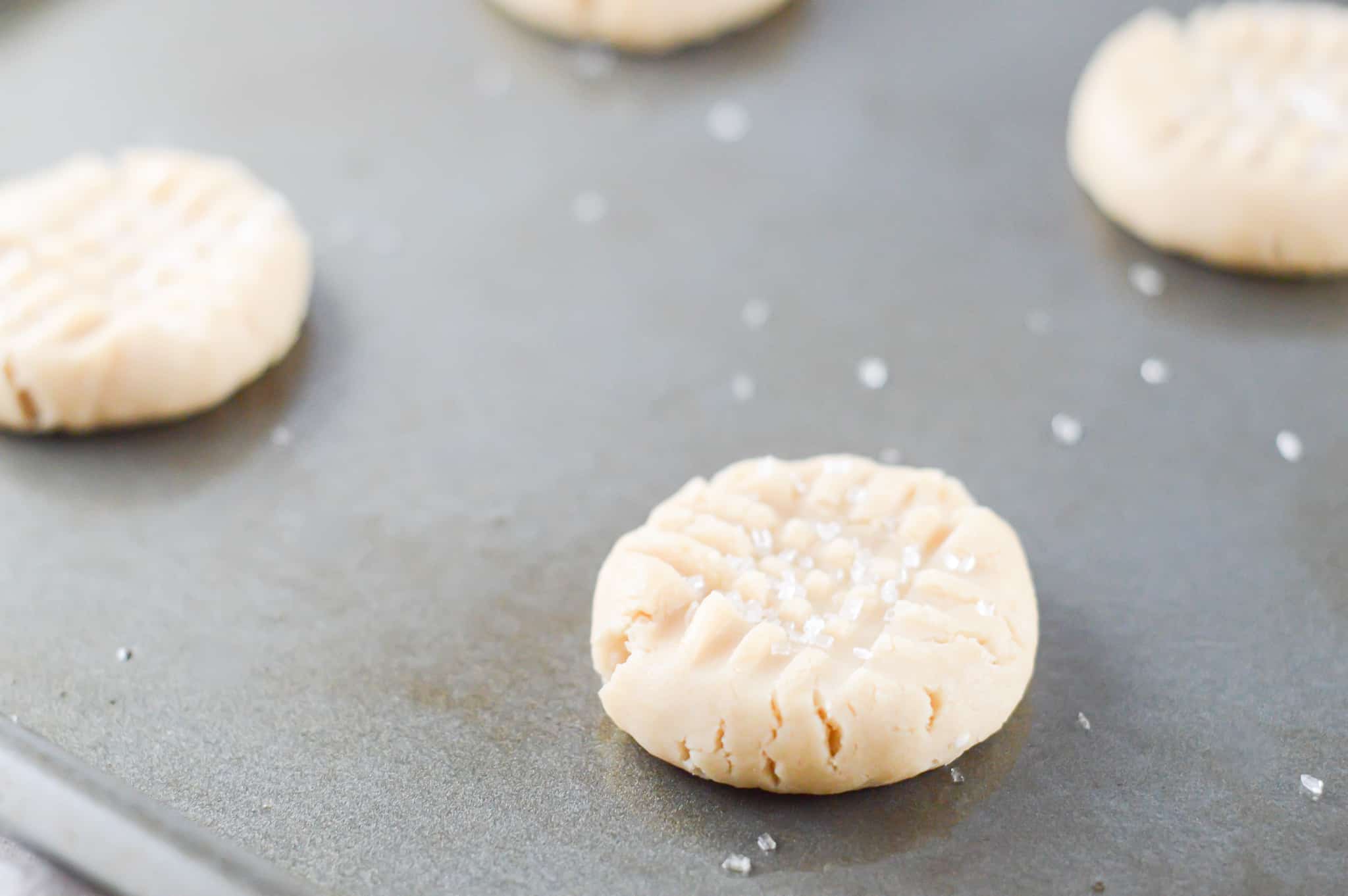 Choose an excellent vegan butter.
When choosing a vegan butter, look for one with a low level of refined oil that is free of artificial additives. We have a few favorites in particular that we shared in our post about the Best Vegan Butter brands.
Our list includes Earth Balance, Miyoko's Vegan Butter, and I Can't Believe It's Not Butter: Vegan. It's helpful to read reviews about vegan butter if you're new to that particular brand.
Using cookie cutters?
Don't worry! You can easily use cookie cutters with this cookie dough in a few simple steps. If you don't already own cookie cutters—or you want some new ones—here are a few of our favorites:
In order to use cookie cutters with this cookie dough, simply make the dough, cover, and chill it for two hours. Afterward, sandwich the dough between wax paper and roll the dough out using a rolling pin. Make sure to use a generous amount of flour to prevent sticking. Proceed to use the cookie cutters, bake, cool, and enjoy.
Preventing a dry cookie.
The key to a moist cookie is ensuring the right amount of fat. Fat is what makes the cookie soft and moist instead of crumbly and hard. This vegan sugar cookie recipe uses vegan butter to produce a cookie that is soft and heavenly.
The significance of fork-pressing.
Though it might seem minor, the crisscross pattern on the cookies is quite significant. The fork-pressing flattens the dough and allows for even cooking. It also gives the cookie a neat design and allows the coarse sugar to sink into the grooves, giving a delicious taste bite after bite.
Vegan Sugar Cookies FAQs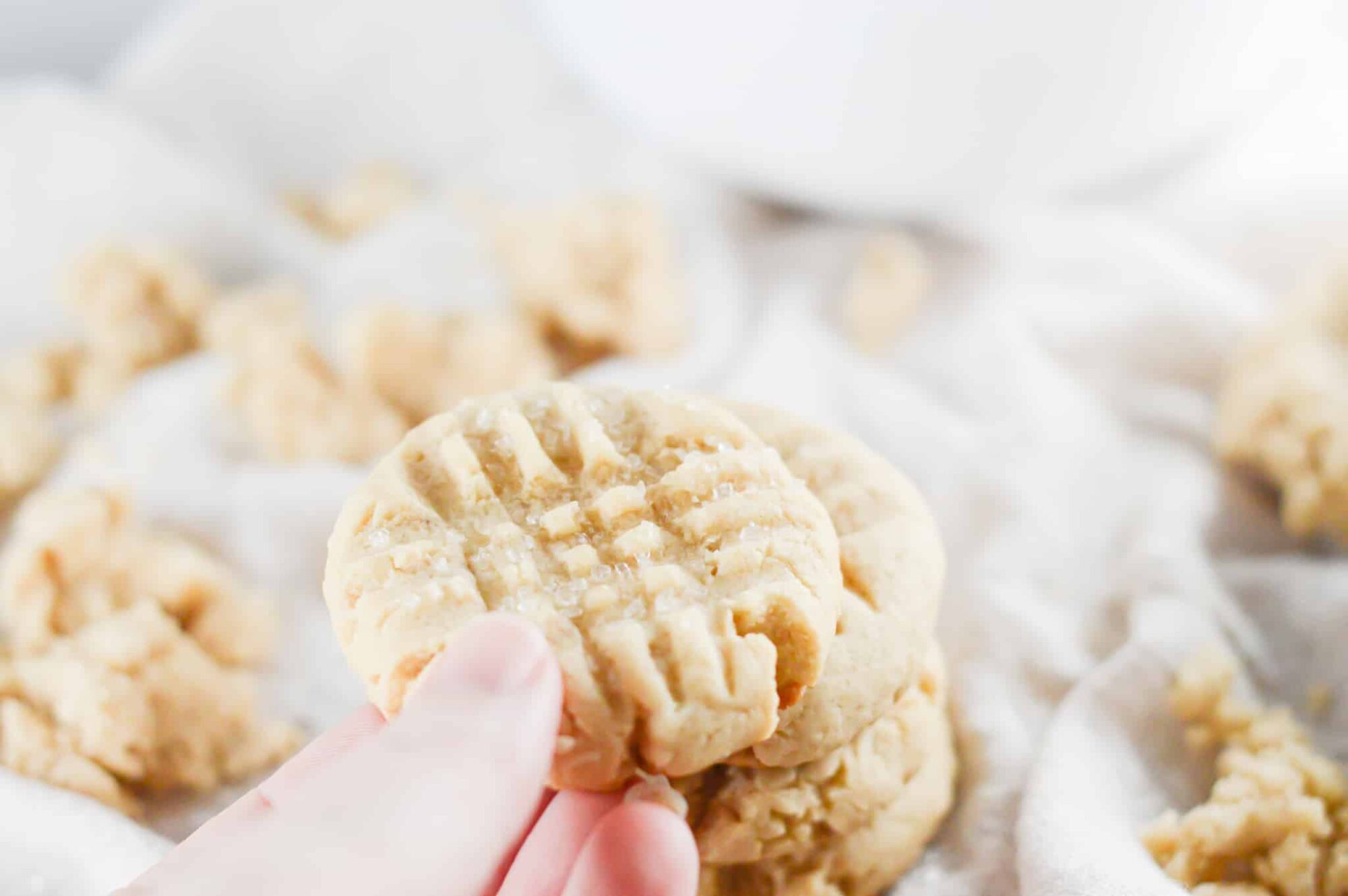 What makes these vegan sugar cookies so great?
Everything about these sugar cookies is great! These cookies come together with little effort and are ready to eat in only half an hour. These vegan sugar cookies are a healthier alternative, but you wouldn't even know it by tasting them—they aren't lacking in flavor, that's for sure!
This recipe makes approximately twenty-four cookies, the perfect amount for sharing. They have a beautiful golden color and are sprinkled with coarse sugar. These vegan sugar cookies sure are heavenly!
How do I stop my vegan sugar cookies from cracking?
There are a few things to do to ensure your vegan sugar cookies don't crack. Be cautious to not overspray the baking sheet as it might cause the cookie dough to become too runny and lead to cracking. Baking your cookies on a silicone mat is beneficial to keep the cookie together as well. It helps the cookie dough to stay gripped together.
A Guide to Vegan Baking is a great resource for understanding the craft of vegan baking. Certain ingredients hold a lot of significance in vegan baking, and proper measurements are necessary to create the correct cookie texture and consistency. These vegan sugar cookies shouldn't crack if you follow the steps.
What is coarse sugar? Is it different than refined sugar?
Coarse sugar is, in fact, different from refined sugar. It is a much larger-sized crystal, about the size of pretzel salt. It gives these vegan sugar cookies a dynamic texture and a satisfying taste. Also, because of the size, coarse sugar doesn't melt and adds a nice crunchy texture to the baked goods.
Recipe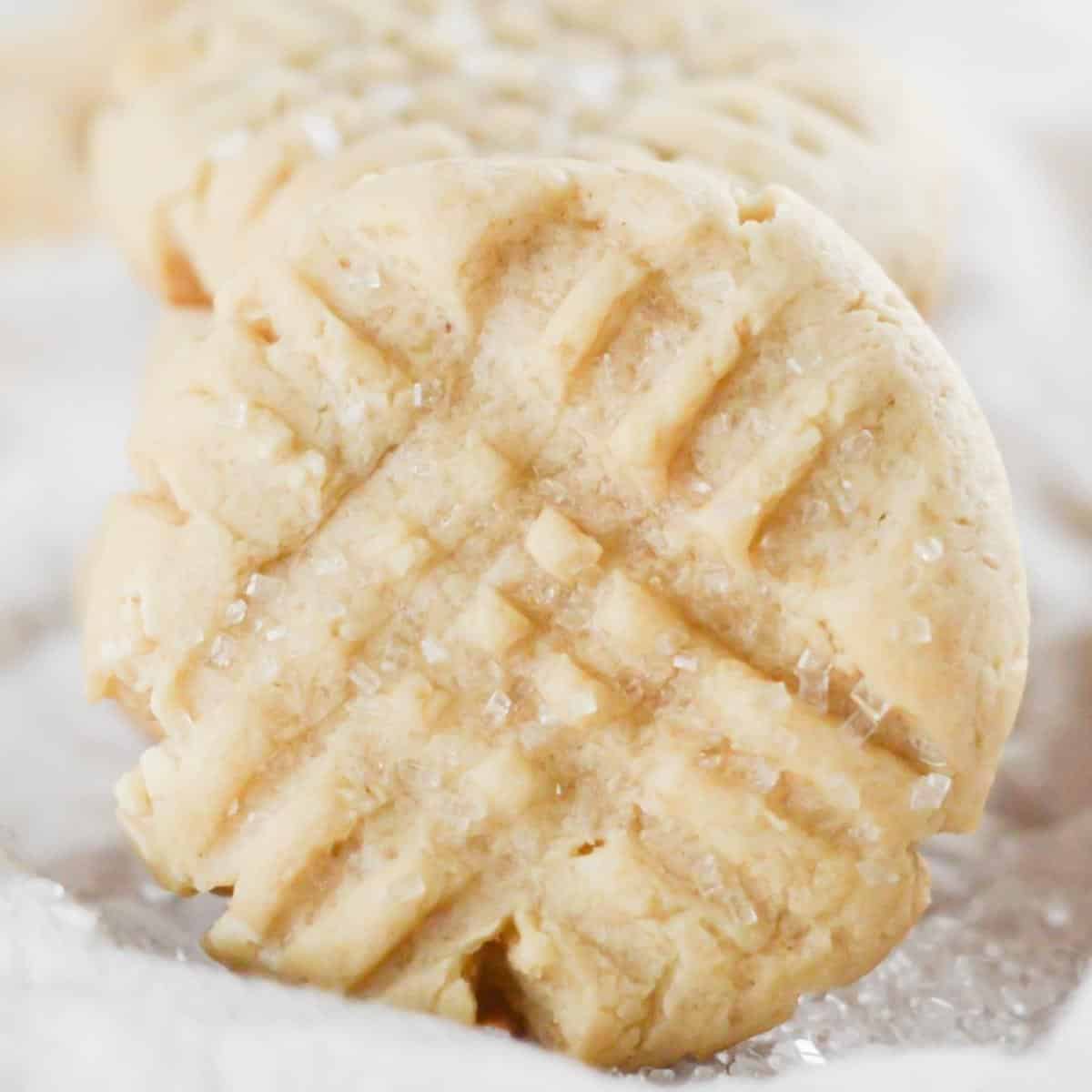 Vegan Sugar Cookies
Soft, sweet, and delectably chewy, these Vegan Sugar Cookies are a show-stopper dessert made with simple ingredients.
Print
Pin
Rate
Email
Instructions
Preheat the oven to 350°F and lightly spray a cookie sheet with cooking spray.

In a bowl, combine all the dry ingredients except the coarse sanding sugar and mix well.

In a separate bowl, cream together the butter, both sugars, and the vanilla.

Add the applesauce to the sugar and mix well again.

Combine both the dry and wet ingredients and mix well into a thick cookie dough.

Roll into 1-inch balls and place on the prepared baking sheet.

Use a fork to press down the cookie dough balls, leaving a criss-cross pattern. Sprinkle with the coarse sugar and bake for about 8–10 minutes or until the edges start to turn a very light gold color.

Remove from the oven and leave the cookies on the pan to cool for a few minutes.
Notes
If you want to cut shapes out of the sugar cookies, prepare the dough, then cover it and chill for two hours. Next, sandwich the dough in between two sheets of wax paper and roll it out, making sure to use plenty of flour so it doesn't stick. Cut out your shapes and bake them following the same baking time and temps in the recipe.
Nutrition
Calories:
89
kcal
|
Carbohydrates:
14
g
|
Protein:
1
g
|
Fat:
3
g
|
Saturated Fat:
1
g
|
Polyunsaturated Fat:
1
g
|
Monounsaturated Fat:
1
g
|
Trans Fat:
1
g
|
Sodium:
143
mg
|
Potassium:
17
mg
|
Fiber:
1
g
|
Sugar:
7
g
|
Vitamin A:
181
IU
|
Vitamin C:
1
mg
|
Calcium:
13
mg
|
Iron:
1
mg
Vegan-ize any recipe!
Grab our free vegan cheat sheet, packed with my favorite easy substitutions to make any recipe vegan.