Vegan sweet potato pie, made with silken tofu, sets up beautifully when baked. The cheering color makes it perfect for fall or winter occasions. Pie crust sizes vary, so if excess filling remains after pouring into the crust, fill a ramekin or two, and bake at the same time as the pie to make mini-puddings. Photos: Hannah Kaminsky.
Serves: 8
2 scant cups cooked or baked and peeled sweet potato chunks,
from 1 large sweet potato (see note)
12.3-ounce aseptic package firm or extra-firm silken tofu
2 tablespoons cashew, almond, or peanut butter
½ cup natural granulated sugar
2 tablespoons maple syrup
2 teaspoons vanilla extract
1 teaspoon cinnamon
1 teaspoon ground ginger
¼ teaspoon ground or fresh grated nutmeg
9-inch whole grain deep-dish pie crust
Preheat the oven to 350º F.
Combine all the ingredients (except crust, of course) in a food processor. Process until velvety smooth.
Pour the mixture into the crust. Bake for 40 to 45 minutes, or until the mixture is set and the crust is golden.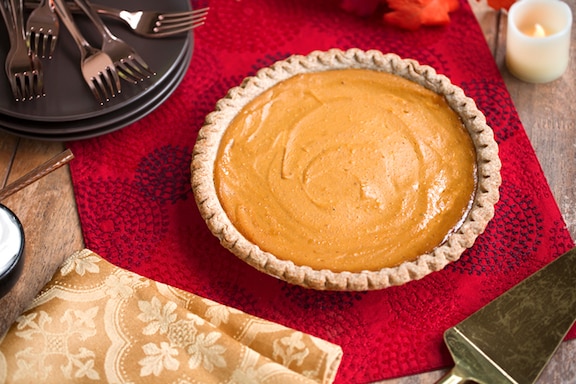 Let the pie cool completely. Cut into 8 wedges.
Note: Cook or bake the sweet potato ahead of time, using your favorite method. You can microwave or bake in its skin, then peel and cut. Or, peel, cut into approximately ¾ inch chunks and combine with just enough water to cover in a saucepan. Simmer gently until tender, then drain.
Variations:
Melt about ¼ cup dairy-free semi-sweet chocolate chips or other semi-sweet chocolate, then transfer to a piping bag to create a criss-cross pattern atop the pie once it's baked.
Top individual vegan sweet potato pie wedges with Vegan Whipped Cream (or readymade)