What is vegan wine? When and why is wine not vegetarian or vegan? Many wine drinkers, even those who are vegetarian or vegan, may be unaware that animal ingredients are often used in the wine clarifying process. Whitecliff, the only vegan winery in the Hudson Valley, has been an industry leader in encouraging all wineries to use non-animal-based ingredients in the wine clarifying process (rather than the fish parts, egg whites, and gelatin that are commonly used).
While these animal ingredients don't per se end up in wine products, it's good to know that Whitecliff Vineyard & Winery, along with a select number of others, pride themselves on making only vegan-friendly wines. Established in 1979, the winery is owned by Yancey Stanforth-Migliore and her husband, Michael Migliore, president of the Hudson Valley Wine and Grape Association, and managed by their son, Tristan Migliore.
Whitecliff has been promoting the idea of "veggies and vino" for some years now. Through enjoyable annual events, the public is educated about pairing wines with plant-based dishes. I recently had the opportunity to chat with Tristan about vegan wines and wine pairings.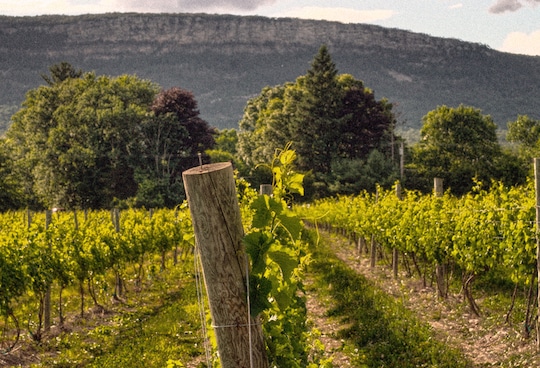 When did Whitecliff become a vegan winery, and what was the thinking behind that process?
It would be hard to say the percentage of wineries that use all animal clarifying agents, but it's the vast majority. White wines are usually what you need to worry about but red wines often as well. I'd hazard a guess at industry wide 75% of whites and 30% of reds use animal products in the fining/clarifying process. Traditionally used for these processes are egg whites, gelatin, and isinglass (a fish product). More recently, bentonite (a type of clay) has been used, and even more recently, vegan potato-derived gelatin, which is what we use for all our wines.
Whitecliff became fully vegan only about two years ago, but production-wise we went totally vegan 3 years ago. The main motivating factor in that was me, since I've been vegan for 15 years now, and my family, who isn't, respected that. The real deciding factor for my folks was that the vegan fining process is cheaper, just as effective, and gets us an edge marketing wise. To me those things are icing but the ethics are the most important.
Do you find many people, and in particular your customers, are confused about what makes a wine vegan; and what is the simplest explanation you can offer them?
I think wine drinkers in general are confused or don't care about a lot of winemaking, and clarifying is something that doesn't occur to most people, even our customers. When it comes up I don't give an elevator pitch — I give the full explanation. I think education about wine is something everyone enjoys when they're confronted with it.
What are the some of the benefits of vegan wine other than the obvious one of it being a non-animal-based product? Are there environmental benefits?
As far as the environmental impact goes veganism always has a far superior environmental impact by not contributing to animal agriculture which is the leading source of greenhouse gasses that lead to global warming.
Our more localized environmental impact isn't really effected; the animal-derived clarifying agents are really pollutants on an individual level. The benefit outside ethics is as I mentioned before, it's cheaper (since potatoes are easy to produce) and give you incredibly reliable results for finishing wines.
Now, let's get to the fun part, which is the pairings. Can you break it down first more globally, that is, are there certain cuisines that go mainly with reds, and others go mainly with white wines?
My first response when talking about pairings is taste is totally subjective, so no one is wrong in their choice. In general terms reds go with heavier foods, white with lighter, but it really comes down to the subtleties of the dish.
What wines go best with classic Italian pasta dishes featuring eggplant, tomatoes, zucchini, basil, and the like?
For Italian pasta dishes I usually like bigger reds like Merlot, Malbec, Petite Verdot, Cabernet Franc or Sauvignion, etc. Something with tannins and earthy weight to it.
How about Middle Eastern fare that highlights chickpeas, lentils, earthy grains, and dishes like hummus, foul, and baba ghanoush?
For Mediterranean I usually like Chardonnay, either steel or barrel fermented, Pinor Noir or Gamay Noir, or a dry Riesling.
What do you recommend for the lighter fare of summer — salads, raw foods, leafy wraps, and the like?
For lighter food like salads I'm a big fan of a dry Rosé, Gewurztraminer, or Seyval, something with crisp acidity and fruit that'll balance with fruit and veggies.
Do any wines go well with vegetable-based curries or anything Asian? For those of us who don't like beer (which is often a staple with Asian fare like Thai and Vietnamese), what wines are a good alternative?
When it comes to curries or spicier Asian food in general (including Vietnamese noodles, Thai curry, Japanese ramen, Chinese stir-fry) I always go with something sharp acid and medium residual sugar which will work with spice. Traminette is a favorite, but a well balanced Riesling or Vidal would work great as well.
Same question for Mexican, Tex-Mex, and Southwestern — these are often accompanied by beer or tequila drinks. Are any wines compatible with these tortilla, bean, and chile-filled dishes?
For Mexican or Tex-Mex food I like a lighter red. Plenty of hybrids like Deschaunac or Frontenac, or lighter vinifera like Gamay and Pinot Noir, or even a lighter Cabernet Franc. All those work with lighter fruit and limited-to-no tannins to balance spice but work with the savory flavors as well.
What are some good wines to go with vegan desserts?
Desserts are a complicated question, when it comes to chocolates I like big dry reds, but for cake I like sweeter dessert wines or port, and for pies I like medium bodied whites. Desserts are such a big category and so diverse it's hard to get specific advice without a specific dish!
Can you tell VegKitchen readers about Whitecliff's next Veggies and Vino event?
We don't have our next Veggies and Vino event on the calendar yet but we're looking to do it in the spring with salad and simple tofu and seitan dishes paired with some of our Rosé and fruitier whites. It should be fun! Keep an eye on our events page.
Whitecliff Vineyard & Winery is located at 331 McKinstry Road, Gardiner (just south of New Paltz). For more information, visit their website.
You might also like: