When N53 contacted VegKitchen to see if we would like to sample and review Vegan1, an all-plant-based protein and nutritional shake, I have to admit that I was less than excited. I had yet to try a nutrition shake that I really like — most have some sort of under-taste, after-taste, or chalky texture than I don't enjoy. But Vegan1 sounded intriguing, with so many benefits packed into each serving that I thought I'd give it a try. I'm glad I did, and I was pleasantly surprised!
Vegan 1  really does taste like a shake, and not a form of liquid punishment that you need to get over with. I would go so far as to say that I really look forward to making and drinking this. It's also a good way for me to take my tablespoon of maca per day. Maca has other great benefits, but I'm not a big fan of the flavor, and this shake masks it particularly well.
One really nice thing about Vegan1 is that it comes with not only the usual measuring scoop, but a single-serve BPA-free plastic cup that you mix and measure right into; a little metal ball in the cup ensures that everything blends up perfectly smoothly. It's a great little container for taking with you anywhere.
As to the benefits of Vegan1, they're abundant. Each serving contains 20 grams of plant-based protein; 22 vitamins and minerals; 10 fruits and vegetables; active enzymes, probiotics, and fiber. It's not only dairy-free, but gluten-free and soy-free as well. At VegKitchen we're not anti-soy, but in many beverage supplements, the protein source is soy protein isolate, which is kind of a "frankenfood." In Vegan1, the protein is derived mainly from pea and potato proteins.
Though we don't want to feed into the myth that it's difficult to get protein on a plant-based diet, Vegan1 is a great way to add protein for those who are athletic or especially active, pregnant and lactating women, or anyone who feels that their food habits are less than optimal. This beverage will have you covered.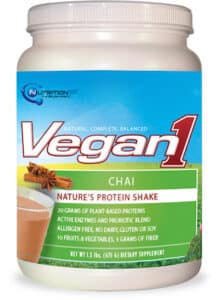 I like the original vanilla flavor, but Vegan1 now comes in banana, chai, and chocolate varieties. All of them can be made just with water, or for a richer texture, your favorite nondairy milk.
Vegan1 is having a great sale at the moment on their own website. Their 15-serving tubs are just $20 each, which means that each serving is just $1.33. It almost goes without saying that getting this kind of protein supplementation, plus half of your daily nutrient needs for that amount is an incredible bargain. Go to Nutrition 53 for details. Otherwise, and when the sale ends, you'll find Vegan1 on amazon.com for just a bit more, and where you'll see that other reviewers, like me, found the flavor very pleasing.
Full disclosure: VegKitchen received a complementary 1.5-pound tub of Vegan1 to sample. We only review products that we endorse and feel will enhance our reader's plant-based lives.
See more reviews of great plant-based products in VegKitchen's Product Guide.