This preparation is similar to tempura, except that the batter-dipped vegetables are sautéed in a small amount of oil, rather than deep-fried. These vegetable can be used as an appetizer, and are also a great vegetable side dish, especially for enticing picky eaters. Serve on their own or with a sauce of your choice as suggested below. Adapted from The Vegetarian Family Cookbook. Photos by Evan Atlas.
Serves: 4 to 6
6 heaping cups vegetables (choose from the options, below)
⅔ cup whole wheat pastry flour or garbanzo flour
½ teaspoon salt
Freshly ground pepper to taste
1 teaspoon salt-free seasoning blend (such as Frontier or Mrs. Dash)
Olive or safflower oil, as needed
Sauce of your choice, optional (teriyaki marinade, marinara sauce, BBQ sauce, pesto, etc.)
Prepare vegetables of your choice as described below.
Combine the flour in a mixing bowl with the salt. Add ¾ water and whisk together until completely smooth.
Stir the vegetables into the batter until evenly coated.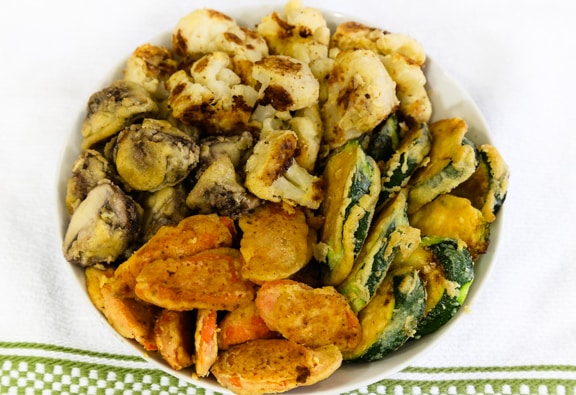 Heat just enough oil to coat the bottom of a wide skillet. When hot, arrange the coated vegetable pieces in the skillet in a single layer (you may need to cook them in batches). Cook over medium-high heat, turning frequently until the pieces are golden brown and crisp.
Keep each batch warm in a covered container while preparing the next.
Vegetables for fritters
Here are some vegetables suitable for fritters. Disappointingly, broccoli just doesn't work well. The porous florets absorb too much batter, resulting in a fritter that's soggy rather than crisp. for a nice side dish, choose a combination of two or three. Note that some will cook up more quickly than others — test occasionally with a fork; they should be just fork-tender when removed from the pan.
The following vegetables need to be first lightly steamed:
Cauliflower: Cut into bite-sized florets and steamed until just tender-crisp.
Green beans: Trimmed and steamed just until barely tender-crisp.
Sweet Potato: Peel and cut a long, narrow sweet potato into ¼-inch rounds
The following vegetables can be raw when dipped in batter:
Zucchini and yellow summer squash: Cut into ¼-inch-thick rounds.
Carrots: Cut into ¼-inch-thick slices on a long diagonal.
Bell Peppers: Cut into large chunks.
Japanese eggplant: Cut into ½-inch-thick rounds.
Regular eggplant: Cut into ½-inch rounds, then each round into 4 wedges.
Mushrooms: Stem and clean, keep small ones whole; cut larger ones in half. You can also use sliced portobellas.