Dishes flavored with peanuts and spiced with chiles are found throughout West Africa. This spinach dish is typical and delicious served over rice or couscous. Let your own heat tolerance be your guide on the amount of chiles to use. If you prefer, hot red pepper flakes may be substituted for the chiles or they may be omitted altogether for a mild yet flavorful dish. Reprinted from Vegan Fire & Spice* by Robin Robertson, by permission of Vegan Heritage Press. Photos by Evan Atlas.
Serves: 4 to 6 as a side dish
1 pound fresh spinach, stemmed and well washed
(or use 1 pound baby spinach; simply rinse it)

1 tablespoon cold-pressed canola oil

1 small yellow onion, chopped

2 garlic cloves, minced

2 fresh hot chiles, seeded and minced

14.5-ounce can diced tomatoes, drained and finely chopped

¼ cup creamy natural peanut butter

Salt to taste
Steam the spinach in a large pot with just the water clinging to its leaves until wilted, about 2 minutes. Remove from the heat and allow to cool briefly. Chop the spinach if not using baby spinach, and set aside.
Heat the oil in the same pot over medium heat. Add the onion, garlic, and chiles. Cover and cook until softened, about 7 minutes.
Stir in the tomatoes and peanut butter and cook for 5 minutes, stirring to make a sauce. Add a little water if the mixture is too dry. Add the reserved spinach and cook, stirring, until hot. Season with salt and serve at once.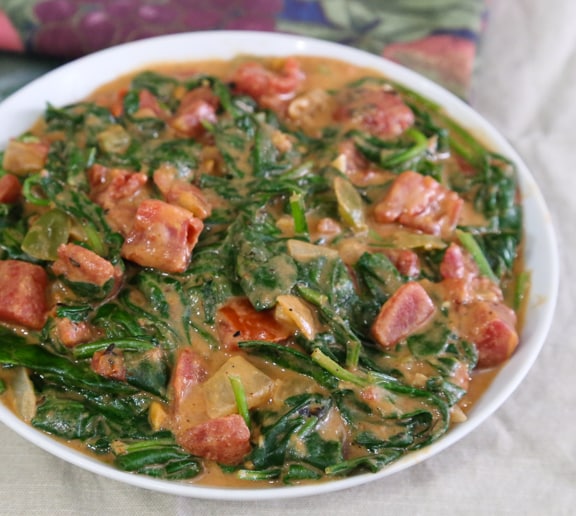 *This post contains affiliate links. If the product is purchased by linking through this review, VegKitchen receives a modest commission, which helps maintain our site and helps it to continue growing!