These delectable and healthy vegan zucchini-raisin muffins give you the classic  combo in an egg-free, dairy-free rendition. Use them as an alternative to sandwiches for brown-bag or school lunch, or as a healthy snack. For this recipe, the chocolate chips and walnuts are optional, but I like to use them both!

2 cups whole wheat pastry or light spelt flour
(or your favorite gluten-free flour blend)
½ cup natural granulated sugar
1 ½ teaspoons baking powder
½ teaspoon baking soda
½ teaspoon cinnamon
1 cup applesauce
2 tablespoons safflower oil
¼ cup plain or vanilla nondairy milk, or as needed
1 teaspoon vanilla extract
1 cup firmly packed grated zucchini
½ cup raisins
¼ cup chopped walnuts, optional
½ cup chocolate chips, optional
Preheat the oven to 350 degrees F.
5 (dry) ingredients in a mixing bowl. Make a well in the center of the dry ingredients and pour in the applesauce, oil, and nondairy milk. Stir together until combined. Don't overbeat! If need be add just another splash of nondairy milk to combine wet and dry, but let it remain a stiff batter.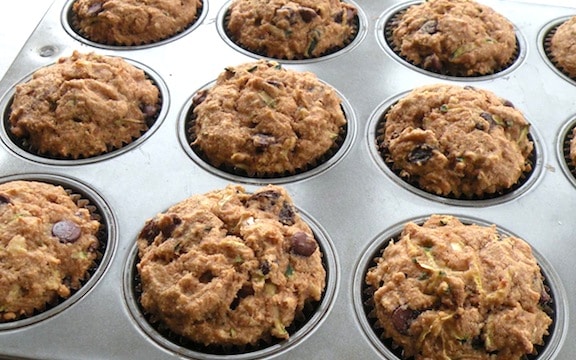 Stir in the zucchini, raisins, and optional walnuts and/or chocolate chips.
Divide the batter between 12 muffin tins and bake for 20 to 25 minutes, or until the tops are golden and a small knife inserted in the center of a muffin tests clean. Cool on a rack. To transport in a lunch box, place in a container that will protect the muffins from being crushed.