Jícama is a root vegetable that's native to the American Southwest. Pronounced HICK-a-mah, until the last decade or so it wasn't easy to find outside that region. Now it's more widely available well-stocked supermarkets and produce markets from west to east, primarily in the fall. Subltly sweet, crunchy, and a bit more watery than other roots (it's actually 90% water), jicama is good sliced and eaten raw, used in salads, sautéed, or baked.
Jícama is high in fiber, and provides good amounts of vitamin C and potassium. Its characteristic mild sweetness is from oligofructose, a soluble fiber that actually functions as a prebiotic, and which helps stabilize blood sugar.
In our humble opinion, jícama is best raw — its crunch and mild flavor really stand out that way. But it's fun to experiment with to use in other ways. In addition to these 10 standout recipes, you can also do a simple sauté of bite-sized slices in a bit of olive oil, or use jícama as a tasty alternative to water chestnut in stir-fries.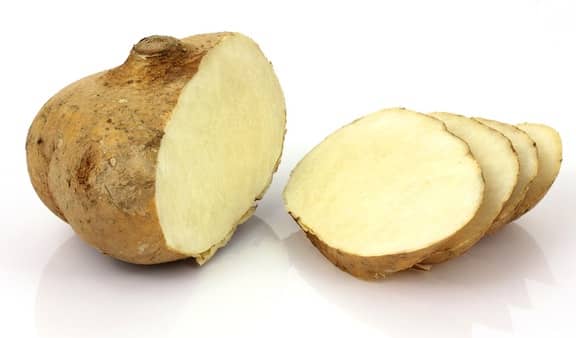 Easy jícama recipes you'll love!
Jícama Salad with Oranges and Watercress (shown at top) is a perfect way to dress up a fall   harvest or holiday meal. It's the perfect light salad for a lovely vegan Thanksgiving dinner menu, for instance.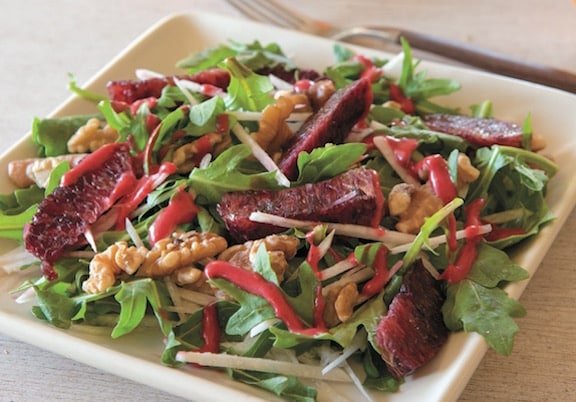 Arugula Salad with Jicama, Blood Orange, and Raspberry Vinaigrette is a sweet, tart, and crunchy salad featuring arugula, jicama, and blood oranges. It's almost too pretty to eat. It goes well with a savory soup.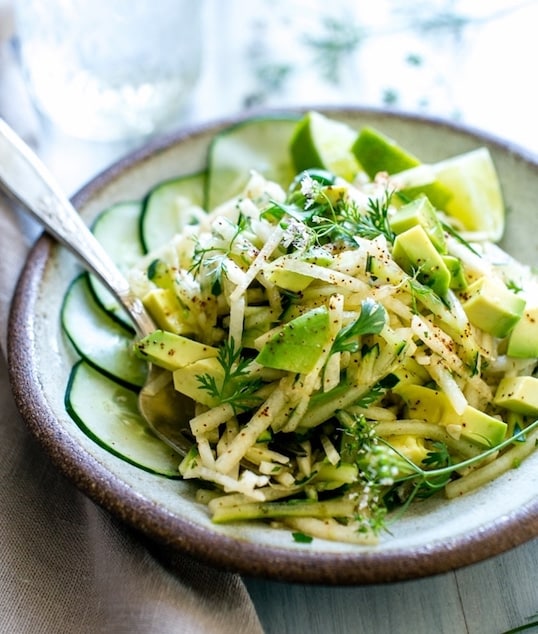 Crunchy and creamy with a hint of spice, hydrating and nourishing, this Avocado Jicama Cucumber Salad by Vanilla and Bean is flavored with lime, cilantro and a pinch of chiles Make ahead for ultimate convenience.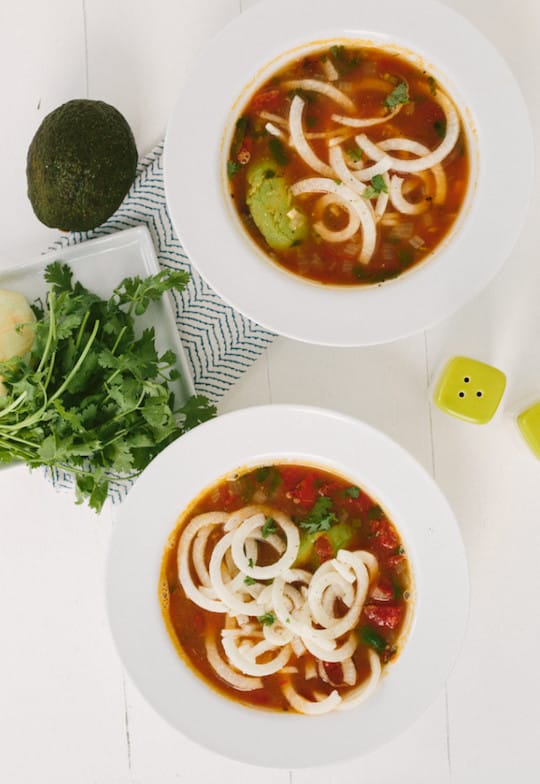 Here's a clever one for you: Tortilla Soup with Jicama Noodles from Inspiralized. Yup, jicama is a good candidate for the spiralizer, and give you the kind of crunch you'd get from tortilla strips, but lighter and more lively.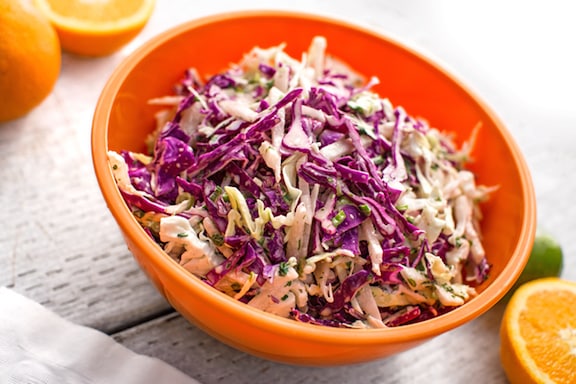 Jicama Slaw is made with the slightly sweet crunchy root vegetable best known in the cuisines of the Southwestern U.S. Combined with red and white cabbage, it's a lovely addition to everyday meals as well as fall and winter holiday meals.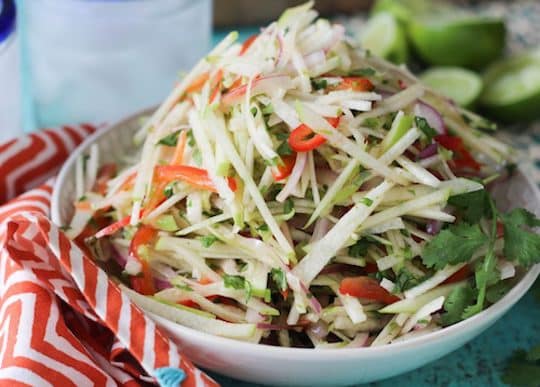 We couldn't resist including another slaw —Jícama Apple Slaw from PaleOMG gets nice a kick from a spicy jalapeño and plenty of onion. A zesty lime dressing pulls it all together.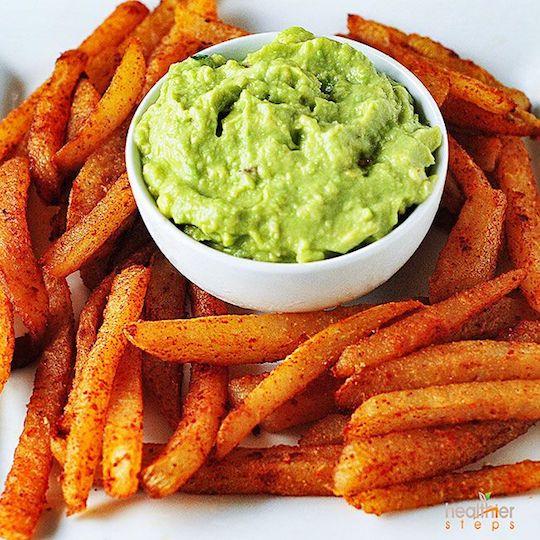 Healthier Steps presents irresistible Baked Jícama Fries — are a low-calorie alternative to potato fries; and great in a vegan, gluten-free, candida diet lifestyle.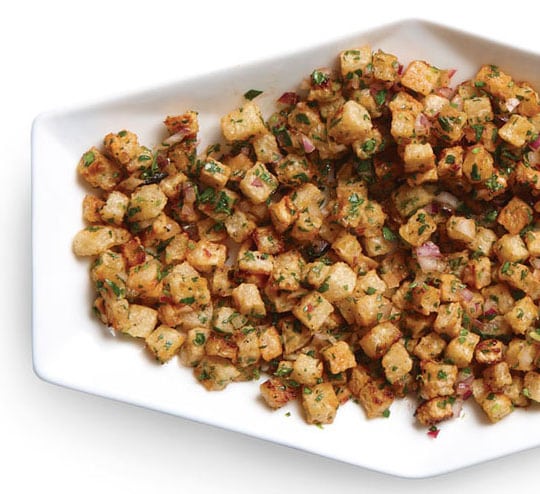 Another way to apply heat to jicama is deliciously demonstrated in Sweet and Hot Roasted Jicama by Fine Cooking. The hot sauce and herbs add a nice twist to the mild flavor of the veggie.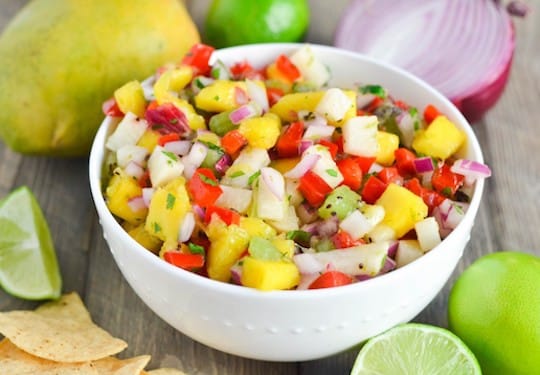 Jicama Kiwi Mango Salsa from A Dash of Megnut offers a burst of flavors and textures for your dipping pleasure.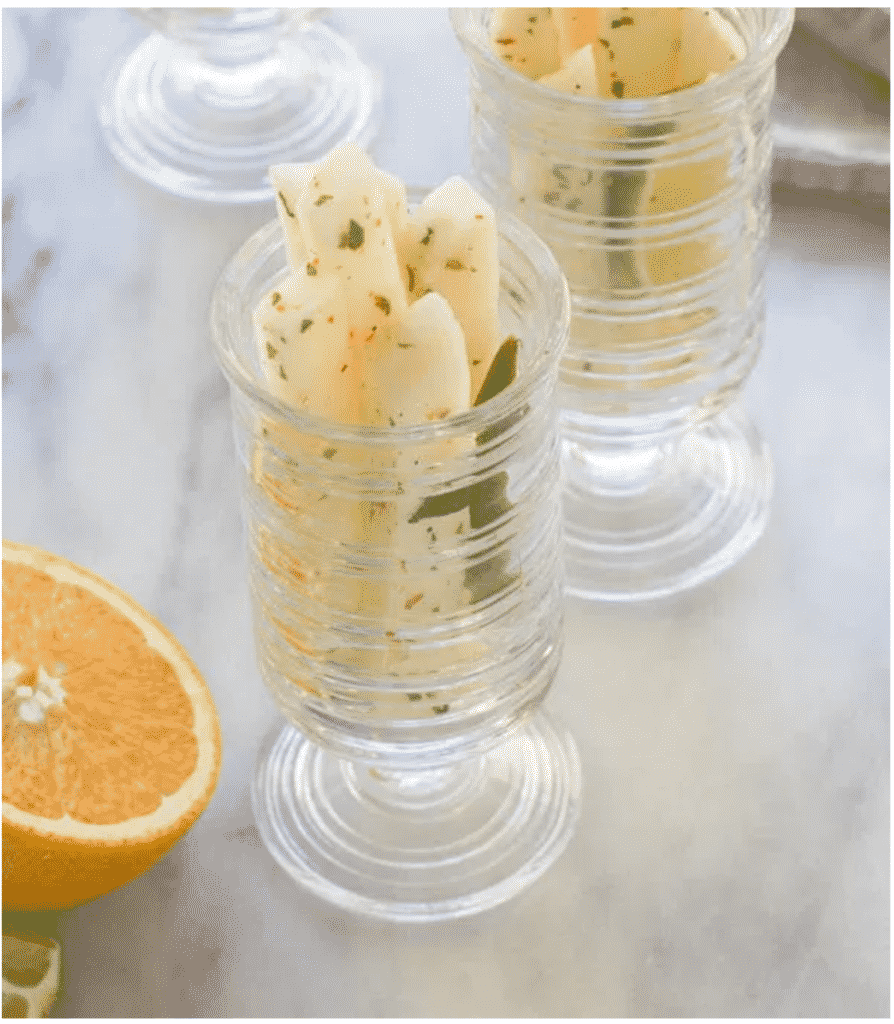 You'll love these Chile and Lime-Infused Jicama Sticks from This Mess is Ours. Unlike pickles that you have to wait and wait for, these just need to be marinated in the fridge for 30 minutes before you get to devour them!