Wild rice graces fall and winter dishes with an earthy, nutty quality that's unique and unlike any other grain, though it's technically not rice or even a grain at all (it's the seed of an aquatic grass). It's never polished or refined, making it rich in nutrients and antioxidants. See more of our info and tips on Wild Rice. It's a bit pricey, so very often, it's combined with long-grain brown rice or another grain. No matter how you use it, wild rice adds a touch of class to recipes. Case in point, these delectable vegan Quinoa and Wild Rice Burgers, above. Serve on their own with a sauce or on whole-grain buns; they're good in pita breads with leafy greens and/or sprouts as well.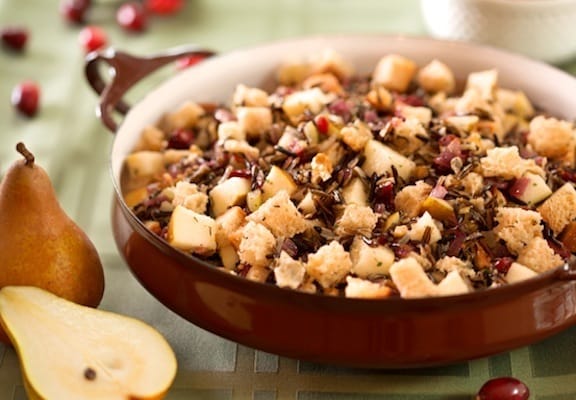 In Cranberry-Pear Wild Rice Stuffing, the wild rice adds a wonderful texture, and the slight sweetness of dried cranberries lends a delicious flavor. This is an ideal stuffing for winter squashes, and used that way makes for a dazzling holiday main dish.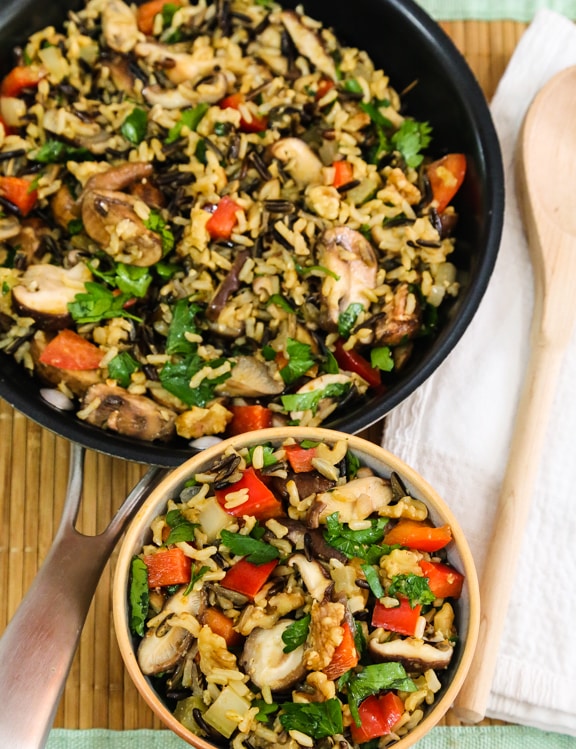 Nutty Wild Rice Pilaf with Mushrooms is rich with nutty, invigorating flavors. This earthy pilaf is good served warm or at room temperature. It's a perfect side dish for the Thanksgiving or Christmas table, though you need not wait for a special occasion to enjoy it.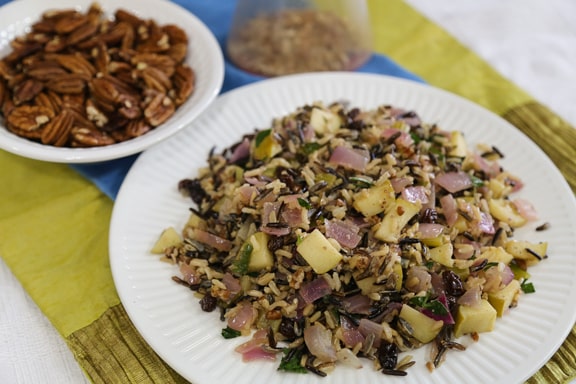 Wild Rice Pilaf with Apples and Pecans highlights ingredients that just seem to belong together. This makes a great stuffing for squashes or peppers, as well as serving as a hearty side dish for the vegan Thanksgiving and Christmas dinner menu.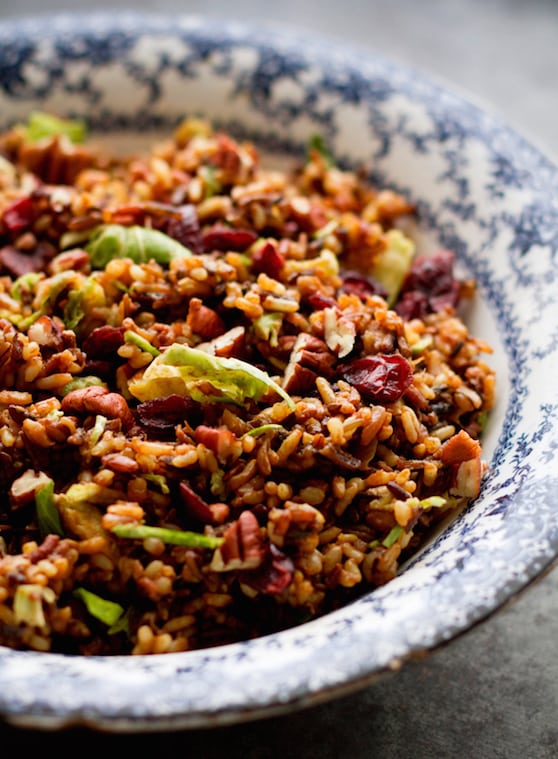 From Oh My Veggies, this luscious Wild Rice Pilaf with Brussels Sprouts and Sage Vinaigrette is tossed with pecans and cranberries and then drizzled with a sage vinaigrette right before serving. It's sure to please the palates of everyone at the Thanksgiving table and other winter special occasions.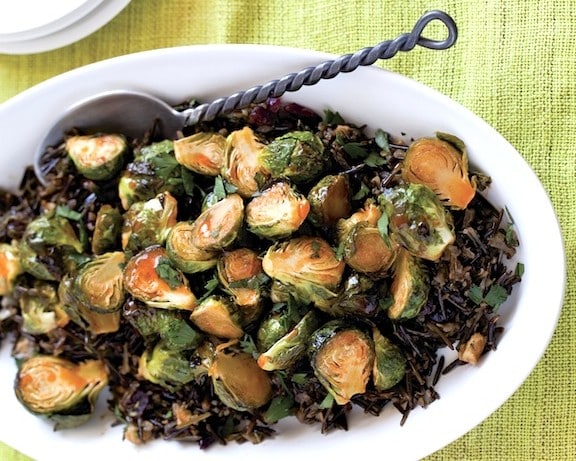 Maple-Sriracha Roasted Brussels Sprouts with Cranberry Wild Rice is an unusual presentation of sweet and spicy Brussels sprouts served atop a sweet and savory bed of wild rice. Though it's a bit of work, it makes a stunning vegan entrée for Thanksgiving or Christmas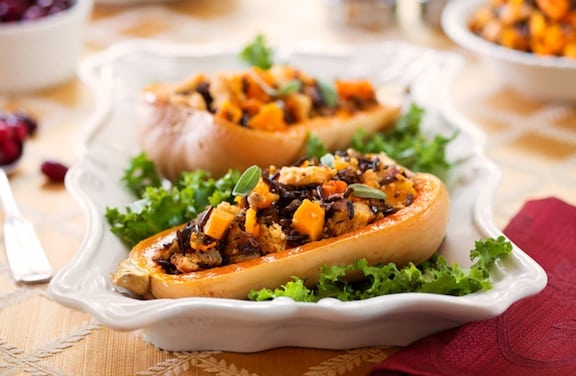 Butternut Squash with Whole Wheat, Wild Rice, & Onion Stuffing is a completely satisfying dish that makes a handsome centerpiece for the Thanksgiving table.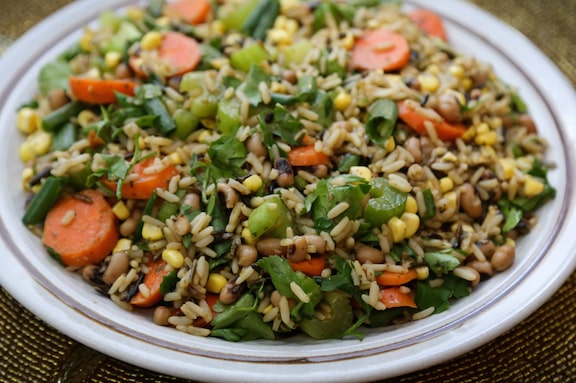 Wild Rice Salad with Corn and Black-Eyed Peas is an invigorating melange of flavors, textures and colors. It's an attractive dish to serve at room temperature, any time of year, at buffets, potlucks, and holiday gatherings.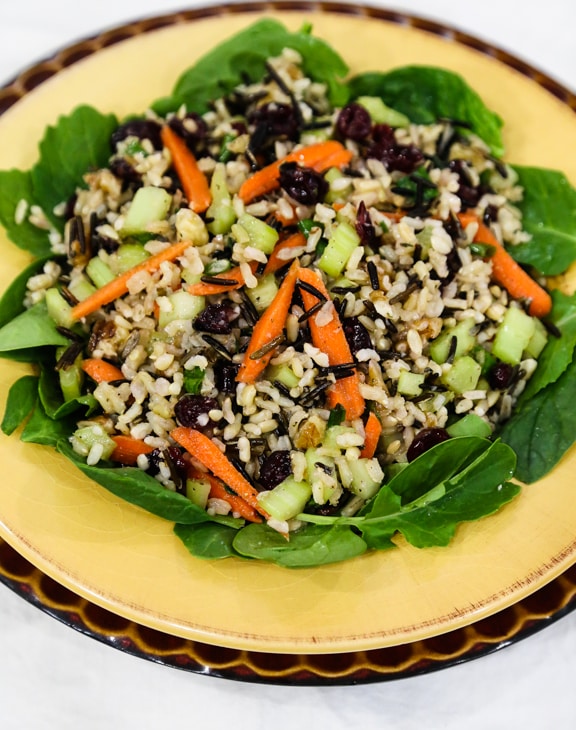 Wild Rice Salad with Cranberries and Walnuts is proof positive of how wild rice adds a nutty crunch and elegance to salads. This is a wonderful companion to squash dishes, and makes an excellent room temperature side dish for fall and winter holiday or company meals, especially Thanksgiving.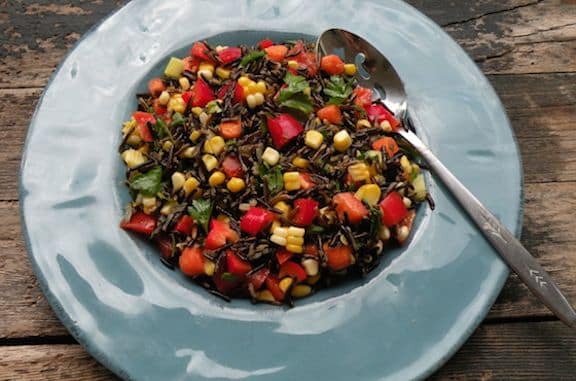 In Wild Rice Confetti Salad, the wild rice makes an earthy, nutty backdrop the vegetable "confetti" — bits of corn, carrot, and other colorful veggies. This is a hearty salad for any time of year, not just fall and winter.