Quinoa and wild rice make a tasty team in these vegan burgers. Serve on their own with a sauce or on whole-grain buns; they're good in pita breads with leafy greens and/or sprouts as well. Since these two grains have very different cook times, it may be best to have the quinoa cooked and ready ahead of time. Having the wild rice cooked ahead of time as well will make preparing these a breeze.
Makes: 8 to 10 burgers; more if making smaller ones for sliders
½ cup wild rice 

1 tablespoon olive oil

1 medium-large onion, finely chopped

2 cloves garlic, minced

½ cup fine oatmeal (or quick-cooking oats or quinoa flakes)

2 cups (firmly packed) cooked quinoa

1 tablespoon salt-free all-purpose seasoning blend 

1 teaspoon ground cumin

1 teaspoon sweet or smoked paprika

¼ cup minced fresh cilantro or parsley, optional

Salt and freshly ground pepper to taste
To serve (all optional)
Whole-grain buns, pitas, or English muffins

Favorite condiments (ketchup, mustard, relish,
hot sauce, salsa, etc.) or Quick Tartar Sauce

Chopped lettuce

Green Sprouts

Sliced tomatoes
Preheat the oven to 400º F. 
Combine the wild rice with 1 ½ cups water in a small saucepan. Bring to a rapid simmer, then lower the heat, cover, and simmer until the water is absorbed, about 35 minutes.
Heat the oil in a medium-sized saucepan. Add the onion and sauté over medium heat until translucent. Add the garlic and continue to sauté until the onion is golden.
Meanwhile, combine the oatmeal in a large mixing bowl with 1 cup boiling water. Let stand while the onion sautés.
Next, add the sautéed onion-garlic mixture to the soaked oatmeal in the mixing bowl, along with the cooked wild rice, cooked quinoa, and seasonings.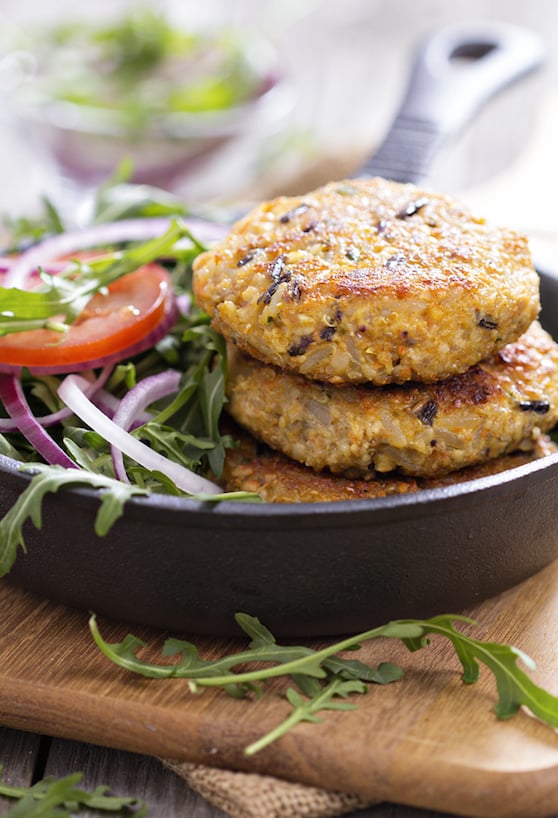 Line a baking sheet with parchment paper. Coat the inside of a round ½-cup measuring cup with a little olive oil or cooking oil spray.
Scoop a level portion of the wild rice-quinoa mixture; invert it onto the parchment (giving it a sharp tap to release the mixture). Using the bottom of the measuring cup, flatten each portion into a ½-inch- thick burger Repeat with the remaining quinoa mixture; you should wind up with 8 to 10 (Note: If you want to make smaller burgers for sliders, use a ¼ or ⅓ cup measure, and follow the same steps).
Bake for 15 minutes, then carefully flip each burger and bake an additional 15 minutes, or until golden and firm on each side. Remove from the oven and serve the burgers on their own or with the bread and/or condiments of your choice.