When the autumn chill sets in and it gets dark early, there's nothing more comforting than a warming bowl of soup or stew filled with harvest vegetables. This selection of 12 vegan fall harvest soups and stews feature potatoes and sweet potatoes, harder squashes, corn, greens, and more — nicely spiced and aromatic.
Some of these recipes are longer-cooking than late summer soups, but none are at all difficult to make. Make a big pot on the weekend and enjoy leftovers when you come home from work on Monday and Tuesday. These soups are great to pack into a Thermos to take to work or school, too. Moroccan-Style Vegetable Stew, above, looks as good as it tastes. It's a wonderful way to warm up cool season dinners, with sweet sugar pumpkin or butternut squash in an aromatic broth.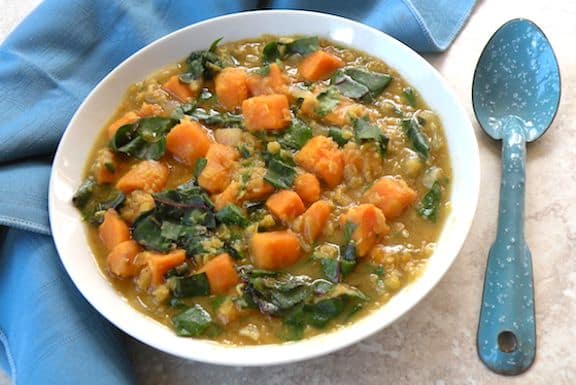 Nourishing and sublimely satisfying, Curried Red Lentil Soup with Sweet Potatoes and Greens incorporates fall's first sweet potatoes with seasonal greens. Red lentils, which cook to a warm golden color, are available in natural food stores and ethnic groceries.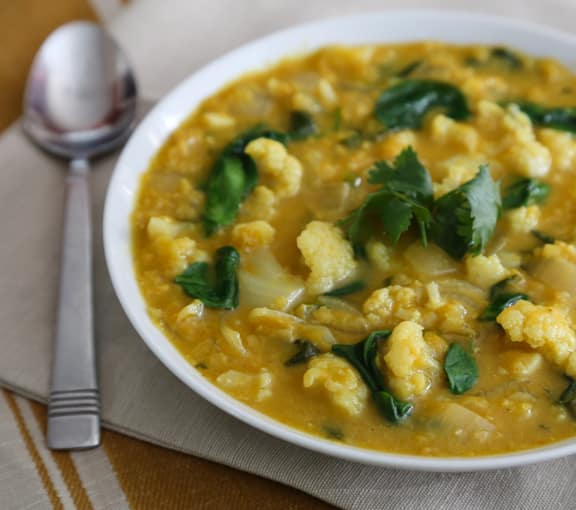 Another bountiful bowlful based on red lentils, Curried Red Lentil, Pumpkin, and Cauliflower Soup. Adding a couple of cups of pumpkin or butternut squash puree adds to the orange-y goodness of this soup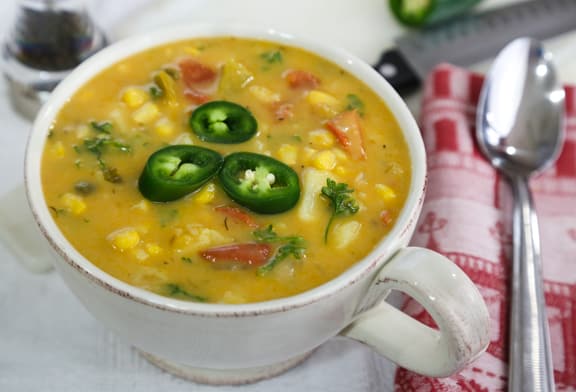 Potato, Corn, and Green Chile Soup is a nondairy version of a contemporary classic from the American Southwest. It's filling, so it can serve as a centerpiece of a meal, served with a salad or salad-y wraps.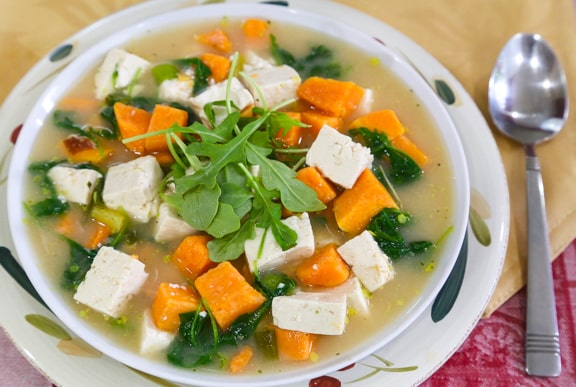 Miso Soup with Sweet Potatoes and Greens (choose from spinach, arugula, watercress, or tatsoi) synergize nicely in this miso soup. This one's a little lighter than most of the soups and stews on this list, but not at all less satisfying.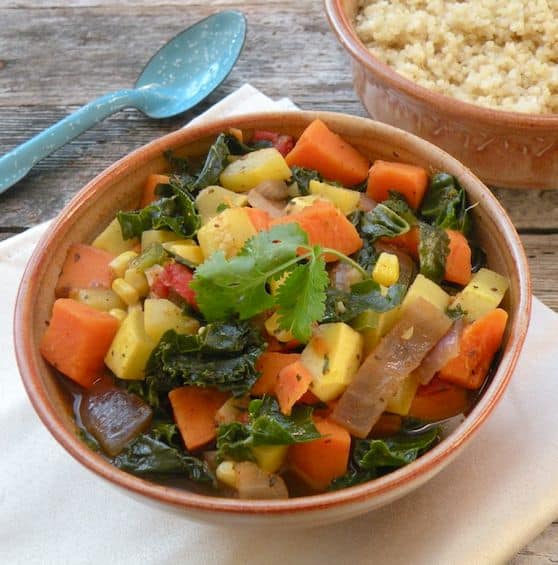 In Kale, Yellow Squash, and Sweet Potato Stew, the deep greens contrasted with the yellow of the squash and the orange of the sweet potato, makes for an attractive and nourishing dish for the autumn harvest.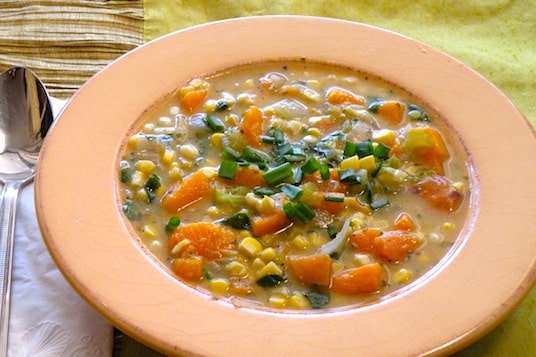 Squash, Sweet Potato, and Corn Chowder is a hearty soup that's especially perfect for fall. Though this admittedly involves a bit of prep, none of it is difficult. It's a great soup to make on a quiet Sunday — you'll be happy to come home to it during the week!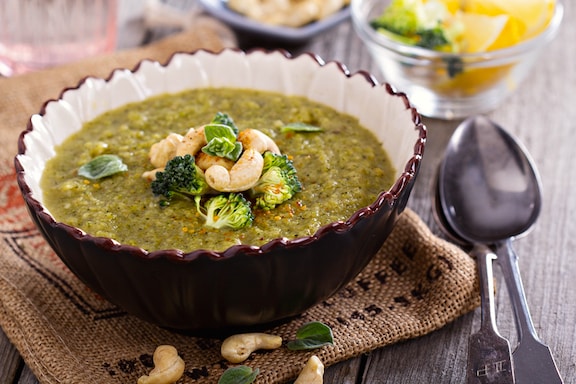 Broccoli-Apple Soup with Cashew or Peanut Butter is luscious and nutty with an almost undetectable hint of mellow sweetness from the apple; nut butter gives it a rich flavor. In my home, this has long been a fall favorite.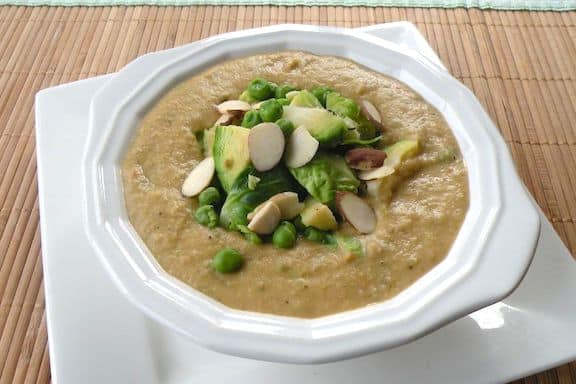 Almond-Brussels Sprouts Soup is elegant and richly flavored, featuring brussels sprouts and a myriad of other veggies. You can use cashew butter or peanut butter in place of almond butter for equally delectable results.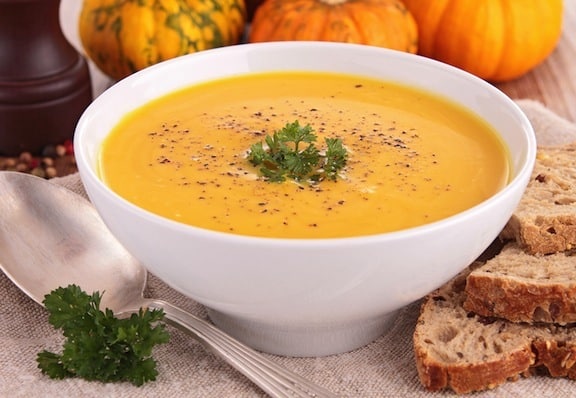 In this luscious Creamy Golden Potato-Squash Soup, onions, garlic, winter squash, and silken tofu are all enveloped in the familiar flavor of potatoes, making it a wonderful vehicle for getting a lot of nourishing ingredients into eaters of all ages.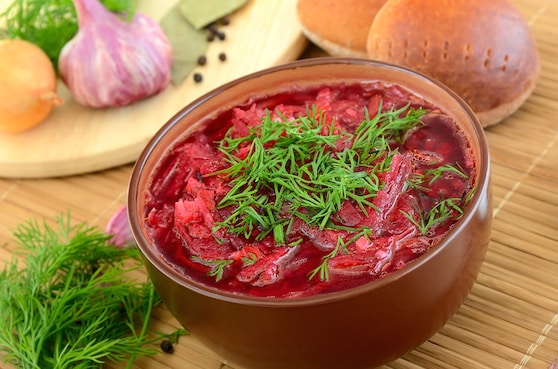 Though beet borscht is often eaten cold, the addition of potatoes creates a more robust version for fall in this Hot Potato and Beet Borscht. Unless you are fond of grating, doing so in a food processor makes the job much easier.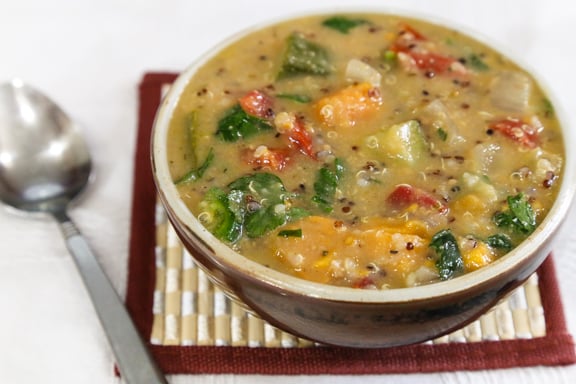 African-Inspired Quinoa-Peanut Stew has several elements of a certain style of traditional African soups—chiles, sweet potato, and a creamy peanut base. The grain of choice in an African soup like this would likely be millet, but here, quinoa makes for a delightful fusion.