When cold and flu season is in full swing, or if it's simply a bone-chilling winter day, sometimes you need a big pot of comforting soup and you need it now! One of the most soothing bowlfuls ever is mushroom barley soup, and this shortcut vegan version takes at least an hour off the process. Case in point, our Classic Mushroom Barley Soup, which is about an hour and a half or more, from prep to finish. There's not a lot of work time, so when you have more leisure to cook soup, give it a try!
This fast version shaves off the time by using quick-cooking barley and precut fresh veggies. It's just as good as the original, and gets more flavorful as it stands. Look for quick-cooking barley (sometimes called 10-minute barley) in the grains or dried beans section of well-stocked supermarkets and natural foods stores. Trader Joe's has their own brand, too. Or you can search for quick-cooking barley and order online.
Serves: 6 to 8
2 cups quick-cooking barley

5 cups water

Two 8-ounce packages sliced brown or white mushrooms (see Note)

1 cup pre-grated carrots

1 vegetable bouillon cube

1 tablespoon mixed seasoning blend (like Frontier or Mrs. Dash)

1 teaspoon dried dill (or even better, use fresh and leave to end)

3 to 4 scallions, thinly sliced

1 to 2 cups plain unsweetened nondairy milk, or as needed

Salt and freshly ground pepper to taste
Combine the barley and water in a soup pot. Bring to a rapid simmer over high heat.
In the meantime, put the mushrooms in a colander and rinse them very well — get in there with your hands if need be and move them around under the running water.
Add the mushrooms, grated carrots (chop them in to smaller pieces with a knife or kitchen shears, if you'd like, but you can also leave them long), bouillon cube, seasoning blend, dill (if using dried), and white parts of the scallion.
Return to a rapid simmer, then turn down the heat and cook for 10 minutes, or until the barley is tender.
Stir enough nondairy milk to give the soup a medium-thick texture and season with salt and pepper.
Add as much fresh dill as you'd like. You can let the soup stand for a few minutes before serving, or serve right away.
The soup thickens as it stands, so thin with more nondairy milk as needed, and adjust the seasonings.
Note: Make sure the mushrooms look fresh and clean — sliced mushrooms are more perishable than whole.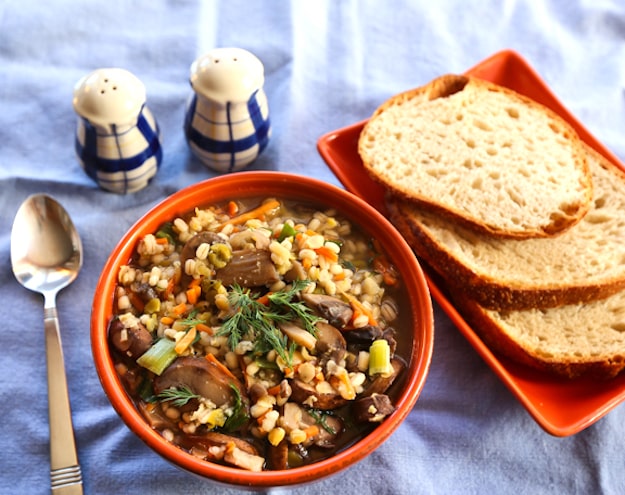 Photos: Evan Atlas