Kale has been the rock star of the greens world for a while now, and while it is a good thing, eating a lot of it can grow old pretty quickly. Sure, there's spinach and arugula, both versatile and tasty; and bok choy has become a staple on supermarket shelves. But to stay motivated to make greens a staple in your daily fare, using a variety is a good plan. Here are 5 leafy greens that are often overlooked and underused, and some ways to enjoy them. Adapted from Wild About Greens.
Broccoli Rabe
This leafy vegetable, popular in Mediterranean cuisine, is known by many names, including rapini and Italian broccoli, and is alternatively spelled raab. These dark greens grow in leafy clusters that present with narrow stalks, abundant leaves, and tiny, broccoli-like florets (though actually, it's a relative of turnips and mustard greens, not common broccoli).
To temper the bitterness, broccoli rabe can be blanched, but for those who love it, the bitterness is pretty much the point. Broccoli rabe is best in simple sautés.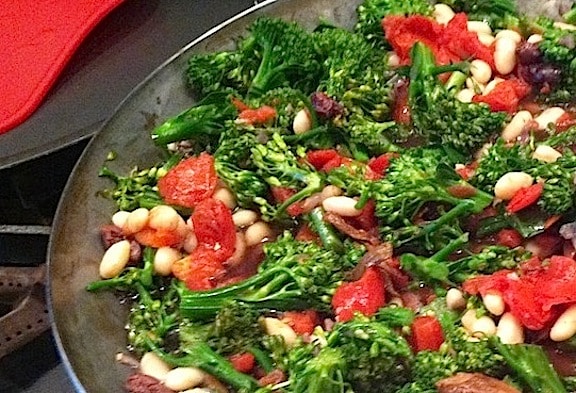 Ragout of Broccoli Rabe with White Beans and Porcini Mushrooms
Collard Greens
Best known from the cuisine of the American South, collards greens are a real treat if you prepare them right. No more of that old technique of boiling them to death until they become olive drab! Collard greens belong to the family of cruciferous vegetables (which includes cabbage and broccoli), none of which are very appealing when overcooked. The newest, coolest way to cook collard greens (though not the only way, of course) is to roll up the leaves, slice them very thinly, and stir-fry them until just tender-crisp, retaining their bright color and sweetness.
Because of their mild flavor, collard greens are amazingly good in green juices and smoothies. They're especially good in stews, and in dishes featuring grains and beans.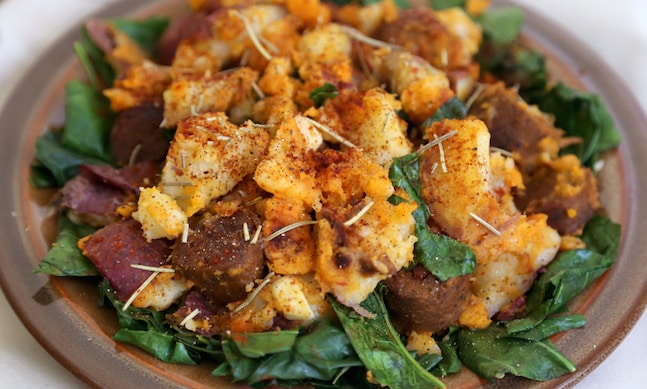 Potatoes and Collard Greens with Vegan Sausage
Escarole
Escarole resembles romaine lettuce, with slightly denser, greener leaves. It's a much-loved vegetable in Italian cuisine. Despite its lettuce-like appearance, escarole benefits from brief cooking to temper its mildly bitter bite.
If you enjoy slightly bitter flavors in salads, you can shred escarole thinly and add a small quantity to salads featuring milder greens. However, you might find escarole more palatable with a judicious amount of cooking. It wilts down quickly in sautés, and becomes downright comforting in soups.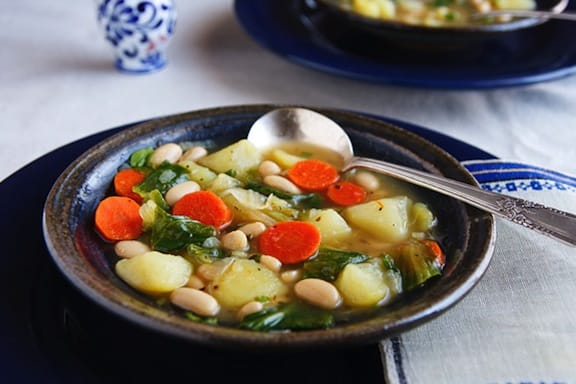 Italian-Style Potato and Escarole Soup
Mustard Greens
The size of bunches of mustard greens can seem daunting to the uninitiated. But it doesn't take too much persuasion to become a mustard greens convert. The flavor is often described as pungent or peppery, though I'd characterize it as sharp, like horseradish. Like many greens that have a certain bite to them, mustard greens mellow quite a bit when lightly cooked.
Another nice thing about mustard greens is that they need not be stemmed. After trimming away the parts that are stem only, the remaining leaf and stem can be chopped together.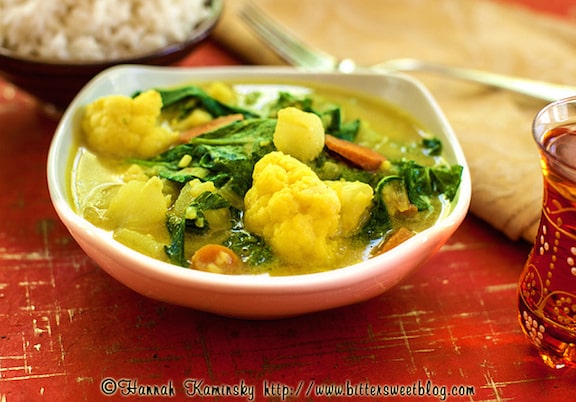 Coconut Cauliflower Curry with Mustard Greens and Spinach
Watercress
To use the word "peppery" to describe the flavor of this tiny green is a culinary cliché, but there's really no other word for it. A member of the mustard family, the peppery heat comes from the mustard oils that are released when the leaves are chewed. It's a mild and pleasant bite, not as intense as some of those described above, so this tender, vitamin-C rich green is easy to love.
Watercress is believed to have healing and tonic properties above and beyond its splendid concentration of vitamins and minerals. It's usually sold in bouquet-like bundles. It's used to its best advantage raw in salads and is also good in sandwiches in place of lettuce. Watercress is also good as a last-minute addition to soups and briefly wilted in stir-fries.