When summertime rolls around, salads can be at their simplest, since the produce has so much flavor. And seriously, who needs formal recipes? Just choose a handful of companionable ingredients, drizzle in a flavorful dressing, and enjoy. Here are 5 simple salads ideas that each use only 5 ingredients and shouldn't take you longer than 5 minutes to make. For these salads, the fifth ingredient is whatever dressing you choose (based on our suggestions or what you have on hand).
All of these are on a bed of crispy seasonal greens, and you can choose something other than what's suggested, because, once again, no rules apply! Use these simple salad ideas as a template to create your own; mix and match, use additional ingredients. No specific quantities needed; make salad for one or for several.
A classic berry-spinach salad is shown at top. We're not sure who it was who first looked at strawberries and spinach and said, "Hey, I think these would make a great team in a salad!" Because it is kind of weird. But when you taste the combination, you'll see how well it really works. We take the berry theme a bit further by adding blueberries, too. You'll need:
Fresh spinach (well rinsed and chopped, or baby spinach)

Strawberries

Blueberries

Chopped walnuts or toasted almonds

Dressing suggestion: something fruity or citrusy (we used Citrus-Ginger by Simple Girl;
raspberry vinaigrette is great, too)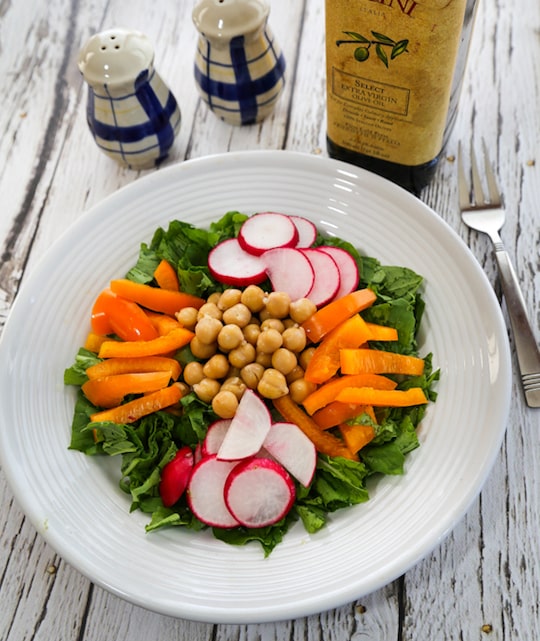 We got a batch of peppery arugula from a local farm and composed this peppery chickpea salad. You can just mix it up together if you don't want to get all artsy, of course. You'll need:
Bunch arugula or baby arugula (or sub mixed greens)

Canned chickpeas, drained and rinsed

Bell pepper (orange seems especially tasty in the warm season, but use what's available)

Radishes

Dressing suggestion: We enjoyed this with a fruity olive oil; balsamic vinaigrette works well, too.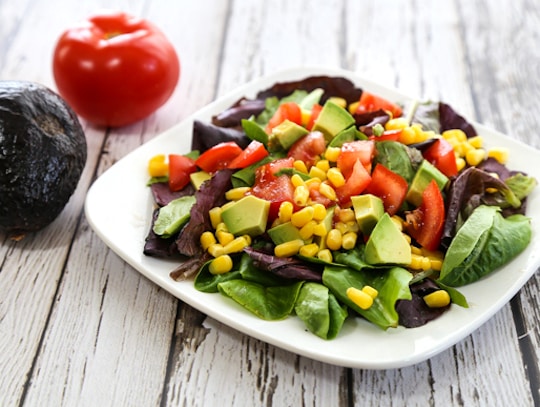 This combination of corn kernels, avocado, and tomato on mixed greens is a fantastic side dish for southwestern-style tortilla dishes featuring beans, for example, Easy Vegan Bean Burritos or Garlicky Black Bean and Summer Squash Soft Tacos. You'll need:
Mixed greens

Avocado

Tomato (or cherry or grape tomatoes)

Fresh or frozen corn kernels

Dressing Suggestion: I love this kind of salad with Papaya Poppyseed, vegan ranch, or French. You can also just stick with vinaigrette. This salad is quite flexible in that way, so use your favorite.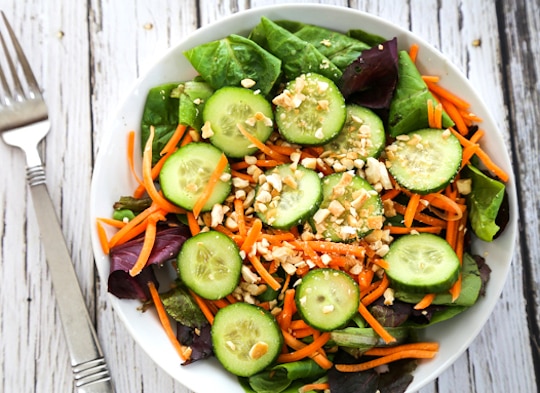 When you're serving an Asian-style main dish, it's not always easy to match a salad to it, but this one makes a great simple companion. You'll need:
Mixed greens (you can also swap in baby spinach or arugula)

Cucumber

Pre-grated carrots (or small baby carrots)

Chopped toasted cashews (or slivered almonds)

Dressing suggestion: Hands down, this one is best with a sesame-ginger, though the citrus-ginger mentioned above works well, too)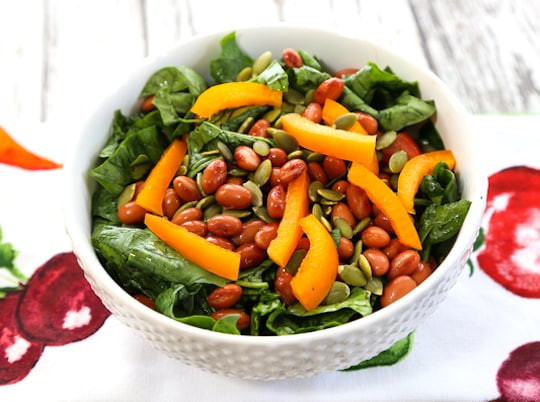 Sometimes you need your salad to step up in the protein department, especially the main dish is a bit light in that department. Combining your greens with beans and seeds does the trick nicely. For this combo, you'll need:
Spinach or arugula

Pink beans

Pumpkin seeds

Bell pepper (yellow, orange or red; or you can swap in yellow tomatoes
if you prefer them over peppers)
Dressing suggestion: My favorite for this one is balsamic vinaigrette, but a fruity dressing like papaya-poppyseed is good, too.
As you can see, none of these salads are set in stone, and quantities used within each are entirely up to you. Use them as a jumping off point for creating your own simple salad inspirations, and above all, eat salad!
Photos: Evan Atlas
See other clever shortcuts or ways to make healthy food even healthier in Hack This!