Road trips are fun and exciting. They offer the freedom to stop anywhere and take in the beauty of nature, or sample urban culture. They create memories that become part of a family's shared history. What kind of food to take on the road is an important aspect of planning. You and your family or travel companions may be tempted to stop for fast food, but of course, that's not the best choice. Light, natural, and preferably vegan snacks can be prepared and carried easily. If you're health- and budget-conscious, it's nice to have some of your own food handy in the car, especially on long stretches of highway. For spring break or summer travels, here are 6 vegan snack ideas to keep you and the kids happy and energetic throughout your trip — and not make too much of a mess in the car!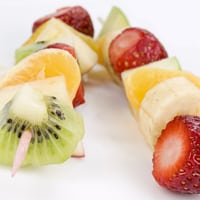 Fruit, straight up: The healthiest and most convenient snack food is fresh fruit. You don't need to do any sort of preparation for it and can simply eat out of hand. Buy some fruits according to the season and preference. Wash beforehand and store in a small cooler, or, you expect they'll be eaten within a day, any sort of container. Grapes, banana, pears, Asian pears, or apples are good any time of year; blueberries are great in the summer. Some fruits, like strawberries, are too perishable. Oranges and melons are good for you but potentially might get hands and faces sticky, as they're so juicy. To make fruit more fun for kids to eat in the car, cut into chunks (leave grapes whole) and thread onto short skewers.
Wraps or sandwiches made with whole-grain bread: Wraps which are homemade and super healthy in nature. A super tasty sandwich can be made on organic sprouted whole grain bread and filled with avocado, cucumbers, mustard and sprouts.  takes the taste to a whole new level. Here are VegKitchen's Top 8 Vegan Wraps and Sandwiches.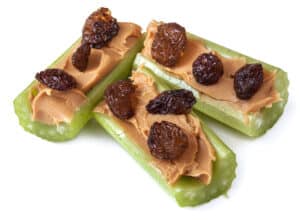 Ants on a Log: Spreading peanut butter or other nut butter into the groove in celery stalks and arranging raisins on top is a classic snack for kids. It's also healthy, tasty, and fun, all at the same time. And of course, this snack is easy to prepare and carry as well. Cut into 3- to 4-inch segments and pack in a flat container. If you want to try something different with this dish then discover gourmet variations at foodnetwork.
Nut Butter and Banana Roll-ups: These are great not only for teens and kids but for all age groups. Spread a whole grain wrap or soft lavash wrapper with almond butter or natural peanut butter, then scatter thinly sliced banana over the surface. Sprinkle with some cinnamon or hemp seeds if you'd like, then roll up snugly and cut in half or into smaller segments.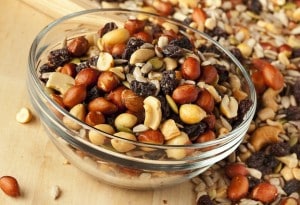 Trail mix: Store-bought trail mix are often made with oil and sugar. Make your own so you can personalize it to suit your family's tastes. A combination of nuts, seeds, shredded coconut, and dried fruits (cranberries, raisins, cherries, apricots, etc.) can make a perfect trail mix that's tasty and healthy.
Homemade cookies: There are an abundance of wholesome vegan cookies that can made with ease and that are filled with nutritious ingredients. Chewy rather than crispy cookies make for less crumbly mess in the car. Try our Low-Fat Vegan Chocolate Chip Cookies or a range of healthy options in 10 Truly Guilt-Free Wholefood Vegan Cookies. Another option are gluten-free vegan cookies.
To conclude … There's endless variety of healthy & easy grab-and-go foods. Ordering ingredients from online stores adds several benefits like availing huge discounts & free doorstep delivery (in most cases). Frugaa  offers latest coupons on several stores like Farm Fresh To You, Homemade Gourmet, Tal Depot & more. Indulge into easy-to-make wholesome snacks to stay healthy, and have a wonderful trip!