Savory and tangy, this sesame-ginger dressing is perfect for salads served with Asian-style meals. It's also good on wilted greens and on cold noodle dishes. Thanks to Progressive International for providing the salad dressing shaker shown in these photos by Evan Atlas.
Makes: about 1 cup
⅓ cup neutral vegetable oil, such as safflower or sunflower

2 tablespoons dark sesame oil

⅓ cup apple cider vinegar, rice vinegar, or white wine vinegar

1 tablespoon agave nectar

1 tablespoon reduced-sodium soy sauce or tamari

1 to 2 teaspoons grated fresh or jarred ginger, to taste

1 tablespoon sesame seeds
Combine all ingredients in a tightly lidded cruet or bottle. Shake well before each use.
Good with: Asian-style coleslaw (try using napa cabbage); broccoli slaw or other grated vegetable salads (such as with root vegetables or carrots); cold noodle salads; green salads using crunchy roots and nuts.
Try this on a green salad with mixed baby greens, grated carrot and daikon radish or white turnip, sprouts, and sliced almonds. Any of these salad ideas make great accompaniments with stir-fries.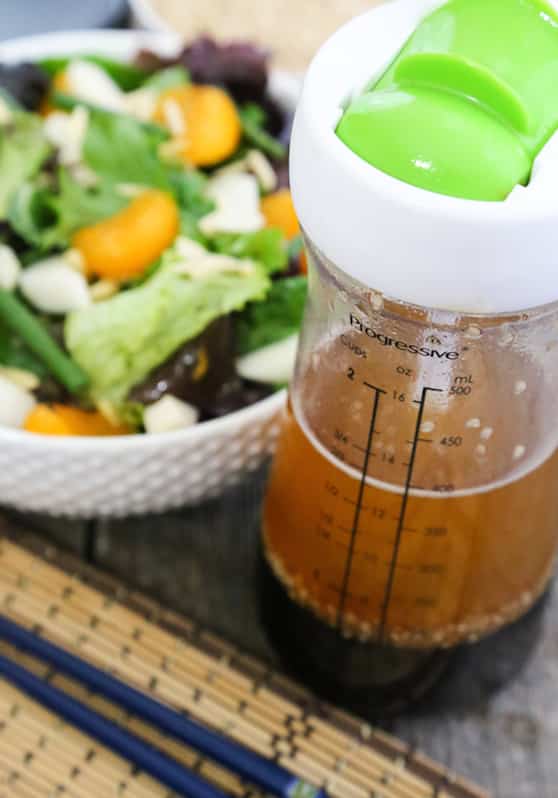 Nutrition Information
Per 2-tablespoon serving: 124 calories; 13g fat; 70mg sodium; 2g carbs; 0g fiber; 0g protein