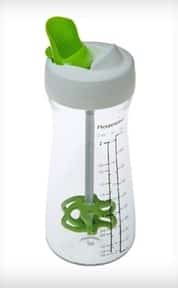 Commercial salad dressings, even the "natural" brands, are often ridiculously expensive and high in fat. Making salad dressing at home is so easy, but I often get lazy about it because several items need to be messed up and then washed — bowl, whisk, measuring cups, spoons. And then I need to find a clean bottle with a tight lid to pour it into. Now, the Dressing Shaker* that Progressive International sent to VegKitchen to sample throws all my excuses to the wind.
You measure, mix, store, and pour all in one container. You might still need measuring spoons if you want small exact amounts of things like dried herbs or spices, but if you don't mind eyeballing those, you're good to go with this one handy tool. It's also good for mixing, stirring, and serving thinner no-cook sauces like Teriyaki Marinade.
Even if you make a dressing whose ingredients separate after a while, the shaker mixes it all up again with a few shakes. I love this little tool, it's so ingenious! With this little kitchen tool and VegKitchen's salad dressing recipes, I may never buy prepared salad dressing again. Or at least, hardly ever ....
Learn more about the Progressive International Dressing Shaker * and some of Progressive's other cool kitchen gadgets * for storage and cooking on Amazon.com.
*This post contains affiliate links. If the product is purchased by linking through this review, VegKitchen receives a modest commission, which helps maintain our site and helps it to continue growing!