What could be better than a comforting casserole at the end of a long, busy day? A comforting casserole that takes almost not time to prepare, like our Baked Polenta Casserole with Zucchini and Spinach, that's what! And while it's in the oven, all you need to do is kick back, because bagged fresh broccoli slaw and fresh bread complete a full dinner with no extra work.
The casserole is made up of layers of prepared polenta, the kind that comes in a tube, zucchini, and baby spinach. It's smothered in marinara sauce and topped with melty vegan cheese, resulting in a crowd-pleasing, family-friendly main dish. Lots of casseroles need prep of the various components, but this one requires only minimal hands-on time. Use a really flavorful prepared marinara— roasted tomato, garlic, mushroom, or chunky vegetable.
This tasty and healthy dinner is easy enough to make on weeknights, yet special enough to prepare for a company dinner.
Serves: 4
Time to table: 30 minutes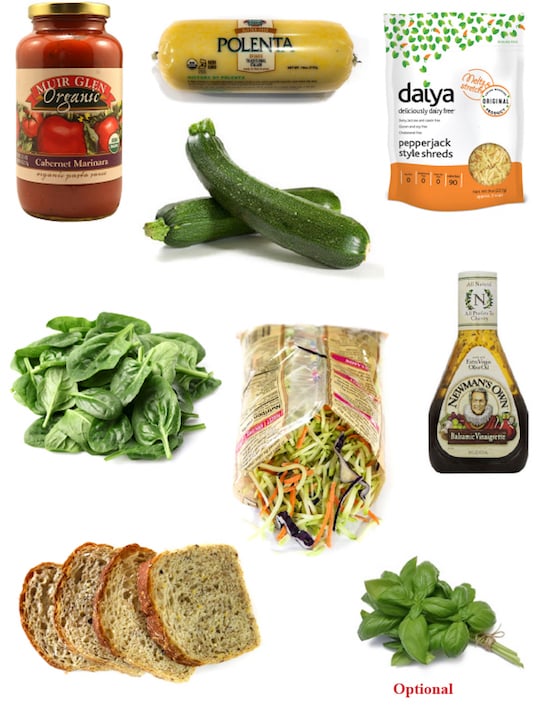 What you need
28-ounce jar marinara sauce, your favorite brand and flavor

18-ounce tube polenta

2 medium zucchini

6 to 8 ounces baby spinach

1 ½ cups grated mozzarella-style vegan cheese (or use a spicy vegan cheese like pepperjack)

Sliced fresh basil leaves for garnish (optional)

16-ounce bag fresh broccoli slaw

Bottled vinaigrette dressing (or use olive oil and vinegar, or your favorite salad dressing)

Fresh whole-grain bread
What to do
1  Follow the directions for Baked Polenta Casserole with Zucchini and Spinach.
2  While it's baking, combine and the broccoli slaw with vinaigrette dressing or other dressing as desired in a bowl.
3  Once the casserole is out of the oven, serve it with the salad and bread and enjoy!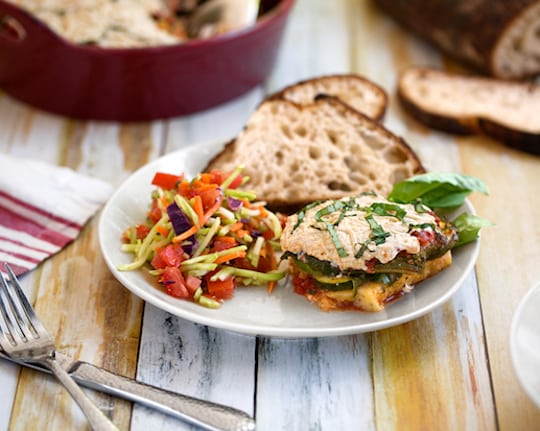 Make your life easier with more of our Vegan Dinner Hacks.