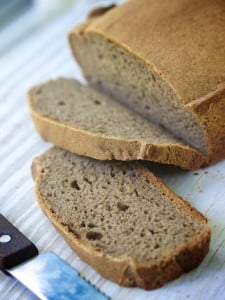 This gluten-free brown bread is one of my favorites to have around for midday snacking, toasting, or making bread crumbs. It is delicious toasted and topped with vegan mayonnaise, a fresh garden tomato, and a generous sprinkle of freshly ground black pepper. Recipe reprinted from Great Gluten-Free Vegan Eats* by Allyson Kramer (Fair Winds, © 2012), by permission of the author.
Basic Brown Bread (Gluten-Free)
Yield: 10 servings
Ingredients
1 tbsp active dry yeast
3 tbsp sugar
1 ½ cups warm water (110°F)
1 ¼ cups buckwheat flour
¾ cup sorghum flour
1 cup potato starch
½ cup tapioca starch
2 tsp xanthan gum
1 tsp sea salt
3 tbsp olive oil
Instructions
In a large electric mixing bowl, combine the yeast, sugar, and warm water and let proof until foamy, about 10 minutes. Lightly grease an 8 × 4-inch metal loaf pan.
In separate bowl, stir together the buckwheat flour, sorghum flour, potato starch, tapioca starch, xanthan gum, and sea salt.
Add the olive oil to the yeast and mix well. Slowly incorporate the flour mixture until thoroughly combined. Mix on medium speed for about 1 minute or until the dough becomes sticky.
Spread the dough in the prepared pan. Smooth the top with wet fingertips.
Let it rest in a warm place (the top of an oven preheated to 200°F and turned off works well) for about 40 minutes or until the dough has risen a bit.
Preheat the oven to 450°F.
Transfer the pan to the center rack of the oven and bake for 15 minutes.
Reduce the oven temperature to 385°F and bake for 30 to 35 minutes longer or until golden brown on top and hollow sounding when tapped.
Let the bread cool in the pan for 10 minutes before transferring to a cooling rack, and then let cool completely on the rack before cutting with a serrated knife. Store in an airtight container.
Visit Allyson Kramer at Manifest Vegan — a great site featuring lots of gluten-free vegan recipes.
*This post contains affiliate links. If the product is purchased by linking through this review, VegKitchen receives a modest commission, which helps maintain our site and helps it to continue growing!