Taquitos (or flautas) are essentially rolled corn-tortilla tacos that are fried. While taquitos are traditionally filled with beef or chicken, these vegan jackfruit taquitos use a plant-based ingredient that gets stringy and meaty when cooked. The addition of beans to the jackfruit boosts protein content and satiety. Look for canned water-packed jackfruit in Asian markets or online. If you don't have an air fryer, see the oven-baked option after the recipe. Recipe and photos from The Vegan Air Fryer: The Healthier Way to Enjoy Deep-Fried Flavors © 2017 by JL Fields. Published by Vegan Heritage Press, reprinted by permission. 
Makes: 4 to 6 taquitos
14-ounce can water-packed jackfruit, drained and rinsed
1 cup cooked or canned red beans, drained and rinsed
½ cup pico de gallo sauce
¼ cup plus 2 tablespoons water
4 (6-inch) corn or whole wheat tortillas
2 to 4 spritzes canola oil or extra-virgin olive oil
1  In a medium saucepan or pressure cooker, combine the jackfruit, beans, pico de gallo, and water. If you are using a saucepan, heat the jackfruit mixture over medium-high heat until it begins to boil.
2  Reduce the heat, cover the saucepan, and simmer for 20 to 25 minutes. If you are using a pressure cooker, cover the pressure cooker, bring to pressure, cook at low pressure for 3 minutes, and then use a natural release.
3  Mash the jackfruit mixture with a fork or potato masher. You're aiming to shred the jackfruit to a meaty texture. Preheat the air fryer to 370°F for 3 minutes.
4  Place a tortilla on a work surface. Spoon ¼ cup of the jackfruit mixture onto the tortilla. Roll it up tightly, pushing any of the mixture that falls out back into the tortilla. Repeat this process to make 4 taquitos.
5  Spritz the air fryer basket with the oil. Spritz the tops of the tortillas as well. Place the rolled tortillas into the air fryer basket. Cook at 370°F for 8 minutes.
No-Oil Option: Omit the canola oil.
Oven option: If you don't have an air fryer, use the oven-baked method. Arrange the taquitos seam side down on a parchment-lined baking sheet. Spray lightly with cooking oil spray and bake in a 425º F oven for 13 to 18 minutes, or until lightly browned and crispy.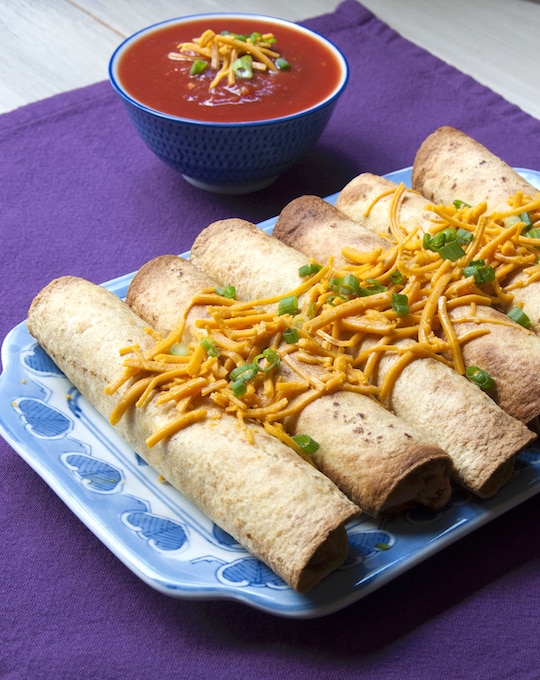 See more ways to make food faves healthier and plant-based in our Hack This! categeory.
*This post contains affiliate links. If the product is purchased by linking through this review, VegKitchen receives a modest commission, which helps maintain our site and helps it to continue growing!