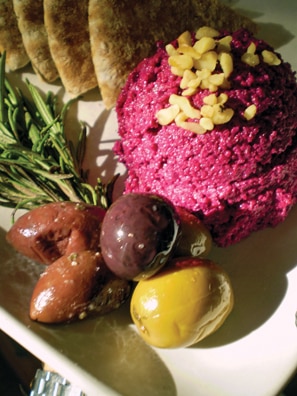 Inspired by muhummara, a Turkish spread typically made from roasted red peppers and walnuts, this stunning and addicting spread is perfect for festive occasions or any regular day of the week. Serve with warmed pita triangles. Recipe and photo courtesy of Betsy DiJulio, from The Blooming Platter Cookbook: A Harvest of Seasonal Vegan Recipes* (© 2011, Vegan Heritage Press).
Yield: 4 cups
3 large fresh beets, peeled and quartered (do not use canned beets)
1 ⅓ cups toasted walnut pieces (plus more for garnish, optional)
⅓ cup Panko bread crumbs
3 large garlic cloves
1 tablespoon ground cumin
1 ½ teaspoons sea salt
Freshly ground black pepper
⅛ teaspoon red pepper flakes
2 tablespoons pomegranate molasses or mild molasses, not blackstrap
3 tablespoons lemon juice
⅓ cup olive oil
In a food processor, combine the beets, walnuts, bread crumbs, garlic, cumin, salt, pepper, red pepper flakes, molasses, and lemon juice and pulse to a textured paste.
With the motor running, drizzle in the olive oil and process until fairly smooth, but still textured. Scrape the mixture into a serving bowl, garnish with walnuts, if using, and serve.
Betsy DiJulio is a longtime vegan and food journalist. An exhibiting artist and board-certified art instructor, she enjoys food styling and photography. Betsy blogs about her vegan delights at TheBloomingPlatter.com. 
*This post contains affiliate links. If the product is purchased by linking through this review, VegKitchen receives a modest commission, which helps maintain our site and helps it to continue growing!