A few weeks ago, I was sent the whole line of Better Bean Company products to sample. Lucky me, since I love beans! Not that beans ever really went away, but they do seem to be making a comeback in a bigger way; as the subtitle of Kathy Hester's Great Vegan Bean Book* puts it, they're "the kindest protein in town." Indeed, they're a superb source of protein, low in fat, high in vitamins, minerals, and antioxidants, and blessedly uncontroversial as foods go. 
What are Better Beans? They're perfectly cooked and nicely seasoned beans packed into 14-ounce, BPA-free plastic containers. You can enjoy them just as they come, as a protein-packed side dish. Or add them to other dishes. One of my favorite uses was adding a dollop to hot vegetable soups; another way we enjoyed them was stuffed into the small acorn and delicata squashes from our garden. They make a fabulous, instant filling for burritos and tacos, too.
Seriously, it shouldn't be a big deal to cook and season beans from scratch, and I was fully intending to get a slow cooker by now, for that very purpose. But I haven't yet, and I just never remember to start a pot of beans from scratch a day before I need them (yeah, I know, I can pressure cook, but I never think to do that, either). Better Beans are a boon to busy cooks, lazy cooks, and people who want to eat more beans but don't care for the idea of using canned beans.
Instead of being merely salty, Better Beans are seasoned, and you can choose from flavors that are mild or medium. The other nice thing is that the 14-ounce container is packed with beans — no liquid as filler. They come in five varieties:
Rethought Red Beans
Cuban Black Beans
Uncanny Refried Black Beans
Three Sisters Chili
Wholly Chipotle Bean Dip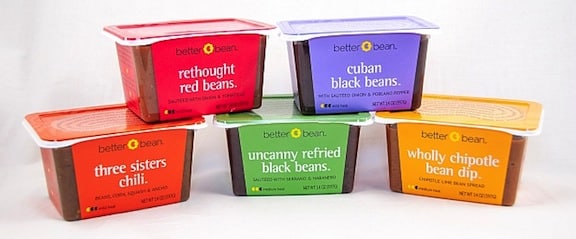 Better Beans are all natural — no artificial flavors or preservatives; organic, vegan, gluten-free, and soy-free. Best of all, they're really tasty; you can simply heat and use as a side dish, or incorporate with other foods. A couple of my favorite ways to use them is to add a scoop to a pureed soup (really perfect with butternut squash soup) or to sautéed garlicky greens.
Use the where to buy page on the company site to find this product near you, or ask your natural foods grocer to special-order them for you, or to stock them. Each container of Better Beans retails for around $3.99. At this point they aren't being shipped, as it is a fresh food that needs refrigeration.
Full disclosure:
The Better Bean Company provided VegKitchen these product samples for review, but did not otherwise compensate the reviewer for this post. The reviewer was not obligated to review this product. VegKitchen only chooses to review books and products that we can wholeheartedly recommend to our readers to enhance their healthy, plant-based lifestyles.
* This post contains affiliate links. If the product is purchased by linking through this review, VegKitchen receives a modest commission, which helps maintain our site and helps it to continue growing!