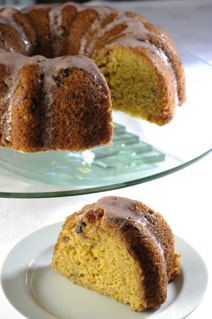 This colossal cake elicits oohs and ahs when set out for serving but the proof is in the tasting and this cake goes to the head of its class. You'll find a number of variations including an all orange juice cake at the end of the recipe. The orange zest adds superb flavor to the cake, so I do encourage you to seek out organic, unwaxed fruit. You can certainly use the juice as well as the zest in the cake. Remember to use just the brightly colored zest, not the bitter white pith underneath.
A bundt pan is a deep pan with a hollow center core, similar to an angel food cake pan, but with fluted sides. The hollow center is absolutely necessary here to ensure that the large amount of batter bakes through. As a rule (and I'll admit it is my rule), to ensure the finest crumb and texture, vegan cake batter should not fill the baking pan more than a scant half full. Measure carefully using the proper measuring tools for dry and liquid ingredients. Use an oven thermometer. Have fun and enjoy! Recipe by Fran Costigan; photo by Linda Long.
Serves: 12 to 15
1 ½ cups whole wheat pastry flour
1 ½ cups unbleached white flour
2 teaspoons baking soda
1 teaspoon fine sea salt
½ teaspoon aluminum-free baking powder
1 cup organic sugar
¼ cup organic dark whole cane sugar
(such as Sucanat or Rapadura) finely ground
⅔ cup organic canola oil or a mild extra virgin olive oil,
such as arbequina
1 cup orange juice
1 cup soymilk or another non dairy milk
2 tablespoons apple cider vinegar
2 teaspoons pure vanilla extract
Finely grated zest of 2 organic oranges
Position a rack in the middle of the oven and preheat to 350° F.  Oil a 10- to 12-cup bundt pan very thoroughly.
Place a wire mesh strainer over a medium bowl.  Add the pastry flour, white flour, baking soda, salt, baking powder, and both of the sugars to the strainer and sift the ingredients into the bowl.  Stir with a wire whisk to distribute and aerate the ingredients.
In a separate bowl, combine the oil, orange juice, soymilk, vinegar, vanilla extract, and orange zest, and whisk until thoroughly emulsified.  Pour into the dry mixture and whisk until the batter is smooth.
Pour the batter into the prepared bundt pan. Rotate the pan to level the batter, and tap it lightly on the counter to eliminate some of the air bubbles.
Bake for 45 to 55 minutes, or until the cake is golden and firm at the center when very lightly touched. A tester inserted in a few spots near the center of the cake should come out clean or with only a few moist crumbs.
Remove the bundt from the oven and cool on a rack for 10 minutes.  Place another wire rack on top of the cake and turn the pan upside down. Tap the pan gently and the cake should release. Cool completely before glazing or serving. You'll need to allow at least 40 minutes for this big cake to cool.
Troubleshooting: If your cake does not release from the pan.
If the cake sticks to the pan when it is inverted on the rack, wet a kitchen towel in hot water, wring it out, and place it over the inverted pan for few minutes. Shake pan gently to release the cake.
Tips & Variations
Eliminate the soymilk and use 2 cups of orange juice.
Eliminate the dark whole cane sugar and increase the organic sugar to 1 ¼ cups for a slightly sweeter cake.
Just before serving, drizzle the cake with Soft Orange Tofu Cream (recipe follows) as shown in the photo. Stir some dried cranberries into a portion of the orange cream and serve alongside the cake.
No surprise here, but my favorite glaze for this cake is Chocolate Ganache, and since the chocolate will set on the cake, not soak into the cake like the Soft Orange Cream, it can be applied as soon as the cake is cooled. Orange flavored chocolate, like the ones made by Theo, Equal Exchange and Newmans are delicious, fair-traded and organic too. Green & Black, sadly is no longer suitable for vegans.
To Make a Layer or Sheet Cake
Use two 9 x 3 inch round pans or use a 9 x 13 x 2 or 3-inch pan to make a sheet cake. Reduce the baking time to 25 to 35 minutes, but make sure to do the checks for doneness.


Soft Orange Tofu Cream
Transform simple fruit salads into special treats, amp up plain cakes, and complement kantens, cobblers and more with a dollop of this versatile cream. Silken tofu is used straight from the package and makes cream that is softer than those made with regular tofu.
Makes about 1 ¾ cups
1 (12.3-ounce) box firm organic  silken tofu), drained
5 tablespoons organic cane sugar or more to taste
5 tablespoons organic orange juice concentrate, thawed
1 tablespoon organic canola oil, or another neutral oil
2 teaspoons pure vanilla extract
1⁄4 teaspoon orange extract or ⅛ teaspoon pure orange oil
Optional: 1 tablespoon Grand Marnier or another orange flavored liquor
Combine all the ingredients in a blender or food processor, and process 2 to 3 minutes, or until thoroughly mixed and creamy. Taste the cream and add more sugar if you want a sweeter whip.
Spoon the cream into a container. Cover and refrigerate for at least 3 hours to allow the flavors to develop. The cream will thicken slightly when chilled but it is an intentionally soft cream. Refrigerate for up to two days.
From More Great Good Dairy Free Desserts Naturally* by Fran Costigan. For more about Fran's amazing pastries, visit FranCostigan.com.
*This post contains affiliate links. If the product is purchased by linking through this review, VegKitchen receives a modest commission, which helps maintain our site and helps it to continue growing!