Nothing says brunch like a veggie-filled baked frittata. Silken tofu replaces the eggs traditionally used in this kind of dish. Pair this with a little fresh fruit and you have a delicious, filling brunch. Recipe is contributed by Alicia C. Simpson, from Quick and Easy Vegan Celebrations* (The Experiment, © 2010, reprinted by permission). Photos by Evan Atlas.
Serves: 4 to 6
Two 12.3-ounce packages of extra-firm silken tofu
1 tablespoon tahini
3 tablespoons potato starch or cornstarch
1 teaspoon fine sea salt
¼ teaspoon turmeric
½ teaspoon onion powder
½ cup nutritional yeast
¼ teaspoon dry mustard
1 teaspoon original Spike Seasoning
2 tablespoons neutral vegetable oil, plus more for greasing the pan
½ cup diced white onion
½ large red bell pepper, diced
2 garlic cloves, minced
2 cups broccoli florets, steamed and roughly chopped
Put the tofu, tahini, potato starch, salt, turmeric, onion powder, nutritional yeast, mustard, and Spike in a blender and blend until smooth. Pour into a large bowl.
Preheat the oven to 375º F. Grease a 9-inch springform pan with canola oil or shortening.
Warm the oil over medium to medium-high heat in a large skillet. Add the onion and bell pepper and sauté for 3 to 4 minutes or until the onion is translucent. Add the garlic and sauté for an additional 2 to 3 minutes. Add the broccoli and stir to combine.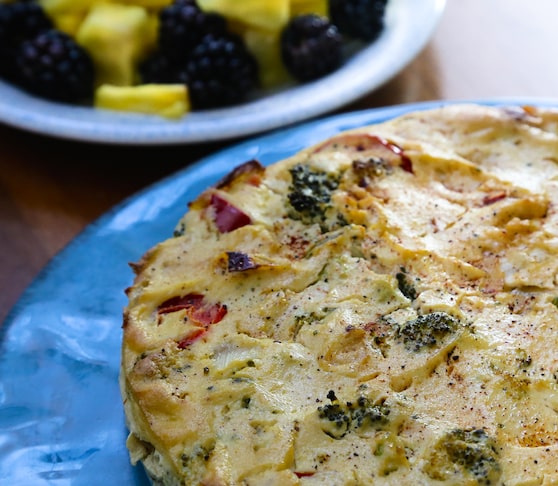 Stir the vegetables into the tofu mixture. Pour the tofu mixture into the prepared pan and bake for 35 to 40 minutes or until firm and a toothpick comes out clean.
Cool for 10 to 15 minutes. Remove the frittata from the pan and serve. This can be served warm, at room temperature, or cold.
Visit Alicia Simpson at her web site.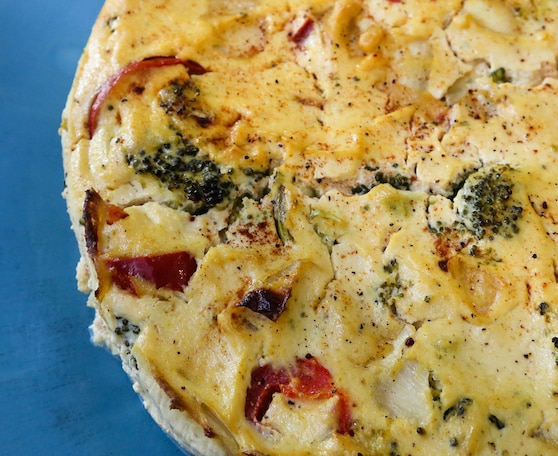 *This post contains affiliate links. If the product is purchased by linking through this review, VegKitchen receives a modest commission, which helps maintain our site and helps it to continue growing!