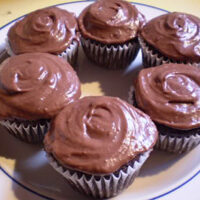 These cupcakes are tender and light, but remember that fat-free treats don't keep very well, so freeze what isn't being used in a day or two.
This is easy to make, but tender and moist. Be sure to use pastry flour, since there's no fat in this, and use a bundt or tube pan, because fat-free cakes don't work well when baked in a flat pan, I find. You can make a white or cocoa icing.
Serves: 12 (one cake or 12 cupcakes)
Wet mix:
8 ounces medium-firm tofu or extra-firm silke tofu, drained and crumbled
1 cup brown sugar or Sucanat
½ cup water, liquid coffee or coffee substitute
1 tablespoon vinegar (I use cider vinegar)
1 tablespoon pure vanilla extract
Dry Mix:
¾ cups whole wheat pastry flour
½ cup white pastry flour
6 tablespoon organic unsweetened cocoa
1 teaspoon baking soda
1 teaspoon baking powder
½ teaspoon salt
Fluffy Vegan Icing:
½ cup nondairy milk
2 ½ tablespoons white unbleached flour
¼ teaspoon agar powder
1 ½ tablespoons Earth Balance (regular, not whipped)
½ cup vegan sugar
½ teaspoon pure vanilla extract
1 pinch salt
Light chocolate version: Add 4 teaspoons organic unsweetened cocoa
Preheat the oven to 325º F. Grease and flour 1/ 8" tube or bundt pan. Blend the wet mix ingredients til smooth. Whisk the Dry Mix ingredients in a medium bowl well. Add the wet mix and whisk in just until blended—briefly.
Scrape into prepared pan. Bake cupcakes 20 to 25 minutes; cake 45 minutes. Use a cake tester. Remove from pans carefully and cool on rack
Icing:
Whisk nondairy milk into flour and agar in small saucepan until smooth (You can use a hand immersion blender if you wish, or even run it through the blender). Heat and stir until it boils and thickens.
MICROWAVE OPTION: Whisk the flour, agar and milk in a microwave-proof bowl. Microwave for 45 seconds, whisk, and repeat twice, or until thick. Cool thoroughly (place in a small bowl inside of a larger bowl of cold water). It will get quite stiff—don't worry!
With an electric mixer beat the butter, sugar, vanilla and salt until light and fluffy—several minutes. Beat in the cooled flour paste (and optional cocoa, if using) with the electric beaters and mix until smooth and fluffy. Chill thoroughly before frosting. Keep the frosted cake or cupcakes refrigerated until serving time.
Bryanna Clark Grogan is the author of Nonna's Italian Kitchen: Delicious Homestyle Vegan Cuisine *and numerous other vegan cookbooks. Visit her at The Vegan Feast Kitchen.
*This post contains affiliate links. If the product is purchased by linking through this review, VegKitchen receives a modest commission, which helps maintain our site and helps it to continue growing!