This mellow smoothie tastes like a liquid version of a delicious pumpkin pie — the secret being that butternut squash makes better pumpkin pie than pumpkin itself does. Gently spiced with cinnamon and ginger, this smoothie is packed with flavor and gives you a generous dose of  vitamins A and C. It might well become your go-to fall and winter smoothie! Photos by Hannah Kaminsky of Bittersweet Blog.
Makes: Two 12-ounce servings or three 8-ounce servings
1 cup well-baked and mashed butternut squash (see notes)
¾ cup vanilla nondairy milk (sweetened or unsweetened;
good with any kind of nut milk)
¾ cup orange juice, preferably fresh
½ teaspoon cinnamon
¼ teaspoon ground ginger (or use ½ teaspoon
grated fresh ginger for a more distinct flavor
1 heaping tablespoon cashew or almond butter
½ teaspoon vanilla extract
Liquid sweetener (stevia, agave, maple syrup —
but taste first, you may not need it at all,
especially if using sweetened nondairy milk)
Combine all the ingredients in a blender and process until smooth. Serve at once at room temperature.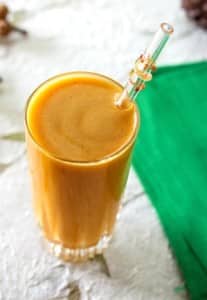 Notes:
If using a high-speed blender, and you have the means to cut up a raw butternut squash, you can start with 1 ¼ cup chunks, unbaked.
See VegKitchen's video on how to prebake whole butternut squash so that it becomes easy to cut. Bake it a little more than the video instructs — you want to be able to pierce the narrow part through very easily.
Variation:  You can use sugar pumpkin or golden acorn in place of the butternut; this is best with good, sweet squash.