This sweet treat makes a great holiday gift or party favor as well as a great everyday snack. They look pretty in clear bags tied with a ribbon. Contributed by Kim Lutz, from Welcoming Kitchen: 200 Delicious Allergen- & Gluten-Free Vegan Recipes* (Sterling, ©2011). Photos by Rachael Braun.
Makes 1 cup (4 to 6 servings)
2 tablespoons maple syrup
2 tablespoons packed brown sugar
¼ teaspoon salt
1 cup shelled pumpkin seeds (pepitas)
Preheat oven to 375° F.
In a small saucepan, combine maple syrup, brown sugar, and salt. Heat over medium heat. Stir constantly until brown sugar is melted and mixture is foamy.
Add pumpkin seeds and stir until coated.
Spread pumpkin seeds on oiled cookie sheet. Bake for 10 minutes, stirring after 5 minutes. Remove from oven and cool completely; stir occasionally while cooling to prevent pumpkin seeds from sticking to pan.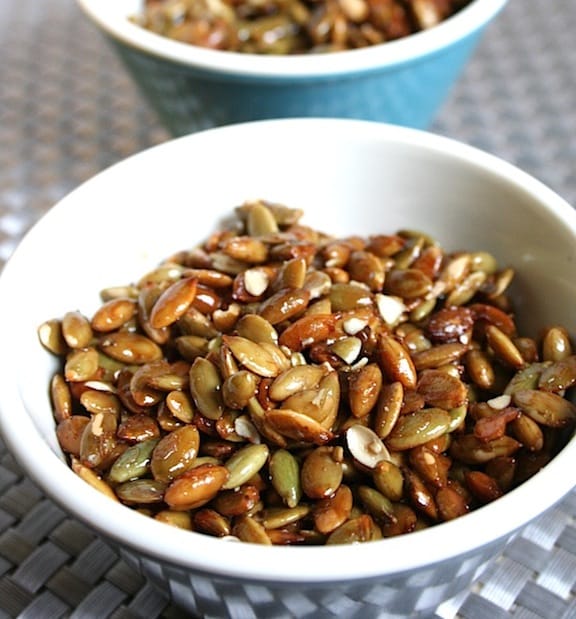 *This post contains affiliate links. If the product is purchased by linking through this review, VegKitchen receives a modest commission, which helps maintain our site and helps it to continue growing!