This vegan chocolate mousse pie, made of raw cashews and silken tofu, is rich and delicious. It goes down very easy, so depending on how many you are serving, you may want to double the recipe and make two. This is a great finish for holiday meals, but it's simple enough to prepare for dessert, any day of the week. Adapted from Vegan Holiday Kitchen* by Nava Atlas.
Makes one 9-inch pie, 6 to 8 servings
1 cup raw cashews
One 12.3-ounce  package firm silken tofu
¾ cup semi-sweet chocolate chips, preferably cane juice sweetened
⅓ cup pure maple syrup, or to taste
1 prepared 9-inch pie crust (pastry crust, graham cracker,
or

Nutty No-Bake Pie

 

Crust

)

Vegan Whipped Cream

 for topping, optional
Place the cashews in a small heatproof bowl. Pour 1 cup boiling water over them; cover and let stand for 30 to 60 minutes, then pour off the water.
Preheat the oven to 350º F.
Place the cashews in a food processor or blender and process until they begin to hold together like a butter. Add the tofu and continue to process until completely smooth. Transfer to a small saucepan and add the chocolate chips. Cook over medium-low heat, stirring often, until the chocolate chips have melted. Stir in the maple syrup.
Pour the mixture into the crust and bake for 30 minutes, or until the top of the filling feels fairly firm to the touch. Allow to cool completely, then refrigerate for at least an hour, preferably two, before serving.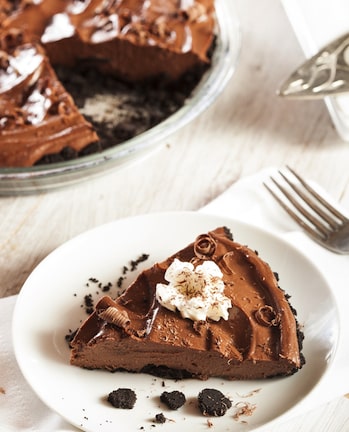 *This post contains affiliate links. If the product is purchased by linking through this review, VegKitchen receives a modest commission, which helps maintain our site and helps it to continue growing!