For pies that require no baking, rely on this recipe for a pie crust that magically comes together with only three ingredients. This crust plays a dual role. In addition to creating a base for a pie filing, it actually contributes nutty texture, flavor, and sweetness to the pie. Contributed by Zel Allen, reprinted from  The Nut Gourmet.* Photos by Hannah Kaminsky.
Yield: 1 (9-inch) crust
1 ½ cups whole almonds
1 ½ cups pitted dates, chopped
Water as needed
Grind the almonds into a fine but not powdery meal in the food processor. Add the dates and enough water to form a dough that holds together when pressed, starting with 1 tablespoon and adding a tablespoon at a time. This depends on how moist the dates are, but in any case you won't need much water!
Stop the machine occasionally to scrape down the sides of the work bowl and redistribute the ingredients.
Press the mixture into the bottom and sides of a 9-inch pie pan. Cover and chill for an hour or and fill as desired.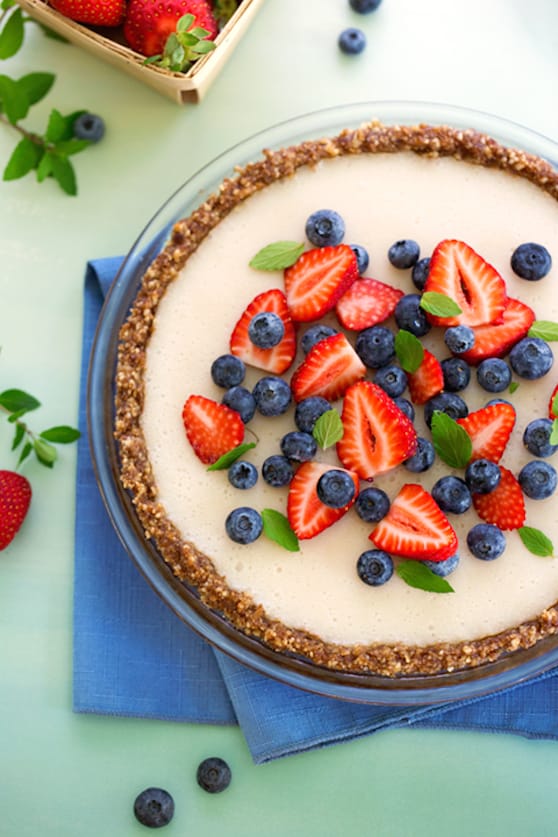 Zel and Reuben Allen host the popular, long-running webzine Vegetarians in Paradise.
*This post contains affiliate links. If the product is purchased by linking through this review, VegKitchen receives a modest commission, which helps maintain our site and helps it to continue growing!