This breakfast bowl featuring chia seeds is just as easy as to make as pouring a bowl of cereal, more nutritious and tastes even better! It takes two minutes to mix all the ingredients together, place in an air-tight container and refrigerate overnight. Wake up and breakfast is ready. You can also portion out into smaller containers for a great grab and go breakfast on the run. 
Packed with nutrition, each serving contains 4564 mgs Omega 3 fatty acids;  and 1504 mgs Omega 6. You also get 10 grams of fiber; 12% daily value of calcium from the chia seeds alone, and 10 to 15 grams of protein depending on the type of milk you use. Talk about a power breakfast — and you get even more benefits by adding fresh fruit. Recipe and photos contributed by Christina Cavanaugh of Begin Within Nutrition.
Serves: 2 
¼ cup whole chia seeds
2 cups unsweetened nondairy milk of your choice
2 tablespoons pure maple syrup
1 teaspoon vanilla extract
Toppings:
Fresh fruit of your choice (mangos, bananas, berries, kiwi, pineapple, etc.)
Nuts (almonds, walnuts, etc.), optional
Cinnamon and extra maple syrup, optional
Combine the chia seeds, nondairy milk, syrup, and vanilla extract in a bowl and stir together.
Let stand for about a half hour, then whisk together to prevent the seeds from clumping. Transfer to  an air-tight container, cover and refrigerate overnight.
In the morning, divide between two bowls, and serve with toppings of your choice.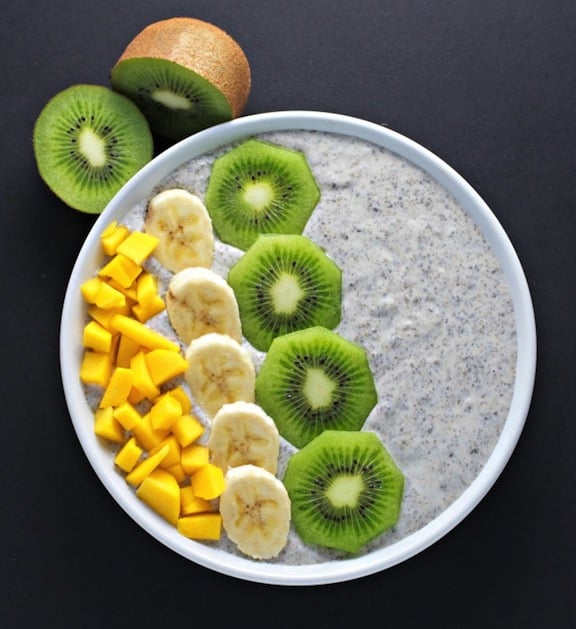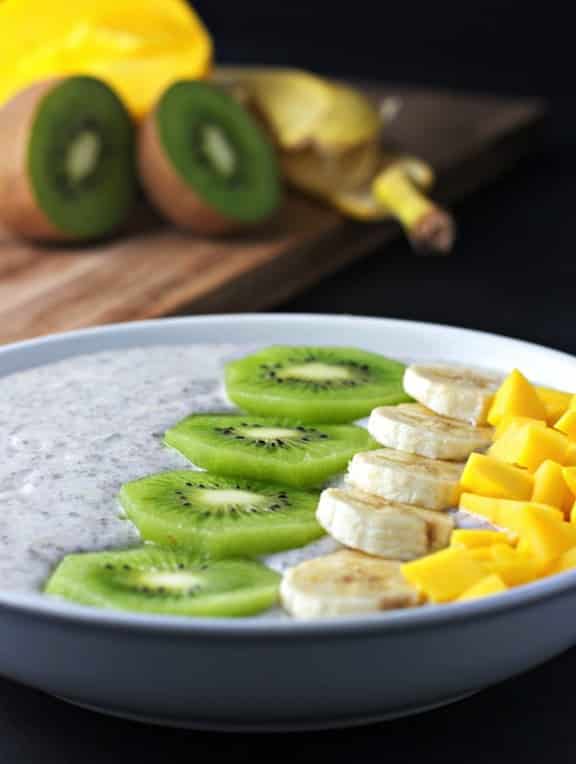 Nutritional Content (not counting toppings):
Per Serving: 298 calories; 35g carbs; 15g fat; 14g protein; 107mg sodium; 19g sugar.