These appealing bell pepper "boats" are filling enough to serve as a main dish for any festive meal. Perfectly portable, too, they make a wonderful picnic entree or a change of pace from sandwiches for a hearty lunch. Recipe contributed by Laura Theodore, from Jazzy Vegetarian Classics: Vegan Twists on American Family Favorites* © 2013 BenBella Books, reprinted by permission. Photos by Hannah Kaminsky.
Serves: 8 moderately; 4 larger servings
1 cup quinoa, rinsed thoroughly and drained
2 cups filtered or spring water
1 can (15 ounces) chickpeas, drained and rinsed
½ cup fresh flat-leaf parsley, chopped
1 pint grape or cherry tomatoes, halved
¾ cup kalamata olives, pitted and sliced and sliced
1 teaspoon lemon zest
2 tablespoons freshly squeezed lemon juice
1 tablespoon extra-virgin olive oil, plus more as needed
1 clove garlic, minced
½ teaspoon chili powder, plus more as needed
¼ teaspoon sea salt, plus more as needed
¼ teaspoon turmeric
4 large sweet red, yellow, or orange peppers, or a combination
Chopped fresh flat-leaf parsley, for garnish (optional)
Put the quinoa and water in a medium sauce pan and bring to a boil over medium heat. Decrease the heat to medium-low, cover, and simmer for 15 to 17 minutes, until all of the liquid is absorbed. Fluff with a fork.
Transfer to a medium bowl. Let cool (see note). Put the cooled quinoa, chickpeas, parsley, tomatoes, and olives in a large bowl. Put the lemon zest, lemon juice, olive oil, garlic, chili powder, salt, and turmeric in a small bowl and whisk briskly until smooth. Pour the dressing over the quinoa mixture and stir gently to incorporate.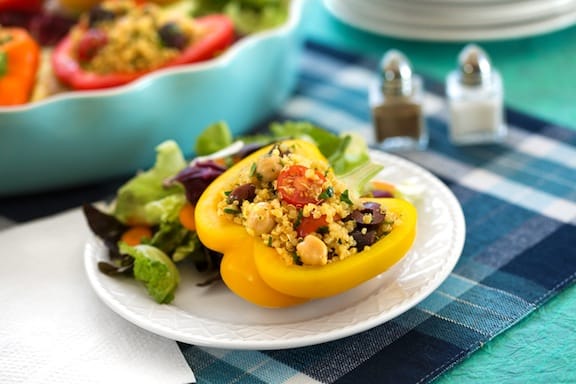 Taste and add more chili powder, salt, and/or olive oil if needed. Cover and refrigerate for 2 hours to let the flavors blend.
Right before serving, split the peppers in half lengthwise and seed them. Scoop the quinoa mixture into the pepper halves. Garnish with parsley, if using.
Note: The quinoa may be cooked up to 24 hours in advance and stored in the refrigerator.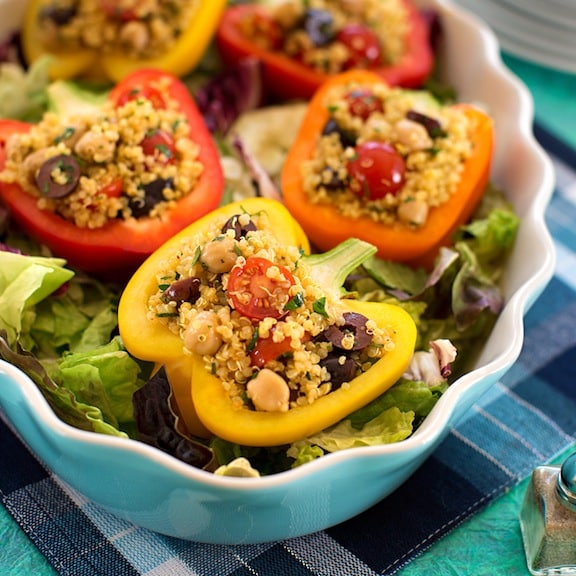 Nutritional Information: 
Per serving: 253 calories; 9.6g fat; 596.5mg sodium; 376.6mg potassium; 36.7g carbs; 5.8g fiber; 3g sugar; 6.6g protein
*This post contains affiliate links. If the product is purchased by linking through this review, VegKitchen receives a modest commission, which helps maintain our site and helps it to continue growing!