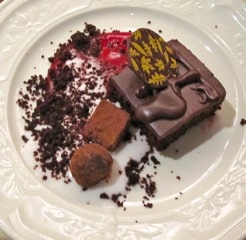 This is the ultimate chocolate cake. I know that's a big statement, but after 20 years of love letters and requests from brides, birthday celebrators, bloggers, caterers, and my family and friends, I can say with certainty that this recipe is guaranteed to satisfy even the most ardent chocoholic. Be prepared for, "No way this is a vegan chocolate cake!" The Chocolate Cream spreads and pipes like a dream. A glamorous and delicious alternative to the cream is the Chocolate Ganache filled and glazed cake, and the Ganache is used to make truffles too.   From Vegan Chocolate: Unapologetically Luscious and Decadent Dairy Free Desserts by Fran Costigan © 2013, Running Press. Reprinted by permission.
Chocolate Cake to Live For
The recipe as written makes 5 ½ cups of batter, which is enough for two 9 x 3-inch round cake pans or one shallow rimmed half sheet pan (18 x 23 inches). Knowing the amount of batter makes converting to different size pans easy. Fill the pans in questions with water to a scant half full, and you'll know the amount of batter that's needed.
Makes one 9-inch 2-layer cake
Ingredients
1 cup organic whole wheat pastry flour
1 cup organic unbleached white flour
½ cup plus 2 tbsp Dutch-process cocoa powder
½ cup light organic cane sugar
2 tsp aluminum-free baking powder
2 tsp baking soda
1 tsp fine sea salt
½ tsp ground cinnamon
½ cup mild extra virgin olive oil or an organic neutral oil
1 cup pure maple syrup, dark amber or Grade B
2 cups chocolate or vanilla soymilk, almond milk, rice milk
1 tbsp pure vanilla extract
1 tsp chocolate extract (optional)
2 tsp apple cider vinegar
1 recipe Chocolate Ganache (recipe follows)
Instructions
Position a rack in the middle of the oven and preheat to 350°F. Oil the sides and bottom of two 9 x 3inch round cake pans, or equivalent, and line the bottoms with parchment paper cut to fit.
Place a wire mesh strainer over a medium bowl. Add the whole wheat pastry flour, white flour, cocoa, sugar, baking powder, baking soda, salt, and cinnamon to the strainer, and sift the ingredients into the bowl. Stir with a wire whisk to aerate and distribute the ingredients.
Whisk the oil, maple syrup, nondairy milk, extracts, and vinegar in a separate medium bowl until very well blended. Pour into the dry mixture and stir with a whisk until the batter is smooth. This batter is meant to be fairly thin.
Pour the batter into pans, dividing evenly. Tap the pans lightly on the counter to pop some of the air bubbles. Bake the cakes on the center rack for 25 to 30 minutes, or until the tops are of the cakes are set, the sides have started to pull away from the pan, and a cake tester inserted in the center of the cake comes out clean or with only a few moist crumbs.
Cool the pans on wire racks for 5 minutes. Run a thin knife between the cake and inside of the pan, and invert each layer onto a rack. Remove the pans and carefully peel off the parchment paper. Invert again, topside up on a rack to cool completely.
To protect the layers from cracking or breaking, slide a cardboard circle (or another flat surface) under each one. Wrap the layers with Chocolate Ganache.
Tips & Variations
Use organic dark whole cane sugar, such as Sucanat or Rapadura for some or all of the organic sugar, but grind it first in a blender. I have made the cake with maple crystals as well.
Chocolate Ganache
Classic ganache is made with heavy cream and chocolate. Here, soy or coconut milk creamer replace the dairy cream. Make sure you use a good-quality chocolate with a flavor you like, because it's the taste of the chocolate that comes through. Soymilk, almond milk, or coconut milk can replace the creamer if you prefer.
The ganache will keep for one week in the refrigerator, but will become too firm to spread. Warm back to spreading consistency in a heatproof bowl set over barely simmering water, stirring until it liquefies. You will have to wait for the ganache to return to the right consistency for your use.
Yield: 2 ⅔ to 3 cups, enough for cake and a few truffles
Ingredients
1 lb vegan bittersweet chocolate, 62% to 72%, finely chopped
1 ½ cups coconut milk or soy creamer
Dutch process cocoa for dusting truffles, optional
Instructions
Place the chocolate in a medium-size heatproof bowl.
Pour the creamer into a small saucepan and bring to a gentle boil medium heat. Wait about 30 seconds, and pour over the chocolate all at once. Swirl the bowl gently and allow the chocolate to begin to melt, for about 1 minute. Whisk gently from the center out until the chocolate is completely melted and the ganache is smooth and glossy.
Truffle Ganache
If you are making truffles, pour about ¾ cup of the ganache into a shallow dish and refrigerate until firm enough to cut and coat with cocoa powder.
Icing Ganache
The ganache will thicken sufficiently to pour as a glaze or spread with a spatula in 15 to 30 minutes. The amount of time is dependant on the type of chocolate and non dairy milk used.
The Valentine Pretty Cake Plating, pictured
Bake the layers in a sheet pan large enough to accommodate the batter, or divide the between two 9 x 9 x 3 inch cake pans. (Prepare the pans, preheat the oven—follow the recipe!) You can use just one layer now and freeze the other for up to 2 months.
When the cake is very cold—and frozen is easiest, cut into squares that work for your idea of a single serving. Place the cold cakes on a wire rack set over a parchment lined sheet pan. Pour or ladle some of the ganache over each piece. Allow the ganache to set. Repeat with another layer of ganache. Drizzle some chocolate over the top, if you like, or decorate with fruit, a chunk of chocolate or luster dust.
More
Here are more of VegKitchen's

Vegan Fine Pastry

recipes.
Sweet tooth still craving? Here are more 

Vegan Baking and Sweets

.
From More Great Good Dairy Free Desserts Naturally* by Fran Costigan. For more about Fran's amazing pastries, visit FranCostigan.com.
*This post contains affiliate links. If the product is purchased by linking through this review, VegKitchen receives a modest commission, which helps maintain our site and helps it to continue growing!